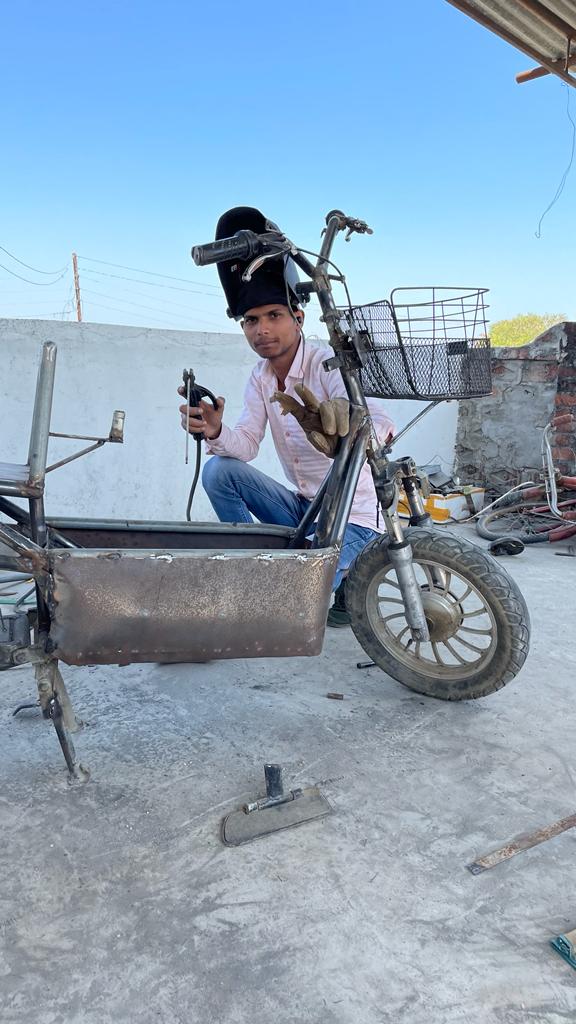 Asad is a 23-year-old resident of Azamgarh, Uttar Pradesh, who has been innovative since childhood. Recently, he built a seven-seater solar bike. Impressed by his creation, IIT Kanpur has invited him for a discussion. If IIT Kanpur likes Asad's idea, he may receive financial assistance to improve his product. Asad's dream is to build a solar plane as well.
Md Zamir Hasan | twocircles.net
---
Support TwoCircles
---
Asad Abdullah, hailing from Azamgarh, Uttar Pradesh, has always displayed a flair for innovation. From a young age, he engaged in creating small-scale inventions and sharing his progress through YouTube videos. It was in 2017 that Asad's work gained recognition and appreciation, motivating him to explore the world of electronics further. Fuelled by his innate curiosity and a desire to make a positive impact, Asad embarked on a remarkable journey of innovation.
When the price of petrol increased, the idea of building a solar-powered bike came to mind
Asad has been innovating since the age of 8. When he was 13, he built a motor using a battery from a remote-controlled car. His dream now is to build a solar energy and battery-powered plane. It will take about a year and a half to build it. How did the idea of building a seven-seater bike come about? In response to this question, Asad says that he got the idea after watching the film 'Golmaal' starring Ajay Devgn.
"With the skyrocketing prices of diesel and petrol, it has become difficult for the common man. Seeing people's difficulties, I thought why not create something that allows people to travel from one place to another at a lower cost? After a lot of thinking, the idea of building this bike came to my mind. I started working on it. It took about a month to build this bike, and it cost around RS 12,000. Once it is built, it can be fully charged at RS 8-10 rupees, and then it can travel up to 150 kilometers." Asad told TwoCircles.net.
"I recently received a call from IIT Kanpur, inviting me to discuss my project in detail. I am thrilled to visit IIT Kanpur and engage in comprehensive discussions about my creation," Asad said.
He expressed his desire to construct a solar bike that is robust and cost-effective, ensuring accessibility even for individuals from impoverished and rural regions.
IIT Kanpur invites Asad for assistance in innovation and incubation
The Innovation and Incubation Center at IIT Kanpur helps talented children in the country who think of creating something new and unique. There are 14 programs at IIT Kanpur under which assistance is provided to these talented students. Funding ranging from 3 lakh rupees to 3 crore rupees is provided.
"We have invited Asad to come here to understand the process and present his ideas. We will help him pitch his idea. If the idea is liked, we can provide financial assistance ranging from 300,000 to 700,000 rupees. Asad's work falls under the prototype category, for which we provide up to 700,000 rupees and a place to work within the campus." Rishabh Pandey, Assistant Manager (The Innovation and Incubation Center at IIT Kanpur) told TwoCircles.net.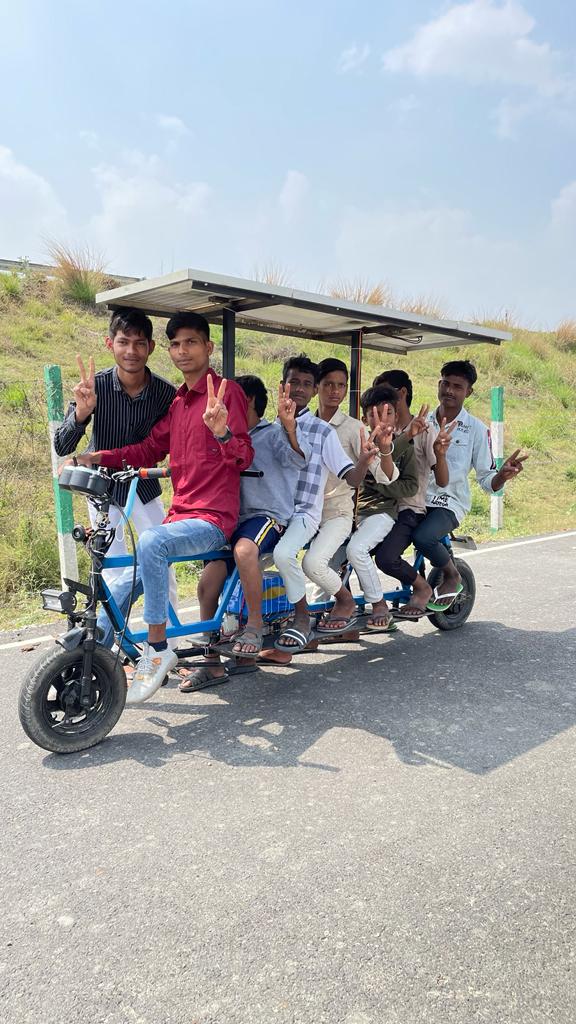 Solar Bikes to Surya-Shakti Empire, Asad Abdullah's Entrepreneurial Saga
In addition to his achievements thus far, Asad Abdullah has set his sights on even greater goals for the future. Inspired by his success with the seven-seater solar bike, Asad plans to establish his electric vehicle (EV) bike manufacturing company. With his passion for innovation and commitment to sustainable transportation, he aims to contribute to the growing field of electric mobility in India.
Furthermore, Asad dreams of building a solar-powered plane, showcasing his ambition to push the boundaries of renewable energy and aviation technology. He envisions a future where solar energy can power not only ground transportation but also air travel, reducing carbon emissions and dependence on fossil fuels.
Asad's father hopes that his son will bring honor to the state and the country
"Son has always had a technical mind since childhood. He has been creating new things since childhood. Now he has built a bike that is receiving praise from everywhere. The family and people around are very happy. Everyone says that Asad is progressing. Undoubtedly, in the coming times, my son will bring honor to the state and the country." Mohammad Abdullah ( Asad's father) told twocircles.net
Further, He expressed his happiness, saying that Asad receiving a call from institutions like IIT Kanpur is a 'proud moment' for all of us. "But we will not pressurize him to go to IIT Kanpur. It will be his decision. Whether he will start up his own unit or accept the invitation of IIT Kanpur. The decision will be purely his".
Asad is a resident of a small town called Mubarakpur Lohara in Uttar Pradesh. He has studied up to ITI and BCA.
SUPPORT TWOCIRCLES
HELP SUPPORT INDEPENDENT AND NON-PROFIT MEDIA. DONATE HERE