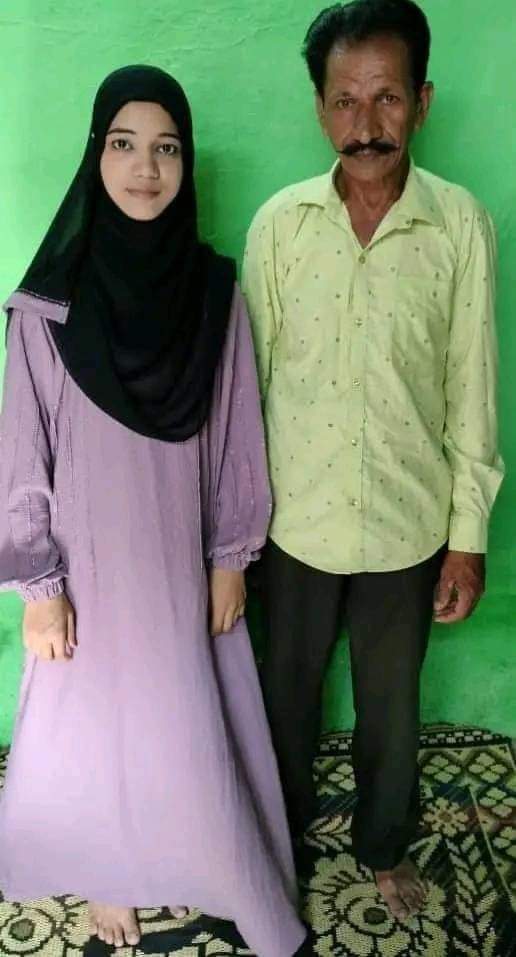 By Imran Inamdar, TwoCircles.net
Jalna, Maharashtra: Misbah Anwar Khan, a resident of Jalna city in the Marathwada region of Maharashtra, has become an inspiring example for students from economically disadvantaged backgrounds with her remarkable performance in the NEET Exam 2023, scoring 633 out of 720 marks.
---
Support TwoCircles
---
Misbah hails from a humble working-class family, with her father running a puncture repair shop in Mujahid Chowk, Jalna City.
Her achievement is a testament to her perseverance and determination. Despite facing challenging circumstances at home, she remained focused on her studies and never gave up. To date, she has only received a scholarship of 15 thousand rupees from the "Seema Khatib" foundation after passing her SSC exam.
The Seema Khatib Medley Pharma scholarship, awarded by an NGO based in Mumbai, supports deserving students who aspire to pursue professional or technical courses such as medicine or engineering.
Misbah's academic performance has been exceptional even in her SSC Board Exam, where she scored 92% marks, followed by 86% marks in the Class 12 board exam.
Cracking the NEET Exam
Speaking to TwoCircles.net, Misbah shared that she had dreamt of becoming a doctor since childhood. "Alhamdulillah, now I am qualified to pursue this course. I dedicated myself fully to my studies, never wasting time, and remained focused on clearing the NEET Exam."
"This was my second attempt," she explained. "The guidance provided by Ankush sir in the tuition class was invaluable to me, and he didn't charge any fees. I will always be grateful for his educational assistance."
Due to the high fees associated with coaching and a lack of proper guidance, Misbah couldn't succeed on her first attempt. However, her enthusiasm caught the attention of Akash Sonawne, who runs the 'Premier Institute of Science.' He took her under his wing, providing free coaching at his institute.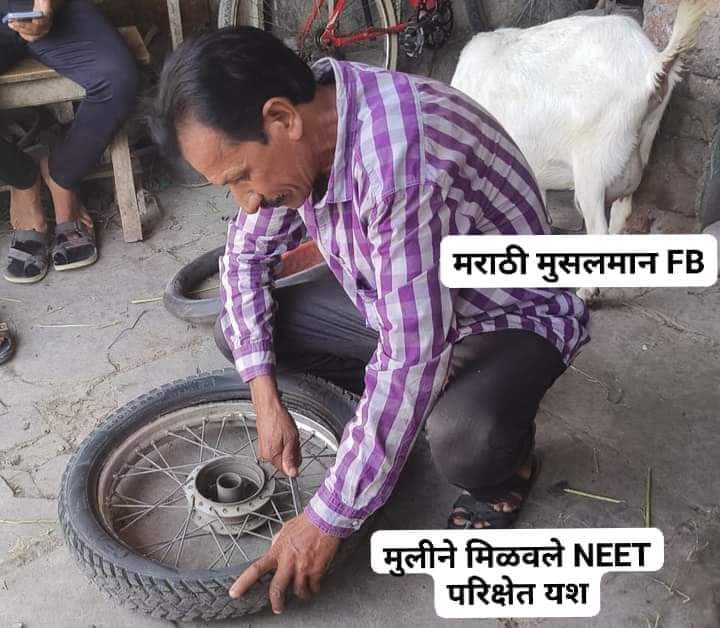 Overcoming Hardships
Despite facing challenging circumstances and coming from a financially disadvantaged background, Misbah and her siblings are determined to pursue their dreams through education. Misbah is the third child among four siblings. Her elder sister is married, while her brothers are currently studying in 12th grade and the first year of their degree program.
Misbah's father, Anwar Khan, completed his education up to the 9th standard. Due to hardships at home, he started his small shop repairing vehicle tyre punctures. The family lives in a one-bedroom house that belonged to Anwar's grandfather.
"I understand the importance of education," Anwar told TwoCircles. "That's why I want my children to study. My eldest son wants to help me after his college hours, but I don't allow him to do that. I don't want him to get distracted. I have been running my tyre puncture repair shop for the last 30 years."
Running the household and bearing the educational expenses of his children is burdensome for 53-year-old Anwar Khan. However, he has full faith in Allah and manages to earn between Rs. 12,000 and Rs. 15,000 from his work, with the potential to earn up to Rs. 20,000 during prosperous times.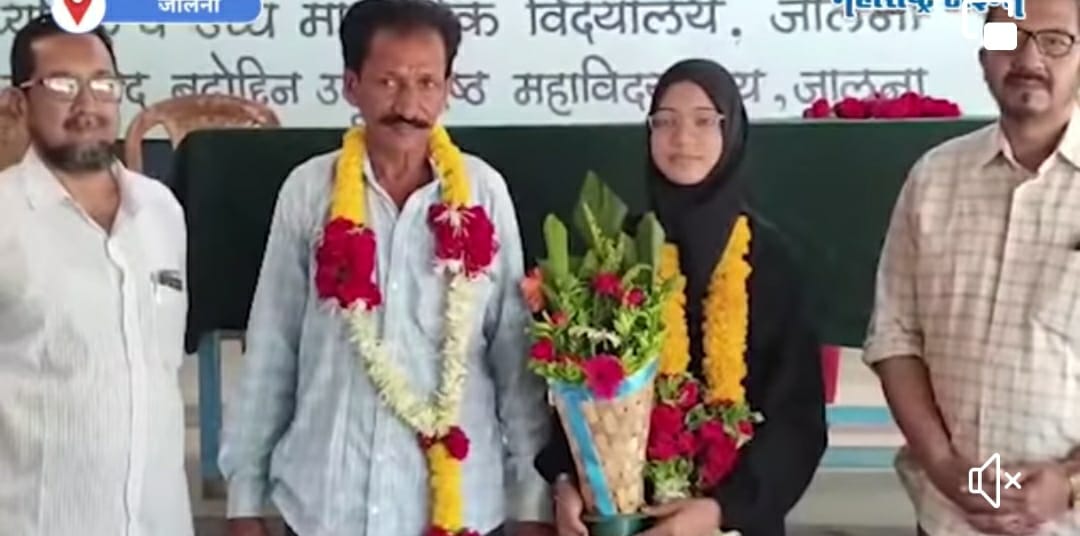 Felicitation and Honors for Misbah
After learning about Misbah's success in the NEET exams, prominent members of Jalna visited their humble abode to extend their congratulations and good wishes. Her school management also invited her for a felicitation ceremony.
Iftikhar Bagwan, the secretary of Anjuman E Ishat E Talim's Urdu High School & Junior College, Jalna, expressed his gratitude, saying, "I thank the Almighty for rewarding Misbah's hard work and sincerity. I also extend my thanks to everyone who prayed for Misbah's success. Her achievement is a feather in our institution's cap. Misbah has always been a bright student and has once again excelled in NEET, making us proud."
Misbah's father, Anwar Khan, overflowing with joy, shared that, tears of happiness filled their eyes upon hearing the news of her success. "I thank Almighty for showering his blessings on me and my children," he said emotionally.
"We are looking forward to admitting her to medical college. Misbah has won a cash prize of Rs. 1,00,000, and some well-wishers have promised to assist with my daughter's higher education. So, I am hopeful that we will be able to fulfil her dream of becoming a doctor," he added.
Misbah's aspiration as a future doctor is to provide medical aid to the underprivileged.
Anwar Khan can be reached at 8806342962.
SUPPORT TWOCIRCLES
HELP SUPPORT INDEPENDENT AND NON-PROFIT MEDIA. DONATE HERE