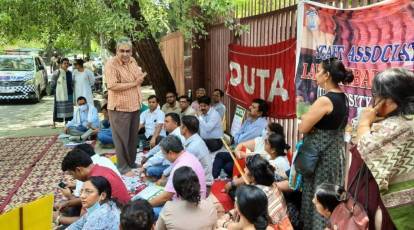 Mohsina Malik | Twocircles.net
Thousands of ad hoc teachers at Delhi University, who have dedicated years of service to various colleges under the university's umbrella, now find themselves in a distressing situation. As the process of hiring them as permanent faculty members began in April 2022, many have been displaced or simply shown the door.
---
Support TwoCircles
---
The crisis of ad hoc teachers at Delhi University has been brewing for a long time. Due to the prolonged absence of regular faculty interviews, colleges continued to rely on ad hoc teachers, resulting in the emergence of a significant pool of non-permanent teachers within the university system.
Ad hoc positions were initially intended to address sudden and short-term vacancies in departments and colleges.
However, the displacement of long-serving ad hoc teachers who fulfil all the necessary eligibility criteria and have dedicated the best years of their lives to Delhi University has caused immense distress.
This issue came to the forefront after the tragic suicide of Samarveer Singh, an ad hoc assistant professor at Hindu College, during the interviews for permanent teaching positions at the university.
Samarveer Singh, belonging to the Other Backward Class (OBC) category, was found hanging in his home on April 28.
Though no suicide note was discovered, Samarveer Singh's cousin stated that he had been depressed after losing his job and witnessing someone else appointed in his place. Teacher's death sparked protests from students and teachers at Delhi University, who argued that it amounted to institutional murder and that a brief interview could not justify displacing a teacher with years of experience.
The ad hoc teachers express their surprise and disappointment at being shown the door after serving for an extended period. Many of them joined the university at a young age, making it difficult for them to seek alternative employment now that they have exceeded the age limit for certain positions.
One such teacher, Ritu Mehta, had her life abruptly altered in March of this year. She had been serving at Ramjas College for over twelve years when she learned that she had been removed from her position.
Since then, she has been traumatized and uncertain about how to manage as she struggles to find a new job.
Mehta recounts, "I joined Ramjas College as an ad hoc teacher at the age of 29 and dedicated almost twelve years of my life to the institution. In a matter of seconds, everything was taken away from me, and I couldn't do anything about it. I am currently in a state where finding employment is challenging, and despite my efforts to explore all options, I consistently face rejection. I have a family to support, but who will consider our plight? My mother is ill, and I don't have enough money to buy her medication or cover my daily expenses."
She adds, "I had some savings, but they will deplete soon. When the recruitment process began, I expected to be hired based on my experience. However, my hopes have been shattered. I served as a teacher for twelve years. Where do I go from here?"
Mehta also highlights the case of a colleague who, after serving for over 14 years, was unable to pay her daughter's school fees due to discontinuation from her services. This situation exemplifies the financial crisis faced by ad hoc teachers due to the ongoing recruitment process.
Narayan Das (name changed), a 48-year-old ad hoc teacher at Hindu College, shares, "Across various colleges, ad hoc teachers are being displaced and informed that their services are no longer required.
I am still waiting for an interview, uncertain about what will happen to me. Witnessing my colleagues being cast aside, I fear that I too will become helpless and lose my
As of April 2023, the plight of ad hoc teachers at Delhi University had reached an alarming level, with 75% of them being displaced or removed, while approximately 2000 were permanently hired.
 This situation stems from a 2007 resolution by DU's Executive Council, which stated that ad hoc appointments were meant to fill vacancies lasting between one month and 120 days.
These appointments were primarily intended for cases of sudden sickness, medical grounds, maternity leave, or any situation disrupting the normal teaching and learning process.
However, ad hoc teachers under this provision do not receive social benefits or leave entitlements. Instead, colleges every four months with a one-day break in between often renew their term of service.
 Many teachers argue that this situation reflects the government's reluctance to invest in higher education, as ad hoc teachers are deprived of essential benefits such as medical benefits, pensions, gratuities, and leaves.
Furthermore, they allege that the selection process is biased, with a disproportionate focus on the preferences of the interview and selection committees, disregarding qualifications and experience. They believe that manipulation is occurring within the education system.Twocircles.net approached the interview committee but they refused to comment.
Numerous ad hoc teachers claim that interviews are mere formalities, with the selection process influenced by affiliations with specific committees. They refer to the recent removal of long-serving ad hoc teachers as a "use and throw" policy.
Dinesh Rawat, a permanent teacher at Delhi College of Arts and Commerce with over 20 years of service, expresses his concerns about the practice of replacing one ad hoc teacher with another, which goes against UGC rules.
He believes that favoritism and affiliation with committees play a significant role in job selection, undermining the qualifications and experience of deserving candidates.
Rawat emphasizes, "Ad hoc teachers have dedicated their lives to the colleges and built strong connections with the students. Biased interviews are shattering their hopes and adding to their miseries, which they have been enduring for a long time."
Many ad hoc teachers who are still awaiting interviews hope for recruitment but fear facing a similar fate as their colleagues. An anonymous ad hoc teacher states, "I have a PhD and have served here for the last fifteen years.
I have given an interview, and more are scheduled, but considering how the system is treating others, and us I doubt if I will be hired. However, I will remain hopeful and see what unfolds."
Ramesh Prasad, a 35-year-old ad hoc teacher with five years of service at Delhi University, shares the sentiment that interviews are biased, manipulated, and overshadow the qualifications and experience of candidates. He criticizes the "use and throw" policy adopted by the university administration.
Prasad explains, "During my 20-minute interview, I answered multiple questions correctly, and as an internal candidate, they were aware of my potential and dedication.
However, someone who had a 4–5-minute interview, held an MA degree with no experience, was selected instead of me, a researcher with a PhD. Wasn't my experience and service sufficient for the selection committee to understand their value? They are prioritizing quantity over quality, hiring individuals who lack teaching skills. This is heartbreaking and a betrayal to us."
Prasad concludes, "Committees should be unbiased, and influence has no place in the education system. Even the government has failed the education sector, and now Delhi University is failing to support us."
 Mohsina Malik is a journalist based in New Delhi. She covers conflict, politics, gender, culture, heritage, law, policies, business, religion and human-interest stories emerging from Kashmir and Delhi.
SUPPORT TWOCIRCLES
HELP SUPPORT INDEPENDENT AND NON-PROFIT MEDIA. DONATE HERE