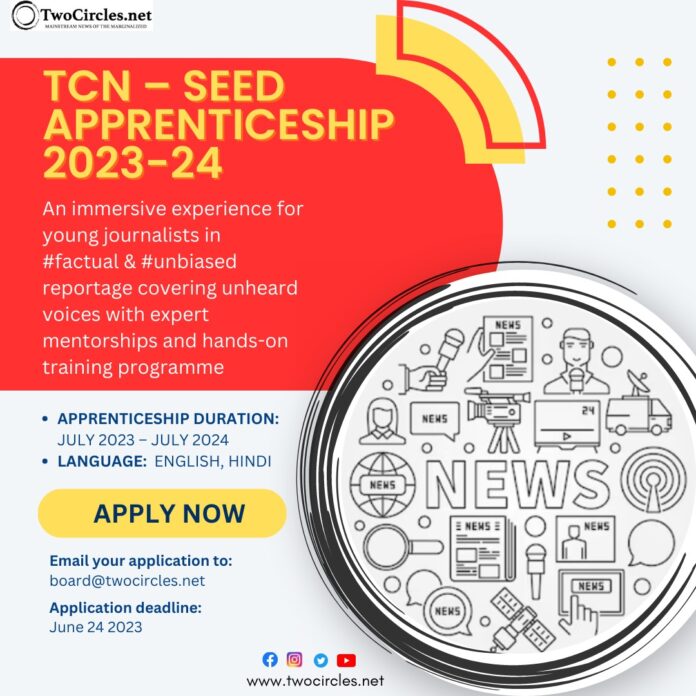 The TCN-SEED Apprenticeship offers aspiring journalists an opportunity to build their communication skills and professional network under the guidance of experienced mentors. The vision of the program is to provide training and capacity building for authentic voices from communities traditionally absent in mainstream Indian media.
The goal of the apprenticeship is to provide employment, tell news stories of marginalized communities and prepare a young person for a life that works towards the empowerment of the marginalized in India. It is a professional, vocational training scheme that doesn't compromise on the exacting standards that are vital in modern newsrooms. Former journalism apprentices with TCN have gone on to join reputable organizations.
---
Support TwoCircles
---
Term of apprenticeship
July 2023 – July 2024
Language
Hindi, English
Requirements
Applicants should have recently completed a journalism or equivalent degree. Strong writing skills or experience or demonstrated interest in community-based journalism may be considered in lieu of a journalism degree. At least one year of experience in professional employment or an advanced graduate degree is preferred.
Experience and familiarity with writing and content creation in English and/or Hindi is required.
Apprentices have similar responsibilities as full-time journalists at TCN. Hence, they are required to be able to work in a fast-paced environment and be quick to respond to feedback.
Everyone attached to Two Circles and SEED has a commitment to social justice and an active interest in highlighting the perspective of marginalized communities in India. Apprentices are expected to adhere to the same values. Individuals from under-represented social groups are highly encouraged to apply.
How to Apply
Please email the following to [email protected]
– A resume detailing your educational and professional background
– A short description (not exceeding 750 words) of why you are interested in this position and your career goals
– A writing sample on a topic of your choice
– Copies of representative selections of your work, such as newspaper clippings, audio tapes, video tapes or internet submissions.
– Entries with insight and originality will be considered most favorably. Investigative work is welcome.
Deadline for Application
Applications will be reviewed on a rolling basis until June 24, 2023
Frequently Asked Questions
What is an apprentice journalist expected to do?
A TCN-SEED apprenticeship begins with an initial meeting with TCN staff and/or mentors to discuss their strengths and needs. TCN evaluates the annual plan and capacity to match the journalist with their mentors. One may have more than one mentor assigned. The mentors meet with the journalists on a regular basis and advise them on various aspects of writing community stories. Journalists are expected to write or help with writing at least a minimum number of stories for TwoCircles.net. and they receive a byline for their work. All stories are subject to the same editorial standards and processes as regular TCN journalists.
Is this a paid programme?
Apprentice journalists receive a monthly stipend for their work.
How much of a time commitment am I looking at?
Each story that a journalist works on is assigned a due date by the mentor. Journalists are expected to treat the programme as a full-time commitment for a one-year period.
What can I submit as a writing sample for the application?
Virtually any kind of writing in English or Hindi will be accepted as long as it is original. It can be a piece published/submitted elsewhere or written for the express purpose of this application. Applicants are encouraged to pick something that showcases their writing skills as well as their interest in the topics relevant to Two Circles.
Can I choose my mentor?
Two Circles welcomes experienced journalists, communicators and alumni to share their knowledge and skills with the next generation as mentors. Journalists will have an opportunity to express their preference, but the final matching and structure of the apprenticeship is determined based on capacity and availability of the mentors.
What is the policy on republishing my stories?
All stories written by the journalists for TCN shall be original, not published or submitted elsewhere. The mentor and editor will work with the journalist to ensure quality content. However, if a pitch or story is deemed unfit by the editor/mentor and is not published by TCN, you will be welcome to seek other venues. Unless otherwise noted, a journalist can republish their piece by crediting TwoCircles.net and linking it back. All stipulations of the Creative Commons license apply to apprentice journalists as well.
SUPPORT TWOCIRCLES
HELP SUPPORT INDEPENDENT AND NON-PROFIT MEDIA. DONATE HERE