33-year-old Rupali Jadhav started designing and selling T-shirts in early 2020, a year after the arrest of six activists of Kabir Kala Manch (KKM).
Riya Talitha | TwoCircles.net 
---
Support TwoCircles
---
"Miya Biwi razi toh kya karega Nazi". ("What can a Nazi do if the husband and wife mutually agree.)"
"I am Fatima. I am Savitri."
"Yes, I am a feminist. No, I don't hate any gender".
These are just a few bold statements printed in striking fonts on plain T-shirts listed for sale on the online store www.rootsrevolution.in.
The T-shirts' messages, which overpower their style, reflect the anti-caste, anti-communalism and feminist activism of the store's founder, 33-year-old Rupali Jadhav.
Jadhav started designing and selling T-shirts in early 2020, a year after the arrest of six activists of Kabir Kala Manch (KKM), an organisation of primarily Dalit activists that uses poetry, music and art to protest against casteism, communalism and state oppression.
Jadhav was an active member of the group but was forced to go into hiding after the state intensified its crackdown on activists under the 2019 amendment to the Unlawful Activities Prevention Act. The amendment gave the state overriding powers to arrest anyone without establishing a link with a terrorist group.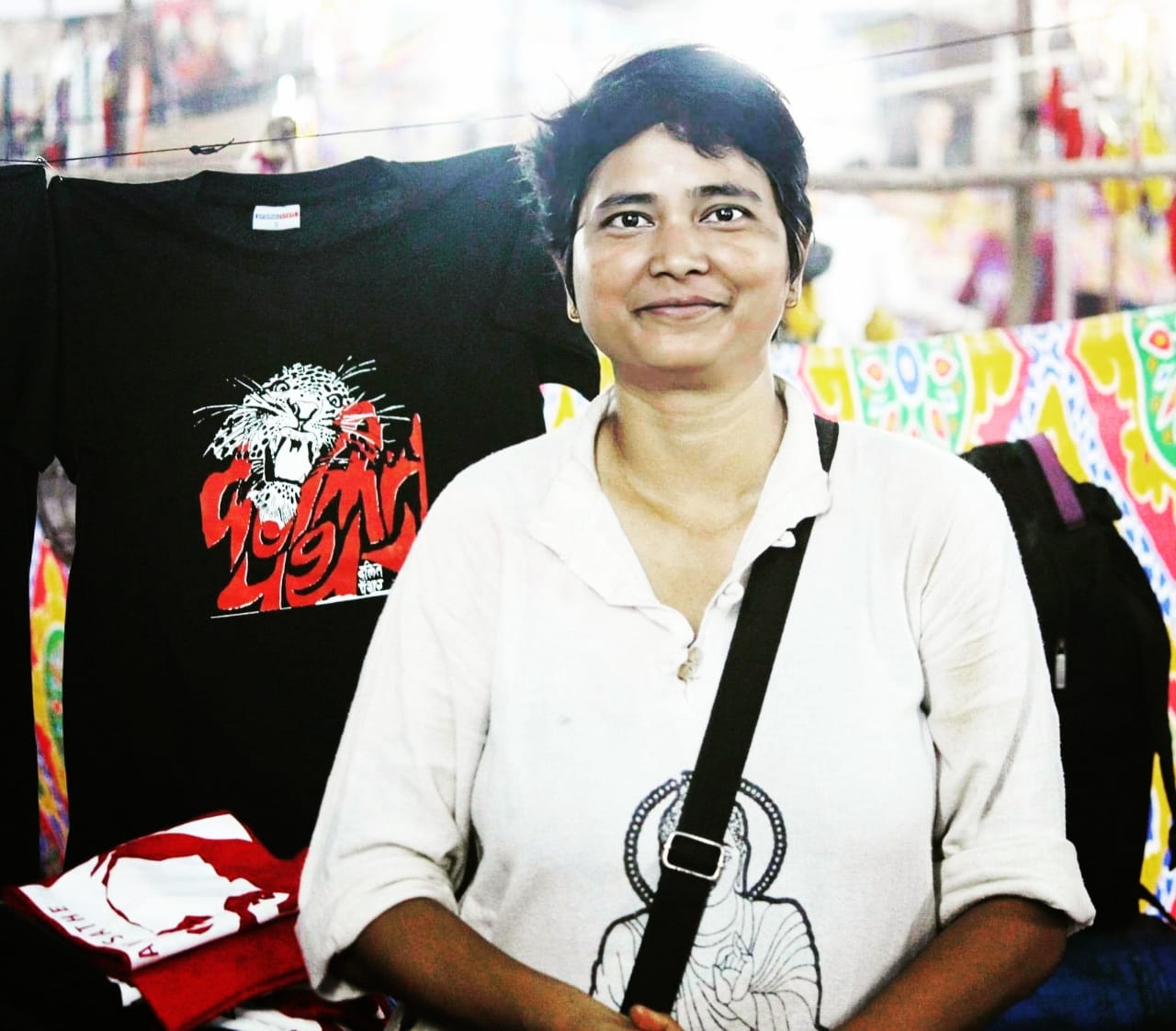 Jadhav's partner and fellow KKM member Sagar Gorkhe was arrested in 2019, and though no charge was made against Jadhav, she fled the home she shared with Gorkhe and dropped out of Babasaheb Ambedkar College, where she was a student.
But she did not give up on her activism. Instead, she found a new way to raise her voice: designing T-shirts with anti-caste, feminist slogans and selling them online.
"Many people are too scared to speak out or don't know how to speak out. But they can still say a lot by wearing T-shirts with slogans they believe in and recognise," says Jadhav.
At KKM, Jadhav would often design posters, banners and other visuals for the protests, and she now uses that creative experience to design the text for T-shirts. She runs her business from her home in Pune, handling most of the work herself, from designing and printing to dispatching and marketing. During the pandemic, she made all her sales online, drawing from her experience as a head administrator and chief moderator of several socio-cultural Ambedkarite organisations and groups. This upped her skill in spreading the word and "making it heard".
"For the past decade, I have been in charge of the social media of Kabir Kala Manch, Bhima Koregaon Shaurya Din Prerana Abhiyan, Elgaar Parishad, and the political party Vanchit Bahujan Aghadi," she says.
In mid-2021, after the lockdown was lifted, Jadhav started selling her T-shirts at stalls in Pune and Amedkarite cultural sites like Chaitya Bhoomi. At one time, the Pune police tried to interrogate her while she was selling T-shirts, which only emboldened her further.
"If you scare someone so much, there will be no fear left," she says. It is this fearlessness and charisma that empowers her entrepreneurship. For a working-class Dalit woman born in a basti (slum) to defy the state and set up a business that sustains her is nothing short of extraordinary.
Unlike most entrepreneurs, Jadhav doesn't dream of mainstream commercial success or scaling for Roots. For her, economic autonomy is a powerful and fulfilling achievement in itself.
"My financial independence and political beliefs inform one another and embolden me to live my life according to my values," she says.
From her T-shirts depicting images of Savitri Bai and Che Guevera, Jadhav's values are plain to see, as are the price points which she strives to keep affordable and below Rs. 500. One of her more successful marketing strategies is to price the versions of T-shirts that are blue (the colour associated with the Ambedkarite movement) slightly higher.
Explaining the tagline of her store, "Revolutionary Clothes for Revolutionary People", Jadhav says, "We are the people's artists, and we will always speak for the people."
Riya Talitha is a fellow with the TCN-SEED mentorship program. 
SUPPORT TWOCIRCLES
HELP SUPPORT INDEPENDENT AND NON-PROFIT MEDIA. DONATE HERE