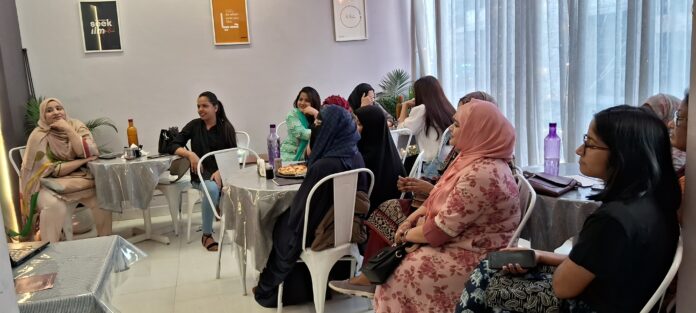 Café Sheeru seeks to offer a 'safe and comfortable' space for women customers
By Simeen Anjum & Arbab Ali, TwoCircles.net
Sarah (who goes by her first name), 21, is strolling towards a bangle shop in the bustling streets of the Batla House market in Jamia Nagar, a Muslim ghetto in southeast Delhi. Delhi. Sarah is a physiotherapy student who lives in Abul Fazal Enclave, a nearby neighborhood. After much haggling, she purchases a set of red glass bangles, has them gift-wrapped, and walks to Cosmos Plaza on the opposite side of the road.
She skips every other step on the staircase until she reaches the second level and enters 'Sheeru Cafe,' where her friend Sahrish Khan, 22, is waiting for her at one of the tables. "We're celebrating Sahrish's birthday here," says Sarah, as she joins her posse of friends.
They order a large meal of cheesy chicken lasagna and farmhouse pizza at the counter, where the chef is also a girl like them: 21-year-old Sanya, a biology graduate with a flair for cooking and baking.
Cafe Sheeru's most outstanding feature is that it is a 'women's only' space. The customers, the chef, the manager, the waitress, and the owner are all women.
"There are no leisure facilities for women in the area. But here, women are able to find their own space and enjoy time alone," says Sanya, who doesn't share her full name.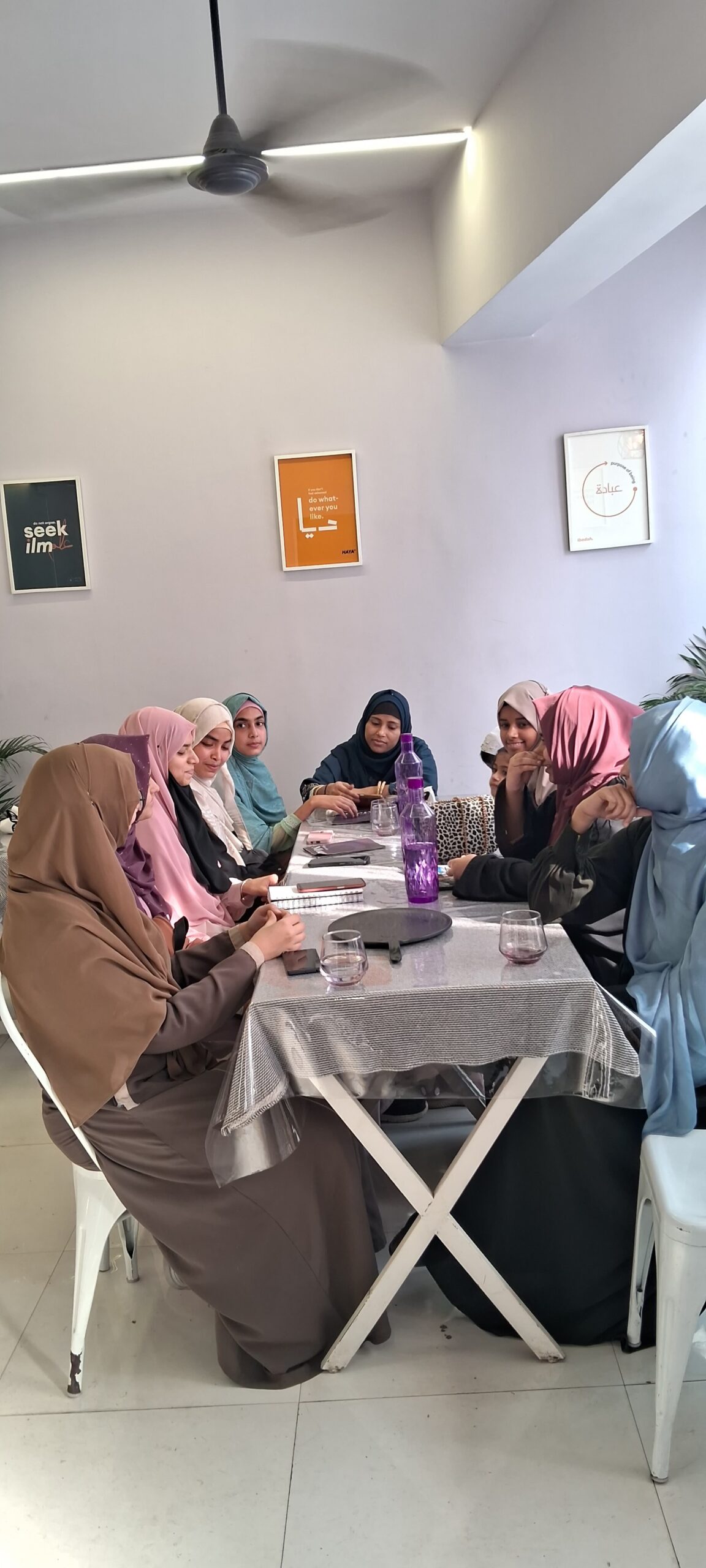 A 'safe space' for women
The café seeks to create a safe and comfortable space for women shoppers to relax, eat, and even pray. It provides a separate space for offering namaaz inside the cafe, keeping in mind the culture and values of its clientele. Offering Islamic prayers (namaaz) is important for the majority of Jamia Nagar residents. Five times a day, the speakers of the numerous mosques in the area call people to prayer (adhan).
"Because not all mosques have a designated space for women to pray, women who go out to shop in Batla House find it difficult to offer their daily prayers. They can pray in peace at our cafe," says Frahim Akhtar, 31, Sheeru's co-founder, and the only man in the team. Akhtar manages the café's grocery supplies and its books section, entering it only twice a day: before it opens in the morning, and after it shuts, at 10 pm. Sitting over 20 yards away from the café, he makes sure no man can walk in.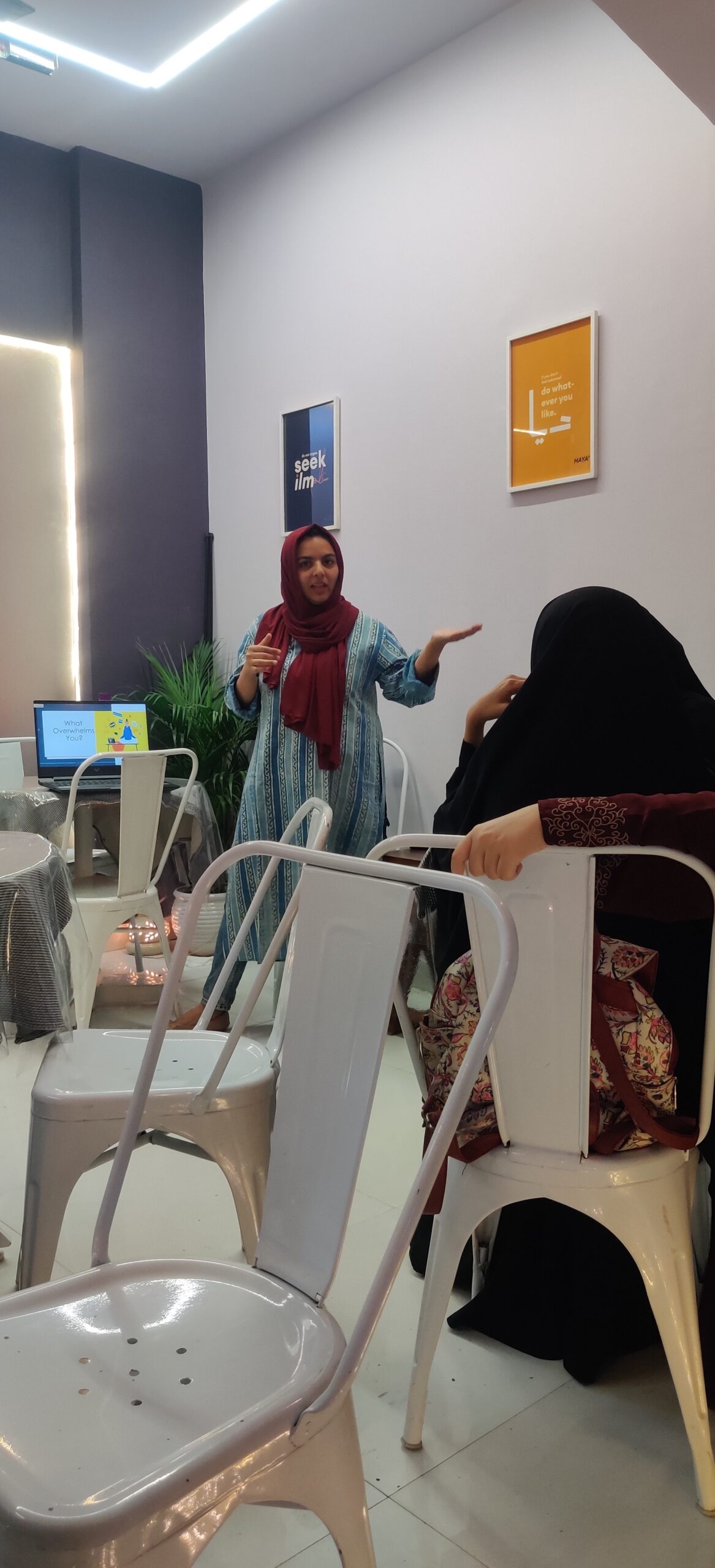 Building a 'connection' with women
Atiya Khursheed, 30, the cafe's burqa-clad founder, who has "always been concerned about the paucity of leisure areas for women", waited for the Covid lockdown to end to launch the café. "The idea of creating a space for women is something we have been planning for many years," she says.
An architect and urban planner by profession, Khursheed co-created the café with her husband Akhtar, a mechanical engineer who spent over 25 years in Saudi Arabia. The couple's baby daughter, who they like to call "Sheeru", inspired the cafe's name.
Since its launch in July last year, Khursheed says the café has built a "connection" with its customers. "One day, a mother of a wailing infant came to the café and breastfed her child. She said she'd visit again someday with time on her hands," Khursheed cites as an example of women seeking a safe space for their exclusive needs.
Sheeru's active Instagram page shares pleasant moments with its customers. Photos and social media mentions suggest that the cafe has established a loyal band of customers who appreciate the 'women only' environment. The modestly built café, about 850 square feet in area, has white curtains and white furniture, and its aroma is filled with freshly baked pizza and brewing tea. The sense of calm contrasts with the clamour outside, visible via its large glass window.
The space wisely incorporates Islamic ideas and values, such as offering free mineral water to visitors. The inspiration for this gesture is made apparent in their menu, which includes a saying of Prophet Muhammad: When a companion questioned the Prophet, peace and blessings be upon him, "Which charity is best?" "A drink of water," said the Prophet.
A bookshelf in the corner stacks Islamic books for children, such as "Baby's first Prophet Muhammad stories" and "Baby's first Quran stories".
During prayer times, there is a palpable rush in the cafe, with nearly a dozen ladies inside. "At times, ladies come in only to offer namaaz and they don't order anything at the cafe," says Nahid Mateen, 24, the manager. "We are supportive because our goal is to build a community space rather than just make money," she adds.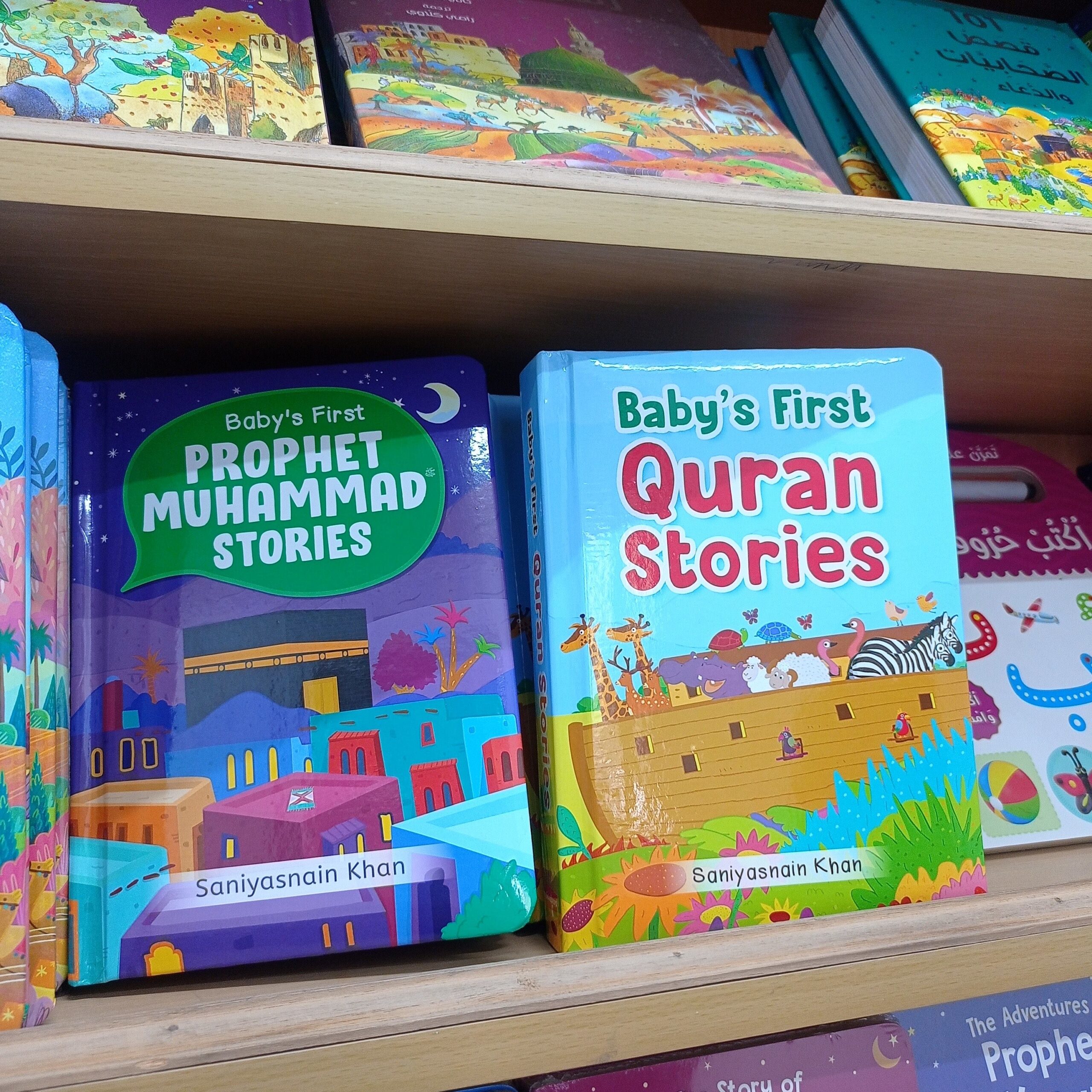 Community building at Sheeru Cafe
Mishkat Tehreem, a 23-year-old mass communications student at Jamia Millia Islamia University, near the Batla House market, says the café's location works to its advantage. "Batla House market is a one-stop shop for Jamia's female students' needs. Being out in public places as a woman can be difficult at times. Sheeru is filling this void for me," she says.
In spaces exclusively for them, women can enjoy their time "without the feeling of being watched, which is something women typically experience in public places," Khursheed says.
The café also serves as a cultural space, hosting events such as calligraphy workshops, poetry sessions, open-mic nights, art shows by local women artists, and guest presentations on topics that are important to its customer base, such as women in public spaces. They conducted a series of seminars and talks for women during Women's Week in March, and also arrange pop-up stalls to assist women-led local businesses like Aetbaar (a clothing brand) and Salzbakes (a home-based bakery).
The challenges
Before opening the cafe, Akhtar and Khursheed researched the market to see if their novel concept had any takers. "We asked people on the streets of Batla House what they thought about an all-women's café. They replied positively," says Akhtar.
Still, it remains "a risky business venture" because it eliminates more than half of your potential clients. "It required a lot of courage to take this step," he says.
Then, there are unique operational challenges involved in running a women-only space. As maintenance work, such as repairing the AC or plumbing, is almost always done by men, "customers have to be turned away during such hours," says Akhtar.
But these are only operational hiccups in the larger happy story of Café Sheeru. Khursheed and Akhtar hope to set up more branches in Delhi as well as expand to other cities like Lucknow, Aligarh, and Hyderabad in the future.
Simeen Anjum is a social practice artist based in Delhi. Arbab Ali is a fellow at TCN SEED program.