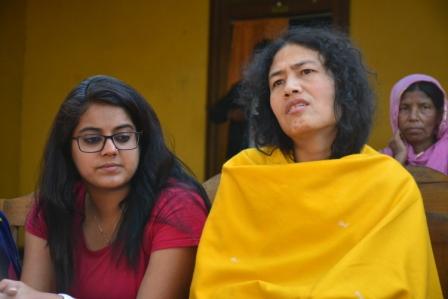 By Aaquib Khan for Twocircles.net
For the past decade and a half, Irom Chanu Sharmila's name has been synonymous with peaceful resistance against State policies. Sharmila famously went on 16-year long hunger strike from 2000 to 2016 against the draconian Armed Forces Special Powers Act, which has been misused time and again by security forces and has resulted in the deaths of hundreds of civilians. But while her fast gained worldwide attention even as she spent most of her time in judicial custody, she was unable to persuade the government to remove AFSPA from Manipur.
So, Sharmila decided to end her hunger strike and decided to enter the political circle by launching Peoples' Resurgence and Justice Alliance (PRJA). Making her intentions clear, she has decided to contest against the three-time chief minister and Congress candidate Okram Ibobi Singh in the Assembly elections to be held next month. Her political party is crowdfunding its campaign to raise money with the help of public instead of "relying on powerful lobbies and interest groups". She spoke with Aaquib Khan about her trials,  aspirations and her dream for the people of Manipur in light of the coming elections. Excerpts from the interview: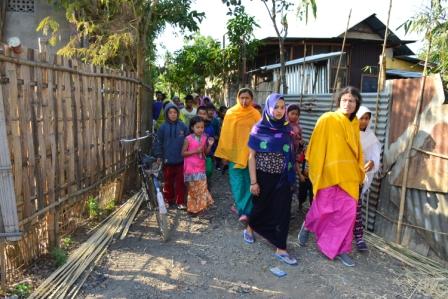 What were the reasons that led you to go on a hunger strike?
The Malom massacre had a great impact on my life. The people who were killed were strangers, but nevertheless, it hit me hard. I was in a preparatory committee meeting for a peace rally around that time, but when I read about the massacre, I was left wondering the point of our preparation for the peace rally, while in reality violence is overwhelming the society. The massacre was also all the more unimaginable because it was done by the Indian Army, which is supposed to serve the people.
Before that incident also, I had witnessed lots of such exploitation of rights, and that was just a turning point to move me, to step into such prolonged hunger strike. Before I sat on a hunger strike, I would often see the Army beating rickshaw pullers only because the rickshaw driver covered his face. How does beating a helpless youth help? And who does it help?
Why did you opt for hunger strike as the form of protest, and how much of your goal did you achieve?
I am just a simple, poor woman and physically I have no strength to fight anyone and anything. I believed in myself and also believed that nonviolence is powerful, I just took the means of hunger strike, hoping I will get success. What else could I do alone? During this long course of hunger strike, lots of changes happened, and during which Assam Rifles moved out from our Kangla Fort, which is the most sacred place of Manipur. I consider that as an achievement of my struggle. Also, before I started the hunger strike, killings and disappearances of innocent people and assaulting women were considered regular news: now, it has reduced substantially.
But AFSPA still exists in Manipur. Why?
I realized after 16 years of struggle that this (repealing AFSPA) is a political issue, not just a human rights one, and it needs political will, collective will, collective effort, and the unity of the masses. So I decided to fight this by getting into politics and involving myself in the system which takes the decision. This is a must to empower me, the struggle and to raise my voice directly to the concerned authority. The goals remain the same, but the strategy is different now.
How difficult was to return to normal life after 16 years of fasting?
Now it is no more difficult. Fruits are more tastier than before and the world is much brighter than before, almost everywhere everyone is smiling towards me.
Some people are disappointed that you quit the hunger strike. You lost support. How do you react on that?
In that sense, they are hard-hearted, only because we in this world have equal rights, equal responsibility to the society as social elements of the society. We need mutual dependence, mutual respect, mutual enjoyment of life's beauties. Why should they remain contented putting the burden, all the burden on my head alone? What I really want is people to come out, join me and work together. I don't want them to remain singing my glory while I continue to fight and strike (hunger) alone.
Some of the people I spoke to around here said you should have continued your strike. How do you respond to them?
I want them to change their mindset, their sense of being a humanity, and their own sense of commitment. I am not Iron, I am Irom. I am a simple woman who has her own desires and wants to spend various stages of her life with her fiancé. So I want to live a normal life, continuing the struggle and fight.
How has the campaign been until now?
I have been mostly campaigning on my bicycle and sometimes on a four-wheeler with few supporters to Thoubal, meeting with them. I want to convince the people not just as a candidate from Thoubal, but as the harbinger of justice to the society, to connect in between hills and valley to bring the real democracy in the society, involving myself, being the change myself.
What were the reasons for choosing Thoubal?
Okram Ibobi Singh has been the CM for the past 15 years and has witnessed my struggle, yet he continues to gag my voice of justice with money. I just want him to be removed from his position, and the best way to do that is to challenge him directly.
What are the main concerns of PRJA and how would you address them if you came to power?
I do not wish to distinguish between Meiteis, Pangals, and Tribals. I want to take care of them like a parent takes care of children, trying to know their sentiments, their real needs, and with the problems of life and help them. Why should we, the people of Manipur, have to face starvation while the hills surrounding this small valley are full of plants and fruits? Why should we depend on others for our survival, for our happiness, for our development? Why should we depend on others to solve our problems?
The election campaigns are going on amidst blockades in several parts of the state. How do you plan to solve this issue?
I just want our people to change their mindset about the sense of patriotism. Why do they wish to remain so possessive? Hills and valley are assets of both inhabitants of this land. Such defensive and possessive nature have resulted in discrimination and divisions. The real need in the society is living together harmoniously.
What makes you sure that you will win?
The blessings and people's support. When I go anywhere, when people say may God bless you, may you live long from their heart, I feel like their voice is from God.  Perhaps I am too optimistic but I can't lose hope.
But you are a new entrant to the state politics. What will happen if your party does not win?
I don't want to imagine and visualize a failure. I just want to be the way God wants me and follow the situation. It wouldn't be the life of a failure, as every person is not destined for success only.
The author is a Mumbai-based Media professional and tweets here.
SUPPORT TWOCIRCLES
HELP SUPPORT INDEPENDENT AND NON-PROFIT MEDIA.
DONATE HERE