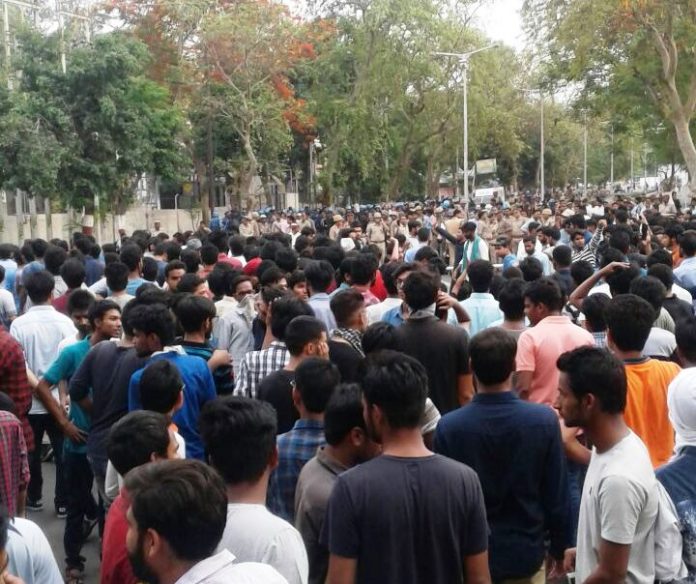 By Shafey Anwarul Haque for TwoCircles.net
There is a hue and cry all around. The events at Aligarh Muslim University led to many debates- some relevant, some off the topic. The media played a very condemnable and disgraceful role. Students of the varsity are still protesting against the immoral behaviour they encountered on May 2, 2018. They were first attacked by members of Hindu Jagran Manch, an affiliate of RSS and later brutally beaten by UP police while proceeding to register an FIR against the attackers. But the question is still unanswered "Are students across India safe and secure in and around university campuses?"
---
Support TwoCircles
---
The incident is neither new nor is it the question related to the decorum and peace in an educational institution. Since BJP's ascension in 2014, educational institutions across India have witnessed consistent assaults and distractions that have caused severe outrage against the ruling government and its affiliated organisations. Such attacks still continue and the questions survive. What are the objectives behind creating this fuss? What role does the state machinery play amid such events? How do media negotiate over reality? Finally, are the university campuses really safe now?
Needless to mention, there are no obvious motives behind targeting any individual or institution over nationalistic ideals-clearly no motive except causing unwarranted annoyance and distracting common men from core issues. Franklin. D. Roosevelt once said, "In politics, nothing happens by accident. If it happens, you can bet it was planned that way." In the present context, we may not disagree that in 2014, BJP actually conquered a mandate to devastate India's secular character. They began doing the damage with cow vigilantism, where a number of Muslims were killed in the onslaught. Also, other minority communities too became victims of their fury.
Now Aligarh Muslim University is subject to saffron violence. Earlier, similar episodes occurred at JNU in 2016 that received utmost criticism. They were beaten last month also while protesting over a sexual harassment case. Najeeb disappeared from the university campus only- he is still untraced. During the Occupy UGC movement, a number of students from various universities across the country were beaten by the police. Hyderabad appeared next in the row, where Rohith Vemula, a PhD student, committed suicide in the Hyderabad Central University due to discrimination within the campus. Events at Banaras Hindu University, where a women student was charged by the cops, also reflected saffron brigade's attempt to establishing their hegemony. How could Aligarh Muslim University (AMU) expect restraint when RSS and its epigones have filled the air with cacophonies of hatred and violence? All that happened was clearly unlawful and intimidating, but students are forced to fight to get their voices heard. What could be more saddening than this stalemate?
Though there is no official record of such incidents, when we closely look at the pattern of all such incidents, we find irrefutable similarities. This resemblance unveils strong propaganda- propaganda to calumniate educational institutions and their services to the nation. Also, there are subtle efforts to dislocate student's attention from academics and engage them neither here nor there. In most of the cases, students are attacked either by men who turn out to be the advocates of right-wing ideology or beaten by police. In case of AMU, students were first attacked by men who were armed with pistols and shouting slogans like 'AMU ke gadddaro ko, Goli maaro saalon ko(kill the traitors of AMU)' and then brutally beaten by the police that left a number of them severely injured. Few days after AMU incident, slogans like "Jinnah Premi Desh Chodo (Jinnah Lover Quit the Nation)" were raised at Jamia Millia Islamia, New Delhi. The continuous hostility extends many debates- First, how could anyone threaten students inside a university campus like this? Second, why are students being treated like criminals?
The questions are as relevant as issues that are being silenced deliberately under a decades-old portrait. Since the Kathua incident, there has been hardly a day when no new rape case came to light; the unemployment rate is escalating day by day, and fourteen Indian cities have made their names in the twenty most polluted cities of the world. In a nutshell, problems are enormous but solutions seem missing. The government, both centre and state, barely pay heed, and their unwillingness to act has declared a serious 'war without bloodshed'.
At AMU, students are protesting because there is a lack of a mechanism to deal with such crisis. They are protesting against injustice widespread since long. Through their protest, they condemn the brutal attempt to saffronising the variegated ambience of educational institutions and India at large. It is a prolongation of the resistance which sparked ahead of the incidents that occurred earlier. Certainly, they, along with students from other institutions, are fighting for their rights and safety. And if they fail to resist this cataclysm now, they would give the devil strong foothold.
The author is a Research Scholar at the Aligarh Muslim University
SUPPORT TWOCIRCLES
HELP SUPPORT INDEPENDENT AND NON-PROFIT MEDIA. DONATE HERE