Text and photos by Sheikh Saqib, TwoCircles.net
Srinagar: Feroz Hajam, 25, is lying on bed number 32 inside Srinagar's famed Shri Maharaja Hari Singh Hospital (SMHS). Unlike other patients in the ward, however, Feroz is not suffering from medical ailments. He is a victim of torture, whose throat was slit by security forces.
---
Support TwoCircles
---
Feroz is unable to speak and reaches for a notebook when asked about the reason behind him being in the hospital. "I was picked by the Indian armed forces from Khanabal and was driven to the Joint Interrogation Center (JIC) where the Special Task Force (STF) of the Jammu and Kashmir Police tortured me and slit my throat," Feroz writes on a notebook which helps him communicate with people.
Feroz is stuck to the hospital bed with his stitched throat and stares with haggard eyes at each passerby. While doctors fear he might not regain his voice, Feroz lives in hope and writes: "Don't insist with my family members to talk about the incident; once I am able to talk, I will give you all the details."
He fears that his family may face the wrath of the Indian armed forces if they talk about the horrifying experience he faced and directs his siblings not to talk to the media personals and writes, "They will kill you," he writes.
'I want justice'
"Feroz Ahmed Hajam, a resident of Khretti village in Kokernag area of Anantnag district, has been brutally assaulted by slitting his throat and is lying almost dead at SMHS Hospital," stated a petition filed by Muhammad Ahsan Untoo, chairman International Forum For Justice and Human Rights (IFJHR) on September 13.
Later, the State Human Rights Commission (SHRC) directed the Deputy Commissioner and Senior Superintendent of Police (SSP), Anantnag to file a report regarding the incident.
Earlier, the Jammu and Kashmir Police had issued a statement that on September 5, 2018, one Jaish suspect Feroz Ahmed Hajam, son of Ghulam Rasool Hajam, and a resident of Iqbal Pora Kherti Larnoo wanted in connection with case FIR number 125/2018 of Police Station Kokernag was brought for questioning.
"During the course of questioning the suspect went to attend the nature's call and while in the washroom attempted to take his own life by slitting his throat. He was given immediate medical attention and shifted to a hospital in critical condition. He is under treatment in a hospital now," the statement further reads adding that the necessary legal actions have been initiated.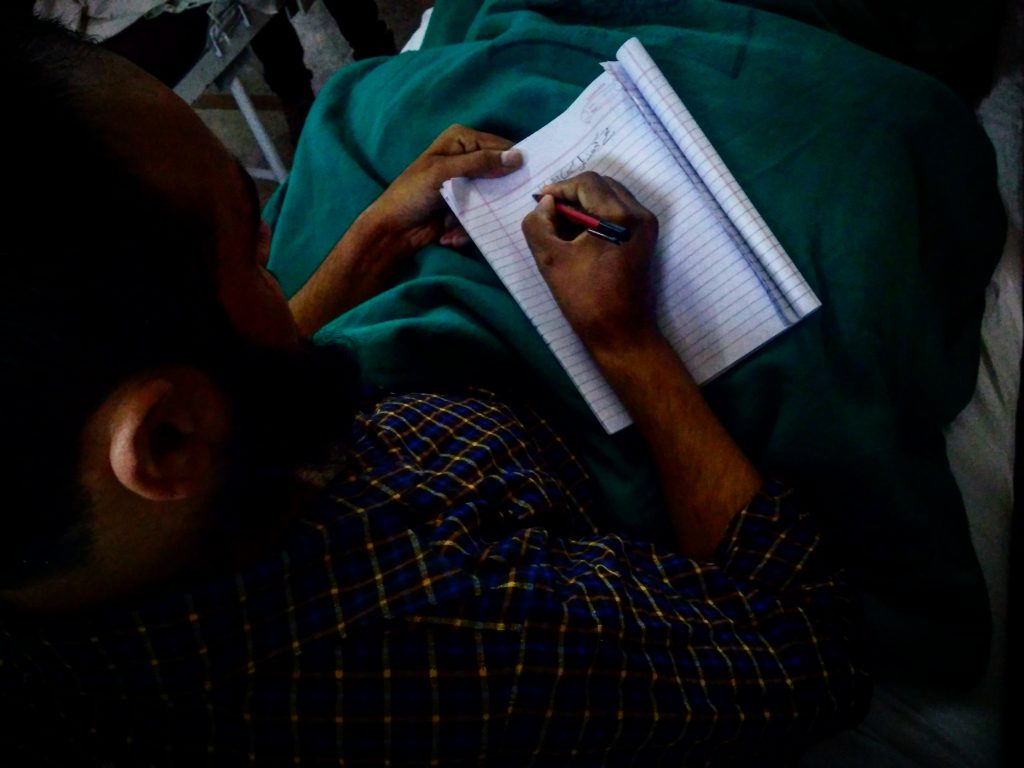 But Feroz denies all the allegations and writes, "Muje Insaaf chahiye (I want Justice)."
"On September 5, at around 10 in the morning, Feroz was on his way to Kulgam to meet a customer who had purchased some clothes from him," says Feroz's brother, Tariq Hajam, who work together to manufacture shirts and trousers in a small shop in Anantnag.
After reaching Khanabal area, Feroz writes, he was stopped by Indian-armed forces, who bundled him into a police vehicle.
Later on the afternoon of September 6, Hajam was found near Nodura Army camp in the Dooru area, 20 kilometres from Feroz Hajam's residence in South Kashmir's Anantnag district.
While talking to TwoCircles.net, doctors who attended Feroz said on the condition of anonymity, "When the patient came his throat was badly slit, he wasn't talking and we couldn't make out if it was a homicidal or suicidal injury. We had to perform an emergency surgery to repair the throat, and an artificial tube (tracheostomy) was placed to help him breathe. The patient is fine now, his life is safe, but we can't comment with surety if he can speak again or not, it will depend on how badly his vocal cords were damaged, we will review him regularly."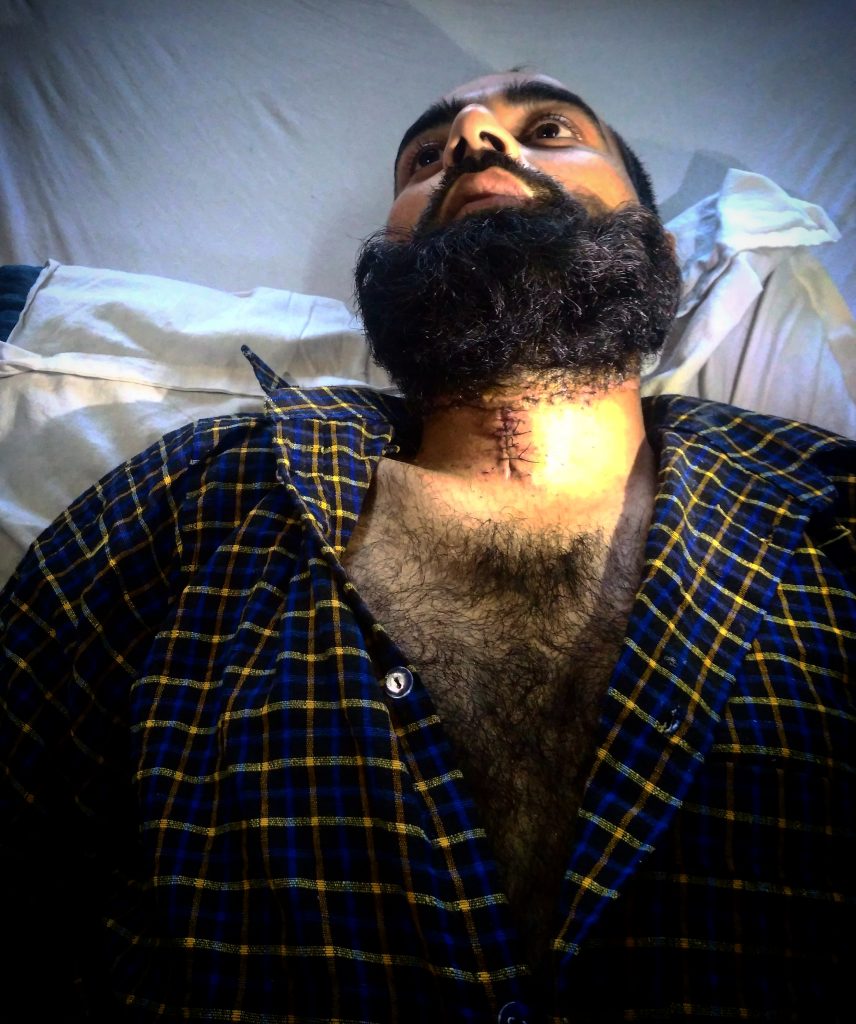 The notebook on which Feroz writes in order to convey his messages has many torn pages. The first page that was cut from the book was when Feroz narrated the whole incident to his family. "Since some strangers came over to check the medical certificates of Feroz, we try to hide every detail related to Feroz," says Feroz's sister.
She said that after "roller torture", police stubbed cigarettes on his legs and shoulder.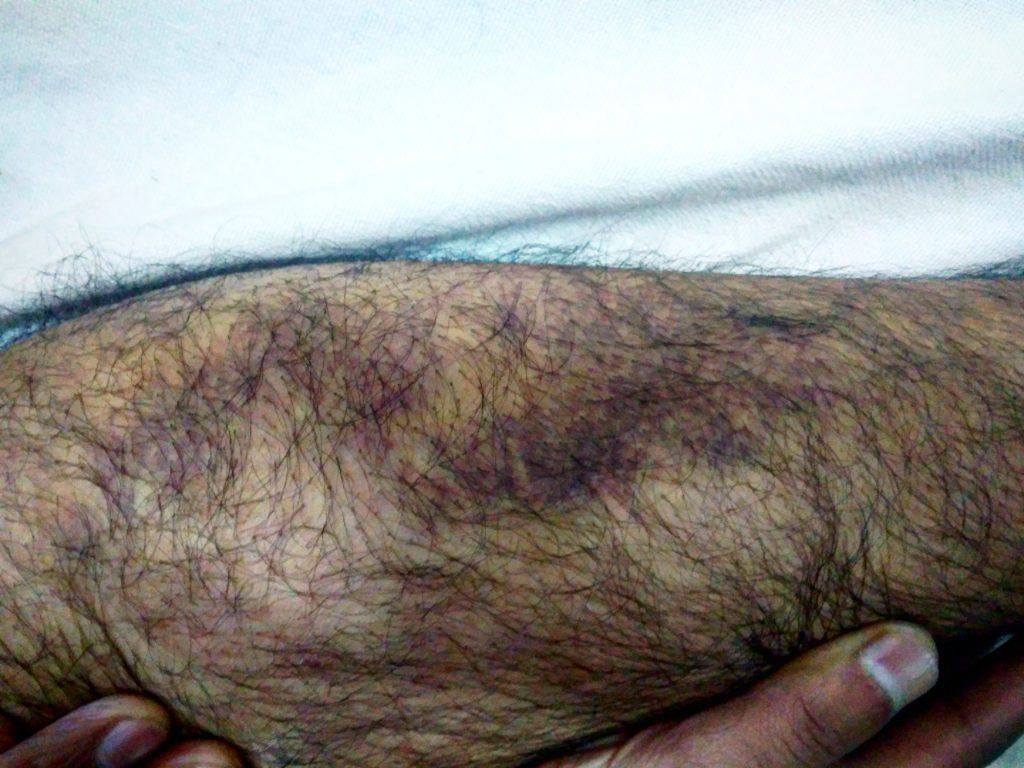 "After stubbing cigarette butts, I was subjected to electric shocks," writes Feroz.
After torturing him for several hours in JIC, Feroz says that later he was driven to Kapran camp, a military garrison located 30 kilometres south of Anantnag.
At Kapran, Feroz says, he was forced to wear an Indian-army uniform. "After putting on the uniform, I was blindfolded and then the policemen cut my throat with a sharp knife," Feroz writes.
It was only after the Crime Investigation Department called his brother, Tariq Hajam, that his family came to know about Feroz who had gone missing a day before.
"Police had arranged an ambulance to take him to the hospital for his treatment. He was taken to a hospital in Qazigund from where he was referred to the Islamabad hospital. From there, he was shifted him to SKIMS, Soura. After giving him the necessary treatment, the doctors then shifted him to SMHS," says Tariq Hajam.
As per his family, more than eight people were involved in torturing Feroz at the interrogation centre.
His family hopes to hear Feroz's voice again but his injury brings them to the dilemma: would he be able to speak again in future and if yes, then what will he say and how safe will it be?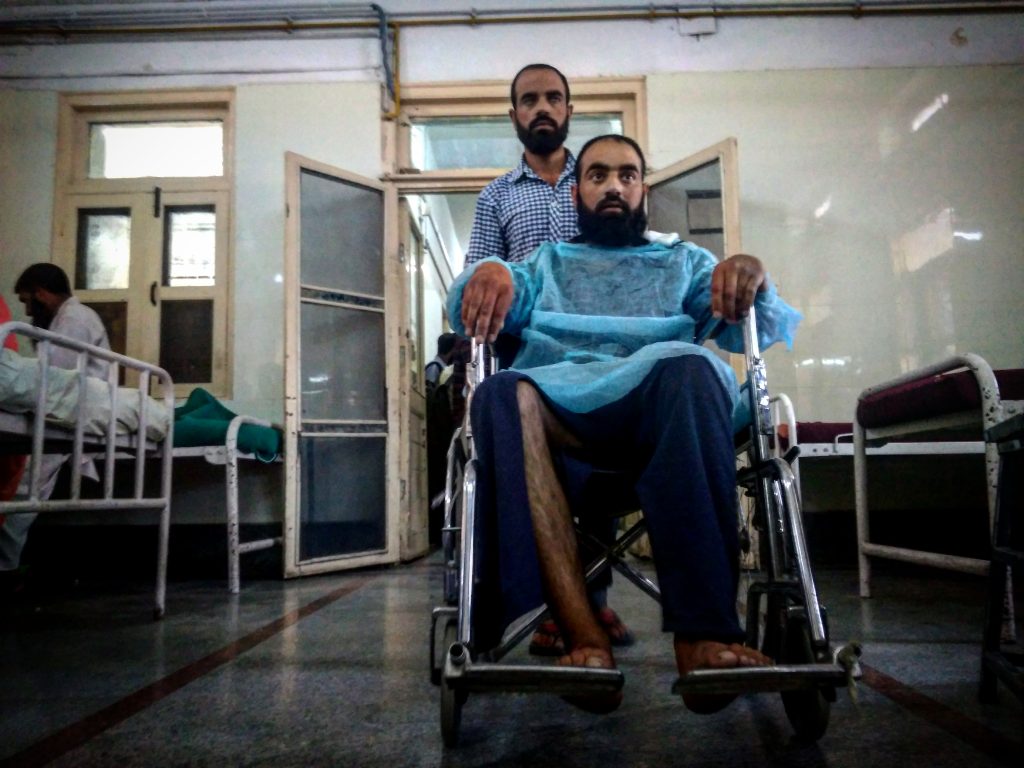 Feroz's story adds to Kashmir's torturous past
According to Jammu and Kashmir Coalition of Civil Society (JKCCS), a federation of human rights organisation and individuals, in 2010 turmoil there were 1,491 detainees who were captured by the Indian armed forces. Out of these, a total of 171 described being beaten and 681 said they had been subjected to one or more of six forms of torture. These included  498 on which electricity had been used, 381 who had been suspended from the ceiling, 294 who had muscles crushed in their legs by prison personnel sitting on a bar placed across their thighs, 181 whose legs had been stretched by being "split 180 degrees", 234 tortured with water and 302 sexual abuse cases.
 The group also claims that 8,000 to 10,000 people disappeared in custody in the past 23 years. The state government acknowledged for the first time in 2011 that thousands of bodies lie in unmarked graves around Kashmir.
Before armed conflict erupted in 1989, most of these torture centres in the disputed valley were guesthouses, hotels, or cinema halls. The men in uniform took over these places, nailed black blankets to the windows and brought in tools of torture: field rollers, iron hooks, strapping benches, pipes for waterboarding, electric wires, and needles.
As per JKCCS, which is headed by Advocate Parvez Imroz, there are around 471 torture centres still existent in Kashmir, 1 out of 5 Kashmiris has been a victim of torture and there is a torture centre at every 5 kilometres. The levels of torture at these camps range from moderate to the seventh degree, around four lakh people had been exposed to all these kinds of tortures, almost 90% of the people who are arrested are being subjected to torture. the methods of torture include dipping the head in the water, inserting chili powder in private parts, rolling on the front side of the legs, electric shocks, cutting and/or mutilating body parts, keeping detainees naked during torture, sexual torture, stretching of arms and legs, inserting iron rods, hanging the detained upside down, forced to drink excessive water, etc. All of these methods have been used on the people of Kashmir.
Some of the most notorious and haunting torture centres in the valley include Hari Niwas, Papa-II, Cargo, Kawoosa House, Red 16, Badami Bagh Cantonment and Shariefabad camp.
SUPPORT TWOCIRCLES
HELP SUPPORT INDEPENDENT AND NON-PROFIT MEDIA. DONATE HERE