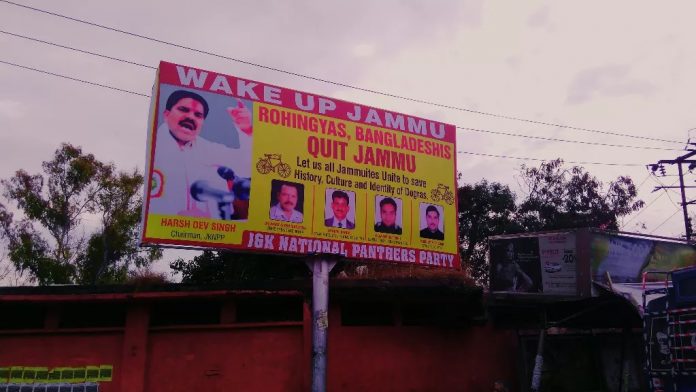 By Raqib Hameed Naik, TwoCircles.net
Jammu: The Jammu district of Jammu and Kashmir was on Friday, February, 4, flushed with hoardings put by J&K National Panthers Party asking Rohingya and Bangladeshi refugees to leave the winter capital.
---
Support TwoCircles
---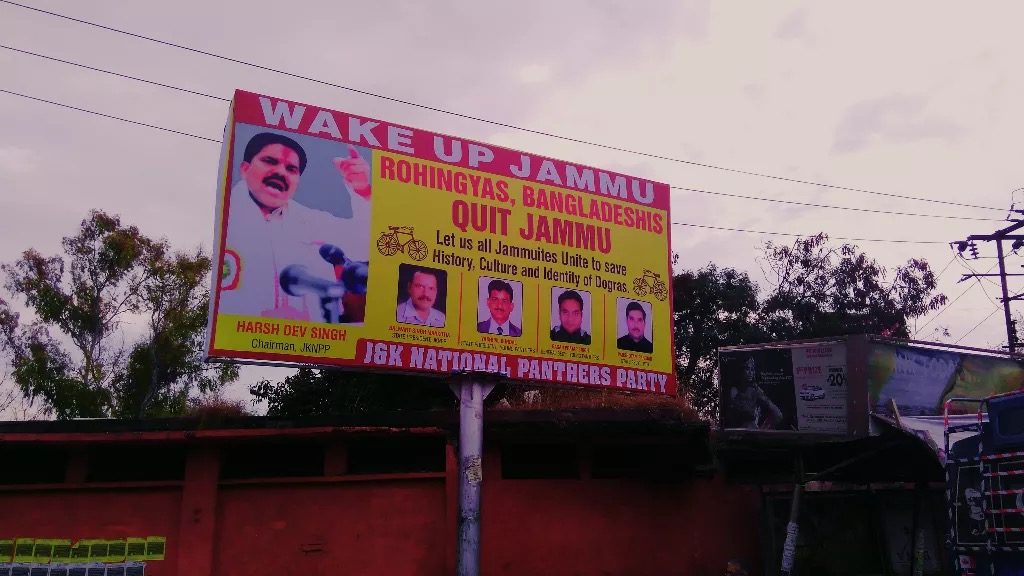 The move is first of its kind to be taken by a political party. Initially, BJP had also asked government to stop settlements of refugees living in different parts of Jammu.
One of the hoardings put up by the regional party at Dogra Chowk, Jammu reads, "Wake up Jammu. Rohingyas and Bangladeshis. Quit Jammu,"
The hoardings calls Jammu residents to unite and save the history, culture and identity of Dogras.
Reacting to the hoardings, Muhammad Younus, a Rohingya refugee living in Narwal Jammu told TwoCircles.net, "We have been living here in Jammu since last one decade. How can these parties threaten us to leave Jammu? We have tried to re build our lives here in this place and we don't have any other place to go. We are not living illegally here. We have UNHCR cards. They can't ask us to vacate overnight."
"The putting up of hoardings have terrified all the refugees," he added.
There are around 1,219 Rohingya families comprising over 5,000 people living as refugee after escaping persecution back in their country. Spread across different areas in Jammu, the refugees live in dozens of slum dwellings.
Most of these slums are in abysmal conditions without proper toilets, water facilities, and electricity. The community has been having a hard time since a fire ravaged one of the slums, leaving them with little cover in the biting cold.
"It is like creating an anti-refugee sentiment and diverting anger against us. We have lived peacefully all through these years. We even work for lower wages in comparison to the local labour who charge more," said Mohammad Ali, another Rohingya refugee lining in Kariana Talab told TCN.
Rohingyas, often called the 'world's most persecuted minority', living in temporary Jhuggis (huts) are majorly concentrated in Karyani Talab Narwal, Bathindi, Channi Rama, Baba Peer, Near Railway, Marathi Mohallah (panama Chowk), Kargil Colony, Rajeev Nagar, Bari Brahmana, Sunjwan, Rahim Nagar, Malik Market, Gool Philli, and Bhagwati Nagar.
SUPPORT TWOCIRCLES
HELP SUPPORT INDEPENDENT AND NON-PROFIT MEDIA. DONATE HERE