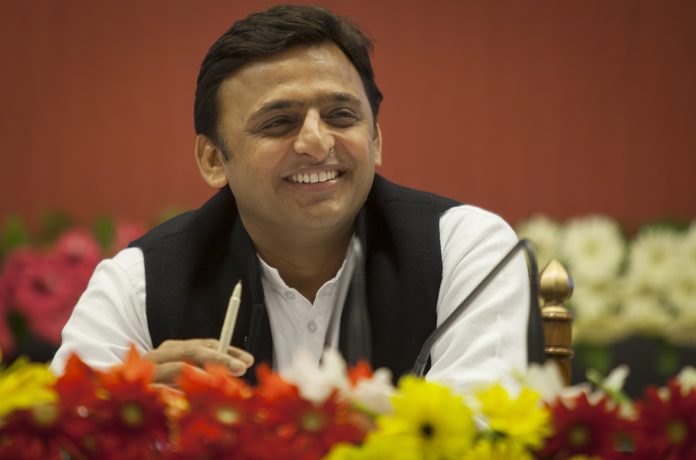 By Faisal Fareed, Tworcircles.net
Lucknow: Irrespective of what the election verdict from UP will be, one can safely say that if there is one party that has managed to anger its own followers and members the most, it is the Samajwadi Party. While the tensions within the Yadav family is all too well-known, if its own former leaders are to be believed, the party has bid farewell to its chances by denying tickets to veteran and sitting MLAs.
---
Support TwoCircles
---
Take, for example, Kamal Yousuf, a five-term MLA. When he came to know about his fate, he said, in a choked voice, "Akhilesh Yadav has selectively wiped off Muslim leadership in eastern UP. He has not just cancelled my ticket but has throttled the aspirations of nearly 1.5 million Muslims in three districts—Sidharthnagar, Sant Kabir Nagar, and Basti."
Yousuf, a former minister and also founder member of SP has been denied ticket from Doomariyaganj seat in Sidharthnagar district. He has won the seat five times with the last being on Peace Party ticket in 2012. Though he was a Peace Party MLA he always supported SP and had even joined it.
A veteran Muslim face in the eastern UP known as Poorvanchal, Yousuf has been left with no choice as Akhilesh has fielded Chinku Yadav, a youth from Doomariyaganj.
"Mulayam used to respect the senior leaders but I have been denied ticket by the new leadership. But I will remain in the party and teach the detractors a lesson. Now the Muslims of Basti division are free to vote for anyone," Yousuf said as supporters gathered at his residence. He had termed Akhilesh as anti-Muslim and anti-Samajwadi.
For the record, SP has not fielded any Muslim candidate whole Basti division.
Not only this, SP president Mulayam Singh Yadav in SP office has also publicly remarked that—Akhilesh is against Muslims. However, the comment died an untimely death and did not find much mention.
He is not the lone Muslim MLA but several ministers from the community have faced the same fate. Waseem Ahmed, who won from Gopalpur in Azamgarh too has been unceremoniously denied ticket. Waseem was shocked and soon after pleaded that he should at least be told what his mistake was. He did not get an audience with CM Akhilesh Yadav for several days to present his case.
Another strong leader is Shakir Ali from Deoria. A leader who is quite popular among masses, Ali had defeated the then BJP's state president Surya Pratap Shahi from Patherdeva seat in Deoria even after national and senior BJP leaders held meetings in that assembly constituency. Three-term MLA Shakir Ali was also a minister during Mulayam's previous regime, even though he remained in back benches during Akhilesh's tenure.
Since Akhilesh took over as CM in 2012 there has been the silent elimination of Muslims from the political post in eastern UP. As many as five Block Pramukh in Sidharthnagar from blocks Itwa, Khuniao, Dubia, Doomariyaganj and Khesra were removed after SP backed members moved a no-confidence motion against them.
Muslims faced the axe even in Ghazipur where former minister Shadab Fatima, a second-term MLA from Zahoorabad has not been given a ticket. Though SP has not offered any reason for denying the ticket.
In the Western UP, Najeeba Zeenat Khan, the lone Muslim women MLA in half a dozen districts, has been sacrificed to pave way for Kiran Yadav who is related to IAS officer Pandhari Yadav. Khan is a first-term MLA from Patiyali seat in Kasganj district. Other Muslim MLAs who have been denied ticket by Akhilesh include Shamimul Haq from Moradabad Dehat, Ashfaq Ali Naugawa Saaadat in Amroha, Babu Khan in Shahabad, Hardoi and Saeed Ahmed in Phoolpur, Allahabad.
Similarly, in Aligarh, the SP has not given a ticket to its sitting MLA Haji Zameerullah from Koil seat. A two-term MLA Zameerullah is contesting independent and circulating pamphlets with questions—Mera Kya Kasoor, Ab Aapki Baari.
In Deoband seat of Saharanpur, Maviya Ali won the by-poll on Congress ticket but became close to Akhilesh. He was seen with him in official functions and was assured of a ticket. But now he too has been denied a ticket.
SUPPORT TWOCIRCLES
HELP SUPPORT INDEPENDENT AND NON-PROFIT MEDIA. DONATE HERE