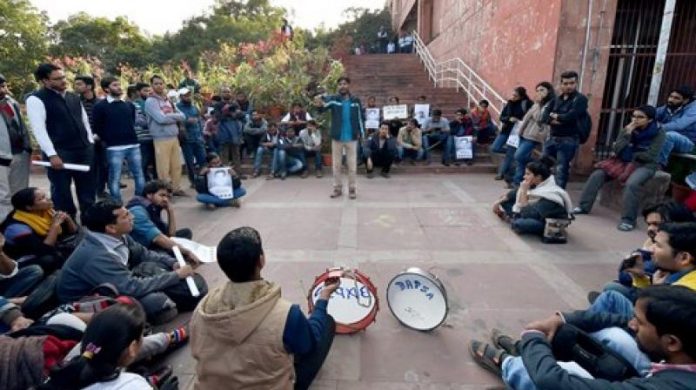 By Atul Anand and Amit Kumar, Twocircles.net
In an important turn of events in JNU, the Vice Chancellor Jagdeesh Kumar has confirmed to the protesting students that there will be no fees hike for SC, ST and OBC students in the upcoming academic year.
---
Support TwoCircles
---
https://www.youtube.com/watch?v=72Yv-IrkV6Y&app=desktop
However, Dileep Yadav, one of the nine students suspended last month by the JNU administration, was forcibly taken away in an ambulance by the Delhi police after sitting on a hunger strike for the past three days.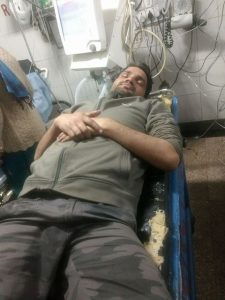 On Monday, the suspended students met the VC, and put forward a set of demands. The demands include:
1. Implementing the Nafey Committee recommendations or reduction the viva-voce number from 30 to 10.
2. Implementing minority deprivation points.
3. Roll back fee Hike
The VC in his reply said that the students must raise points which are objectionable in the UGC gazette and that he would raise the same in his meeting with the Commission on Tuesday.
Yadav, a member of the United OBC forum, had been suspended along with eight other students from marginalised backgrounds for 'disrupting an academic council meeting'.  Apart from the hike in fees, the students were also demanding a reduction in interview marks and weightage be given to entrance tests in the admission process for MPhil and PhD programmes.
In December, the University's Executive Council (EC) approved the adoption of the May 2016 UGC gazette notification, which makes interview the sole criterion in MPhil and PhD admissions. Although these demands were passed in the Academic Council meeting, a number of faculties have also denied and criticised such a move.
On January 20, Yadav pitched a tent outside the Administrative Block, and had been on a hunger strike. According to eyewitnesses, Delhi police officers in plain clothes with the help of G4S security picked up Yadav even though he refused to go with them.
SUPPORT TWOCIRCLES
HELP SUPPORT INDEPENDENT AND NON-PROFIT MEDIA. DONATE HERE