By TwoCircles.net Staff Reporter
Aaghaz-e-Dosti, a cross border Indo-Pak Friendship Initiative, is now a laureate under the category of '​Special Mention​'​ for the Public Peace Prize 2017. Public Peace Prize is an International award and regarded as the People's Award. It is the public that sends in nominations and then votes to choose the laureates according to the proposed categories.
---
Support TwoCircles
---
Aaghaz-e-Dosti is proclaimed as Laureate for the 2017 Public Peace Prize in the category of Mediators for Reconciliation between Groups Divided by Conflicts.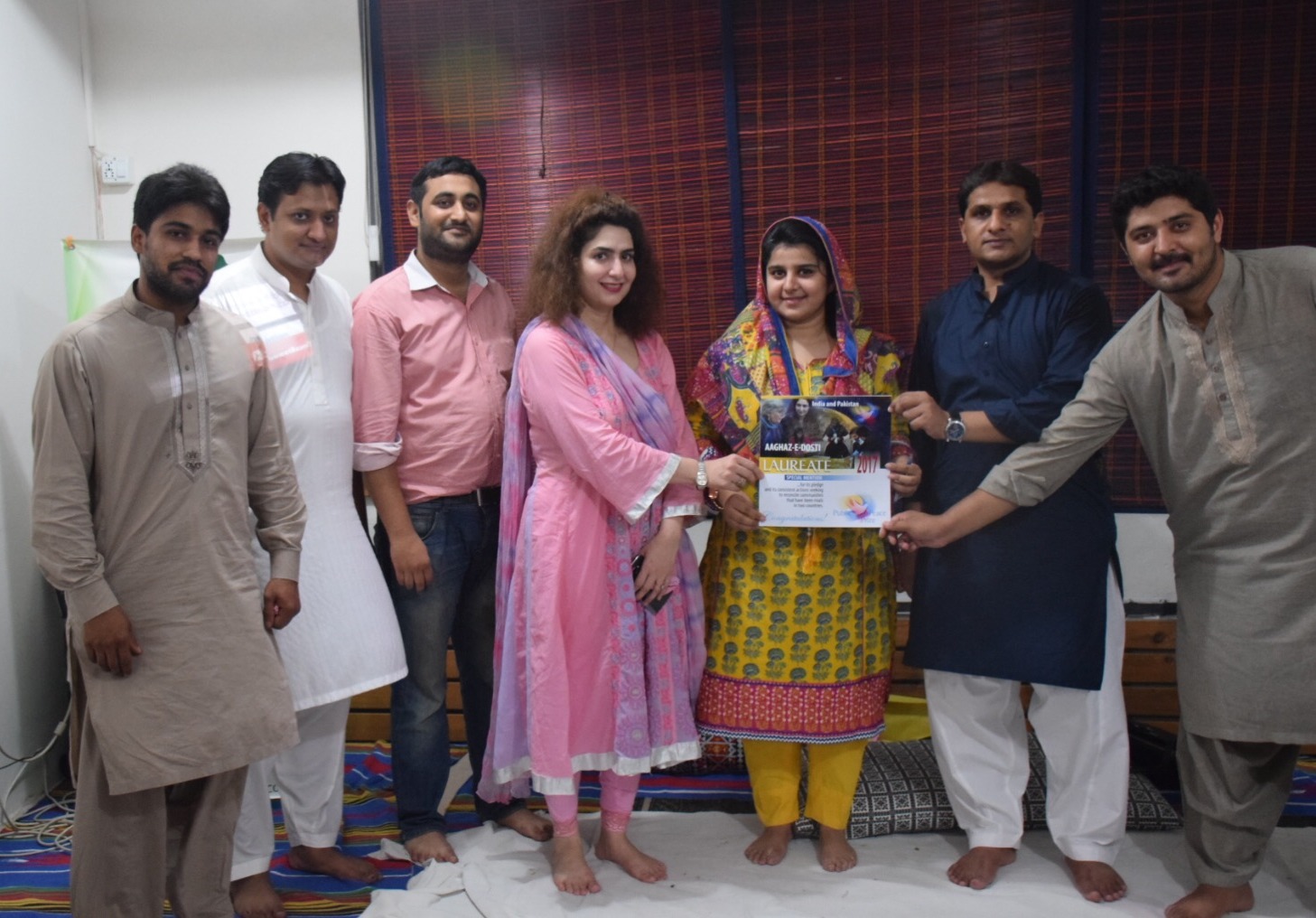 In 2017, it has recogniz​ed peacemakers from Cameroon, Colombia, Ghana, India, France, Nigeria, Pakistan, USA and Yemen. The criteria for recognition was is uniqueness of project, challenges, courage, audacity and selflessness of change​ ​makers and their efforts.
Besides Aaghaz-e-Dosti, 2017 laureates include Elliot Hillary Dogbe who is an 11​-​year​-​old peace activist from Ghana, Khairatul Saidu from Nigeria who is working for rights for the unjustly imprisoned, Zubair Torwali from Pakistan for his work to increase literacy in the indigenous people of Swat Valley among several other inspiring change​ ​makers who have been felicitated as laureates or finalists.
Public Peace Prize wrote for Aaghaz-e-Dosti, "Aaghaz-e-Dosti is laureate 2017 for its pledge and its consistent actions seeking to reconcile communities that have been rivals in two countries. Most of the public's support went to this civil initiative which was considered both innovative and bold."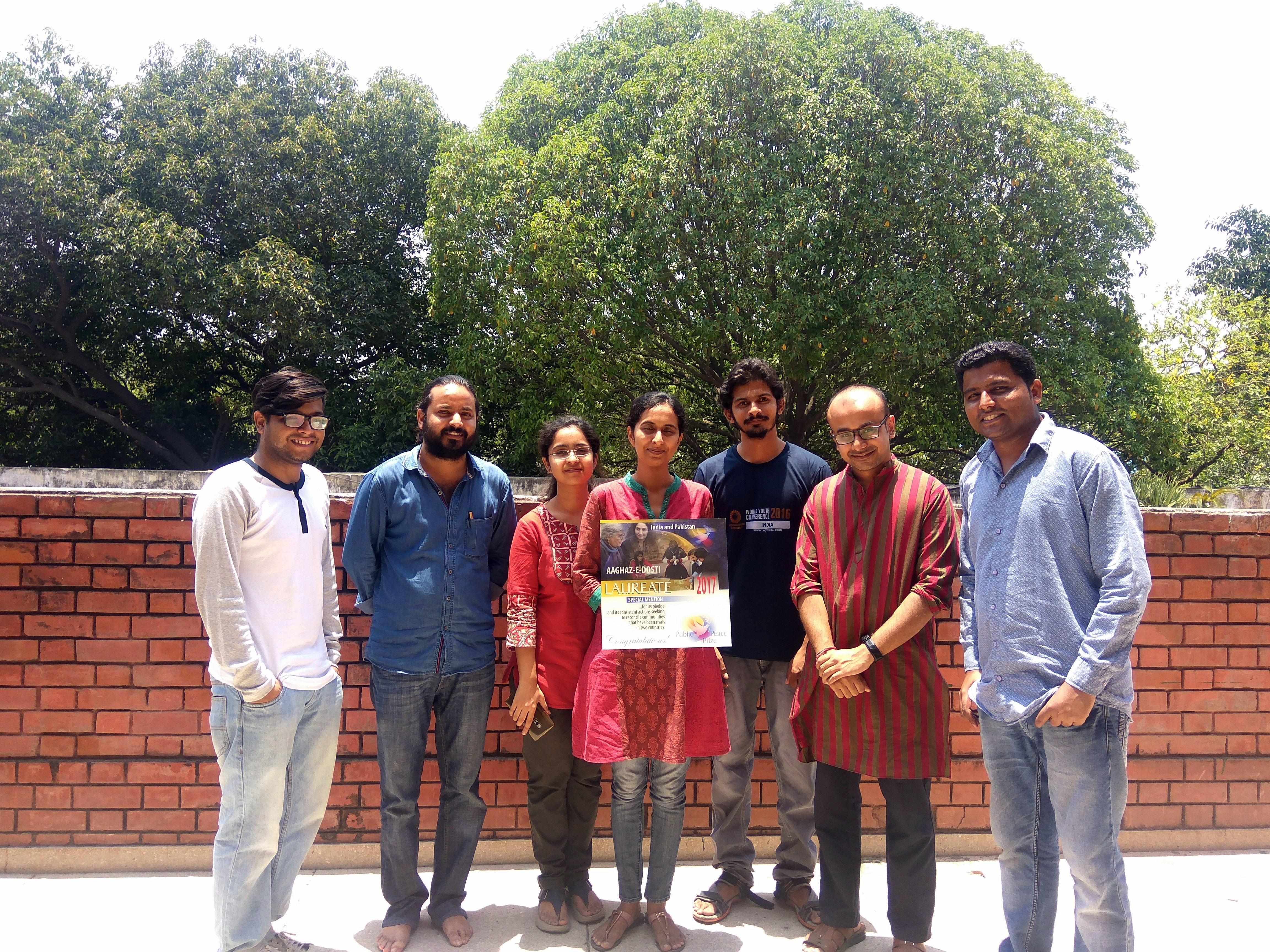 An initiative engaged with citizen diplomacy, Aaghaz-e-Dosti works by facilitating people-to-people contact, challenging mutual hatred and suspicion, creating a culture of peace and understanding among people of both countries, and highlighting the issues of victims of conflicts. It works through peace education activities in schools and colleges, advocacy on the issues of the victims of conflict by documentation and by approaching the concerned authorities on both sides.
Founder of the Aaghaz-e-Dosti initiative Ravi Nitesh told TwoCircles.net that the peace prize is actually awarded to the soul of the initiative. "Our organization has a soul that tries to spread the peae between these two nations, which have been involved in conflict. This prize is to that soul."
"We have been trying to bring the peace between these two cultures, and I hope this prize has brought us closer to our goals," added Nitesh.
With over 30 to 40 active members in both of the countries, the intiative's agenda has gained popularity. In the past, Aaghaz-e-Dosti has conducted various programs whose soul agenda were to bring the peace in between India and Pakistan. Recently, Aaghaz-e-Dosti has urged Prime Ministers of both the countries two resolve the Siachen dispute. 
Despite being a voluntary initiative, Aaghaz-e-Dosti has been able to be a consistent voice and platform working for Indo-Pak peace since May 2012. Aaghaz-e-Dosti was started by some individuals led by Ravi Nitesh of Mission Bhartiyam in India in 2012. At present, Aaghaz-e-Dosti has regional chapters and or co-ordinators in Aligarh, Chandigarh, Dehradun, Delhi, Mumbai and Vadodara in India and in Lahore, Islamabad, Karachi and Toba Tek Singh in Pakistan. It also has co-ordinators in Dubai and Kyrgyz Republic.
Aaghaz-e-Dosti extends its sincere thanks to Public Peace Prize and assure that it will continue to bring to our fold, more committed and motivated young people who want to make this world a better place to live in and in making our region more peaceful and free from violence.
SUPPORT TWOCIRCLES
HELP SUPPORT INDEPENDENT AND NON-PROFIT MEDIA. DONATE HERE