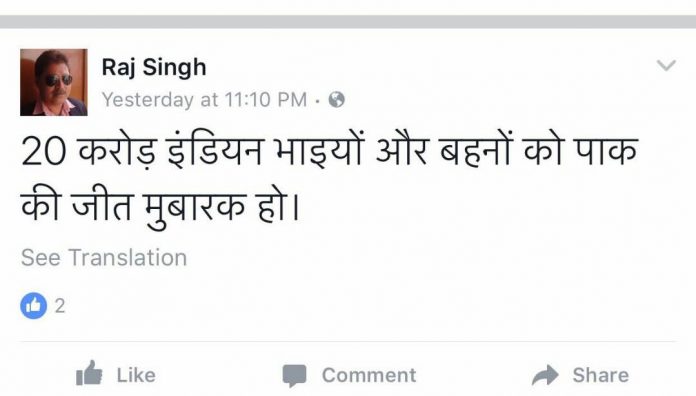 By Siddhant Mohan, TwoCircles.net
When India lost the first two wickets in the Final of the ICC Champions Trophy 2017 against Pakistan on Sunday, firecrackers could be heard in Varanasi, the Lok Sabha Constituency of Narendra Modi. Whatsapp groups of local journalists started sharing tips that the sound of firecrackers were coming out of Muslim localities of the city because Muslims are happy as India is going to lose to the hands of Pakistan.
---
Support TwoCircles
---
It turned out that those were the sounds of firecrackers lit in marriage ceremonies which is understandable, since it was a day when a number of marriages were taking place on the same day.
However, the Muslims of Aligarh and few other areas were not as fortunate, with some journalists trying to frame them as 'Pakistan-loving residents' who lit firecrackers when Indian team lost all wickets.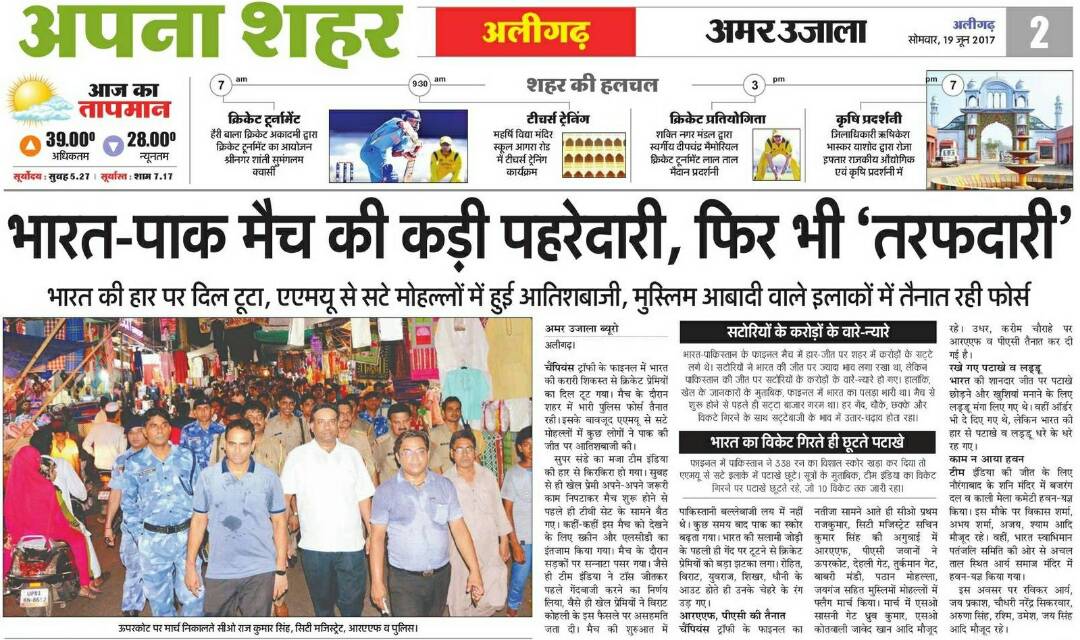 The Aligarh edition of Amar Ujala, a Hindi daily, ran a news story with the headline 'Bharat-Pak Match ki kadi paharedari, fir bhi 'tarafdari" (Strong vigilance on Indo-Pak match, but still it (loss) was favored). The news article which was written under byline of Amar Ujala Bureau did not put any mention of 'Tarafdari' in the whole four column news. It the subhead the news story claimed that firecrackers were lit 'in localities' around Aligarh Muslim University.
It is surprising that the content of story had nothing to do with the headline, but it was filled with the false claims and the facts. The story has a picture of CO Rajkumar Singh marching with City magistrate, Rapid Action Force and Police force.
The picture is put in such a way that it denotes that the march took place when India was losing to Pakistan. But the news editor of Amar Ujala was in so much of hurry that it failed to mention that the image was not taken on the night of Indo-Pak match but instead when the officer took out a route march when Ramadan was starting, a fact which officials confirm.
The four column story goes on explaining how India lost to Pakistan but just put a sentence that "AMU se sate Ilaaqe men Patakhe Chhoote" (firecrackers burst in localities adjacent to AMU). The report (or the reporter) does not mention the name of the specific locality (or localities) where the firecrackers were heard. The news is written with the help of 'Sources'.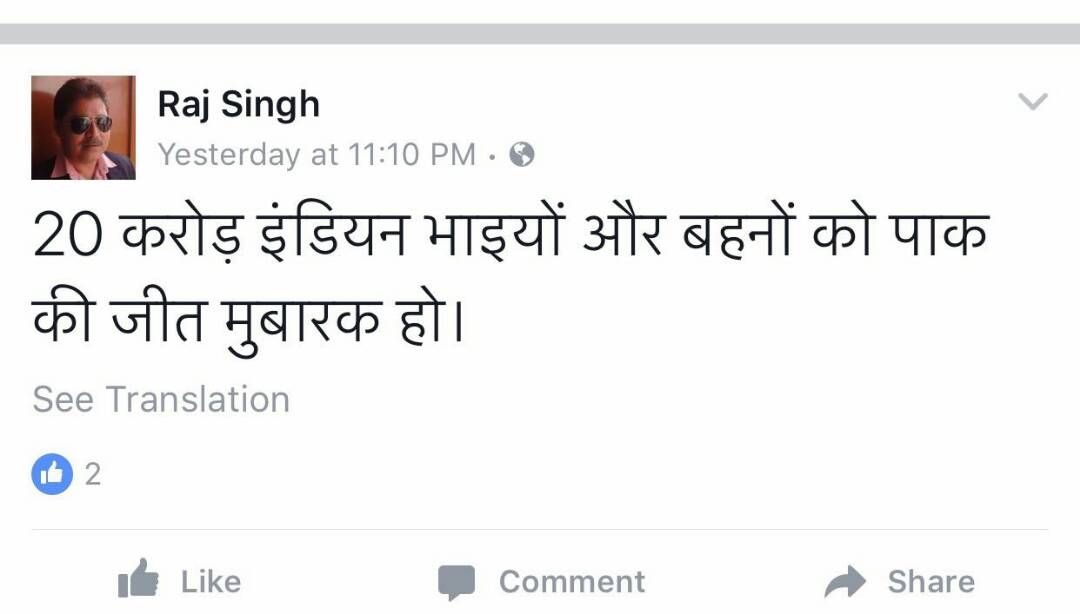 Not only this, a journalist from Lucknow Raj Singh wrote on Facebook : "Congratulations to 20 crores Indian brothers and sisters on Pakistan's win." He then corrected himself in a later post and wrote : "I admit that saying 20 crore was my fault, correct would be saying 10 crore."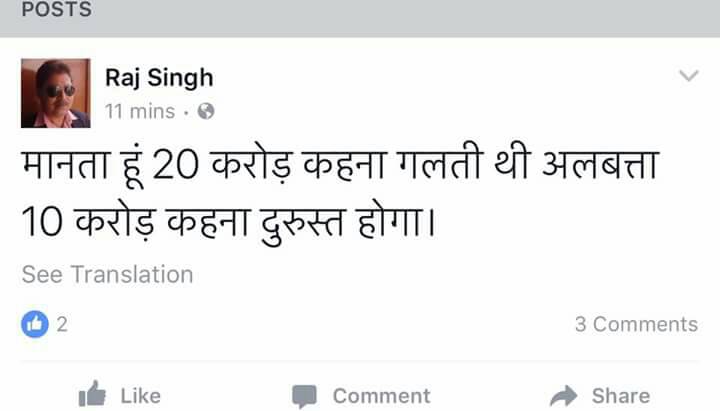 Raj Singh is one of the senior journalist of the Uttar Pradesh. He has worked in evening Hindi daily Gandeev, Dainik Jagran, IANS and now with The Pioneer in Lucknow. We called Raj Singh to ask for his comments on his facebook post. An excerpt of the confirmation:
TCN : Sir, we have came across a facebook post of yours where you Congratulated 20 crores Indian brothers and sisters on Pakistan's win?
Raj : Yes. So?
TCN : Sir, we are wondering who are these 20 crores who should be congratulated on Pakistan's win?
Raj : I have not written any name of something. Why you want to interpret?
TCN : But you reduced it to 10 crores in the next post?
Raj : So what you are trying to prove? It is social media. I can write anything I want. I have not hurt anyone's sentiments.
TCN : What kind of sentiments you are referring to?
Raj : That's not your concern.
TCN : So Sir, Can I say, on my own, that these 20 crore people are Hindus who should be congratulated on Pakistan's win?
Raj : See, I'm not adding Hindu or Muslim here. You are doing.
TCN : Yes Sir. I said that 'on my own', that means can I interpret that report as this?
Raj : You are trying to find masala in this. Run the story however you want. I have not hurt any sentiments.
TCN : Again, what kind of sentiments?
Raj : Sorry mister. Do what you like. (hungs up)
Raj Bahadur Singh was not pleased that we were trying to figure out the 'sentiment hurting' even after he 'congratulated' people. Raj Bahadur Singh is not alone. Many journalists working in the news papers pampered by Hindu heartlands (mostly in Madhya Pradesh, Uttar Pradesh and Rajasthan) are describing Pakistan's win in ICC Champions' Trophy as an early eid for Indian Muslims and sadly, Uttar Pradesh tops in the list.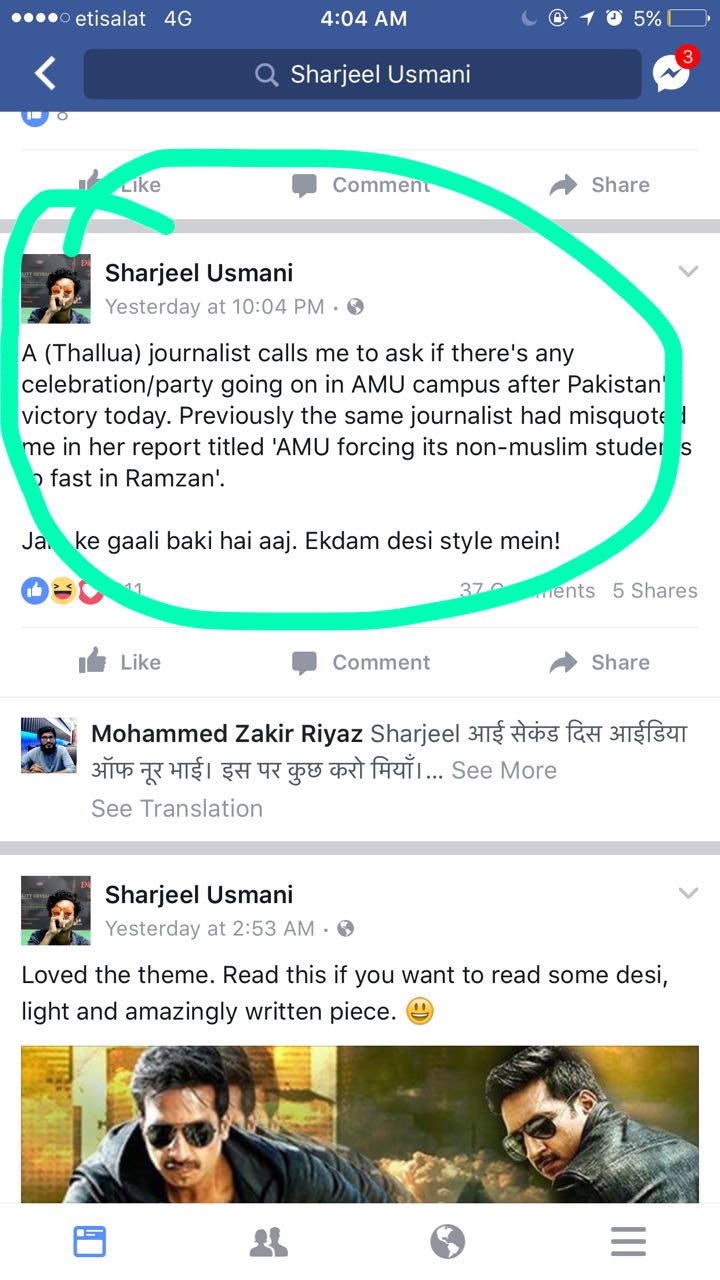 The Aligarh episode does not end with newspapers carrying false stories. A writer and student of Aligarh Muslim University Sharjeel Usmani wrote on Facebook that he was contacted by a journalist to ask if there's any celebration/party going on in AMU campus after Pakistan's victory. About the incident, Sharjeel told TwoCircles.net, "She is a journalist working for India Times. Her boss is my friend and he gave her my number to call me. She asked me, yet hesitatingly, that if there is some sort of firecrackers bursted in or outside AMU after Pakistan's victory.
"After I denied altogether of any such happening, she told me that she got the lead about the same and her editor wanted her to do the story. That's why she called me."
It is possible that her lead came to an end after Sharjeel denied it, but the reporter from Amar Ujala did not seem to be worried for confirming the lead – where is no mention of locality –  from other sources. TwoCircles.net has confirmation from its multiple sources that no such thing happened in Aligarh when Pakistan registered a win against India. After all, it is an unfortunate reality that Indian Muslims live in times when people hurl abuses at Anushka Sharma for the loss of Indian team.
SUPPORT TWOCIRCLES
HELP SUPPORT INDEPENDENT AND NON-PROFIT MEDIA. DONATE HERE