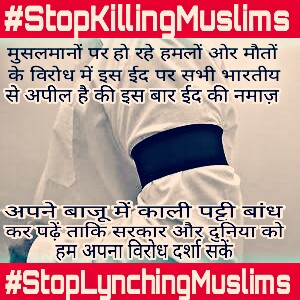 TwoCircles.net Staff Reporter
The atrocities of mob are on the rise, and minorities are the chief target of this staged and targeted violence. Last week marked three lynching incidents and one killing by policemen in Jharkhand. These incidents have moved Hindu and Muslim citizen of the country to take a strange path to celebrate Eid tomorrow.
---
Support TwoCircles
---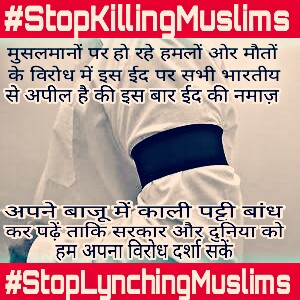 Country is going to see people with black arm bands on the day of Eid. The protest is termed as 'Black Eid' and the social media is flooded with hashtags like #StopKillingMuslims, #BlackEid, #StopLynchingMuslims and #EidWithBlackArmBand.
Large number of activists, scholars, clerics, journalists and students have extended their support to the campaign. Those from the Muslim community who have supported the campaign are Maulana Rabey Hasan Nadvi, Rector, Nadavatul Uloom; Navaid Hamid, President, All India Muslim Majlis Mushawarat; Maulana Jalaluddin Umri, President, Jamaate Islami Hind; Maulana Arshad Madani, President, Jamiatul Ulema Hind; Maulana Mahmood Madani, General Secretary, Jamiatul Ulema; Mufti Fuzailur Rahman Usmani, Punjab; Maulana Abu Talib Rahmani, West Bengal; Maulana Mohd Ramzan, Haryana; Justice M S A Siddiqui, Delhi; Justice Mohamed Anwar, Kerala; Justice Zakiullah Khan, UP; Vice Adm (Retd) NM Nadaph, Maharashtra; Mrs Uzma Nahid, Maharashtra; Mrs Mamdooha Majid, Delhi; Molvi Mohd Saeed, Rajasthan; Moosa Raza IAS (Retd), Chennai; ZUBER Gopalani, Gujarat; Qasim Rasool Ilyas, Dr Syed Zafar Mahmood, Chairman, Watan ki Fikr; Dr Azimuddin, Maharashtra; Dr Jafer Qureshi, Hyderabad; Syed Mohammad Yasar, Uttarakhand; KK Suhail, Kerala; Parvez Bari, Madhya Pradesh and Parvez Ahmad from Bihar.
While not only on the bigger scale, the protest is spreading at the small places and homes of victims of mob lynching incidents. Village of 16-year-old Junaid who was lynched in Delhi-Mathura train on suspicion of carrying beef, has also announced to celebrate the Eid by wearing a black band on their arms on the Eid day.
Villagers have announced that this is a kind of silent protest, which will be popularized over social media during Eid celebration. The adjacent area of Mewat and Behror have also announced to celebrate the Eid by wearing black bands on their arm.
Poet Imran Pratapgarhi, who is leading the campaign at social media, has urged people to come out with the black band on their arms. Leaders of human rights organizaton Rihai Manch has also condemned the killing and urged people to celebrate Eid with black bands.
SUPPORT TWOCIRCLES
HELP SUPPORT INDEPENDENT AND NON-PROFIT MEDIA. DONATE HERE