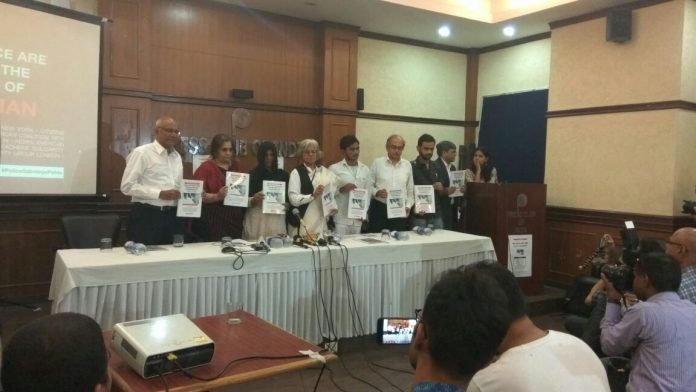 By TCN News
An independent committee consisting of members of the civil society and various human rights organisation released its report on how the Rajasthan Police helped the accused and derail justice in the Pehlu Khan murder case.
---
Support TwoCircles
---
The report has been endorsed by Alliance for Justice and Accountability, New York; Citizens for Justice and Peace, Mumbai; Dalit American Coalition, New York; Human Rights Law Network, New Delhi; Indian American Muslim Council, Washington D.C.; Jamia Teachers' Solidarity Association, New Delhi; South Asia Solidarity Group, London and the South Asian Solidarity Initiative, New York. It was released on Thursday evening at the Press Club of India, New Delhi.  
The event was attended by members of  Pehlu Khan's family along with Indira Jaising, former Additional Solicitor General of India; Prashant Bhushan, Supreme Court lawyer; Colin Gonsalves, Supreme Court lawyer; Teesta Setalvad, human rights defender; Ajit Sahi; Senior Journalist, Umar Khalid, student leader and Manisha Sethi, human rights defender.
In April this year, Pehlu Khan was lynched by a mob in Rajasthan over allegations of cow smuggling by Gau Rakshaks. The murder of Pehlu Khan had sent shockwaves across the country and raised several questions on the terror spread by so-called Gau Rakshaks across the country. During the release, members talked about how the administration and the Police had helped the accused by weakening the case. The police, the report says, corrupted evidence, failed to lodge a complaint against the more severe IPC clauses and also disregarded the medical examiner's report. A detailed story on the findings of the report can be read here. 
SUPPORT TWOCIRCLES
HELP SUPPORT INDEPENDENT AND NON-PROFIT MEDIA. DONATE HERE