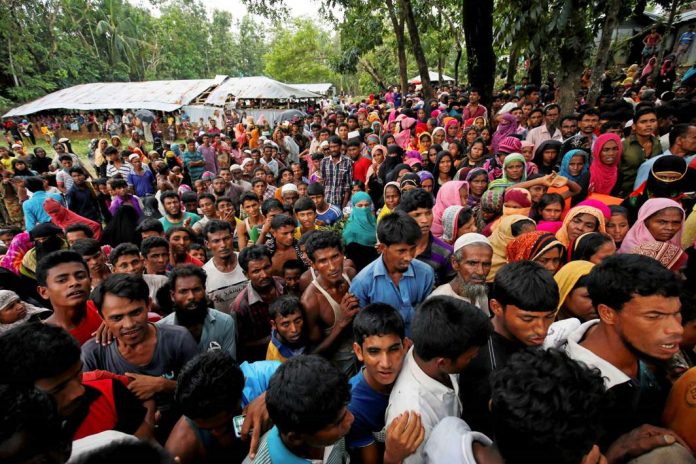 New Delhi, (IANS): The Supreme Court will hear, on September 11, a plea seeking direction to the Central government not to deport about 40,000 Rohingya Muslim refugees back to Myanmar.
Directing the hearing of the matter on September 11, the bench of Chief Justice Dipak Misra, Justice A.M. Khanwilkar and Justice D.Y. Chandrachud on Monday asked petitioner Mohammad Salimullah to serve the copy of the petition on Additional Solicitor General Tushar Mehta.
---
Support TwoCircles
---
The matter was listed for hearing on Monday after counsel Prashant Bhushan had mentioned it for urgent hearing on September 1.
However, the bench refused to say anything as Bhushan, appearing for the petitioner, urged the court to direct that in the meanwhile, the government will not take any step to deport the Rohingyas.
Even Mehta refused to make any statement.
Senior counsel Colin Gonsalves too moved an impleadment application.
Rohingya Muslim refugees have taken shelter in India, and a large number in Bangladesh, to escape persecution against them by Myanmar authorities.
The Rohingya immigrants, who fled to India after violence in the Western Rakhine state of Myanmar, have settled in Jammu, Hyderabad, Haryana, Uttar Pradesh, Delhi-NCR and Rajasthan.
Salimullah and others have moved the top court urging it to direct that they should not be deported as they faced certain death in Mayanmar from where they have fled to escaped persecution.
The petitioner has said that the National Human Rights Commission too had taken note of the Rohingya refugees issue and sought the Union Home Ministry's report.
Taking suo motu cognizance of media reports regarding the government's plan to deport them, the NHRC had on August 18 observed that "refugees are no doubt foreign nationals but they are human beings, and before taking a big step the Government of India has to look into every aspect of the situation".
The NHRC had observed that the Supreme Court has consistently held that the Fundamental Right enshrined under Article 21 of the Indian Constitution regarding Right to Life and Personal Liberty, applies to all, irrespective of the fact whether they are citizens of India or not.
Referring to the International Convention on Human Rights and the other world bodies including UNHCR, Bhushan has said that refugees can't be expelled if they face certain death or torture back home.
SUPPORT TWOCIRCLES
HELP SUPPORT INDEPENDENT AND NON-PROFIT MEDIA. DONATE HERE