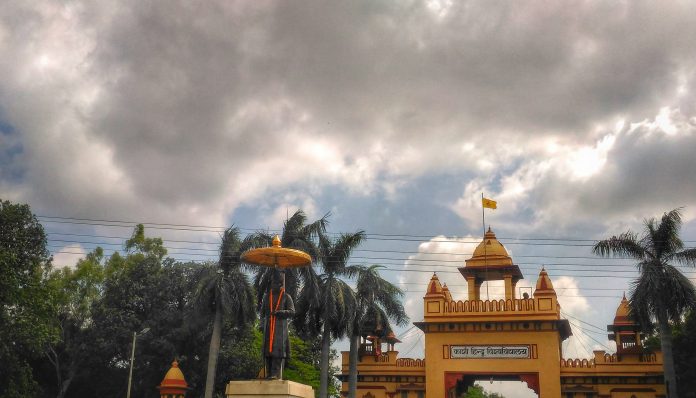 By Siddhant Mohan, TwoCircles.net
---
Support TwoCircles
---
BHU has expelled a graduate student from the hostel on the allegation that she was lesbian, and she was 'corrupting' other girl students.
The girl is a student at BHU's Women's College and used to live in the hostel. The undergraduate student was expelled from the hostel facility, as she showed homosexual "tendencies".
However, the administration makes up this issue by labeling the student as problem creator for other hostelers and wardens of the hostel.
Sources inside the university confirm the allegation. "The decision to show her a way out was because of that she was hindering the hostel's peace and discipline with her 'activities' which normal people don't do."
However, the student is not expelled from the course and the college.
Hostel coordinator Neelam Atri denied the allegation that she was expelled because of any homosexual activities, but she did say that the reasons to expel her were solely internal.
Atri also said that she was harassing other hostel boarders, but she could not provide the details of the harassment which the girl is charged with.
The issue becomes grave as the victim student, who does not want to come before media, is blind from one eye.
Now the university administration wants the girl to be "treated", and if the "treatment" becomes successful, the girl might be taken back into the hostel, claimed the administration.
However, the officials and the sources both objected to the word "lesbian" or "gay" during the talks. First, it was Neelam Atri, who told us to watch our mouth before the word 'lesbian' comes out of it. And some other professors too warned us for the use of the word.
A hostel source told us, "Girls had complained that she was behaving like boys. You might know how boys feel for girls? That is the thing. For that, I might not use the word lesbian. It was just some signs."
But BHU has a lot of cases where people are of different sexual orientation, but this might be the first time when an issue is trying to be made out of it. A hostel student Vikas Kumar from Birla Hostel told us, "I know many boys here, who are gay. But with the taboo and hooting in and out the campus, they want to keep it hidden."
A hostel boarder from Women's college told TwoCircles.net, "It was totally her business, what she was used to do within a closed room. University had already issued us guidelines how to dress and behave outside of our rooms, now with this issue, will they diktat on how we live and sleep inside the hostel?"
Prior to this, BHU administration has been dragged into the Supreme Court for gender discrimination for the girl students living in the hostel on the basis of 'Malviya values'. University imposed several rules to the girl students from 'how to behave' and 'what to wear and eat', which has caused a lot of heat inside the campus.
SUPPORT TWOCIRCLES
HELP SUPPORT INDEPENDENT AND NON-PROFIT MEDIA. DONATE HERE