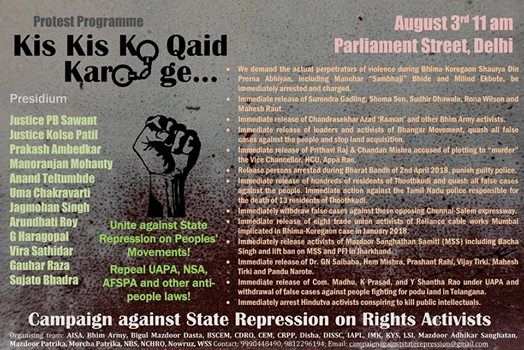 By TCN News:
We are living in strange times where speaking out the truth, demanding your rights, standing up against injustices and atrocities are seen as crimes and can land you in jail as has been happening from the last couple of years.
---
Support TwoCircles
---
The state has unleashed a reign of terror with police acting with impunity, journalists, social activists, free thinkers, lawyers, students demanding for constitutional rights and democratic processes are being targeted and the list of arrests is increasing with each passing day. These professionals and activists have been charged under sections of draconian laws that deny them bail for long periods of time and jeopordises chances of fair trial. The use of draconian laws like UAPA, NSA/PSA and AFSPA has become rampant and is based on flimsy grounds.
From the streets of Thoothkudi to villages along the proposed Chennai-Salem Expressway, from Bhangar to Saharanpur, each university campus under siege – be it in Manipur University or Kolkata, Hyderabad or Delhi, and every part of the country where people are living in fear of police bullets, tear gas and lathis, or being sent to jail endlessly for daring to demand their rights, the assault on democratic principles and institutions is unmistakable and becoming severe. The revelations of conspiracy to kill and intimidate democratic intellectuals like Girish Karnad, Prakash Raj, KS Bhagawan and others must be seen in light of the brutal murder of Prof. MM Kalburgi and Gauri Lankesh in Karnataka and are clearly in continuation of the killing of Dr. Narendra Dabholkar and Comrade Govind Pansare in Maharashtra.
The efforts of these activists, Human rights defenders is seen as a conspiracy against the government with media openly conniving to fabricate and falsify news misleading the public.
Prof. GN Saibaba, Hem Mishra, Prashant Rahi, Vijay Tirki, Pandu Narote, Mahesh Tirki, continue to languish in jail for speaking out about the loot and state violence against the adivasis. Recently, Rajeev Yadav of Rihai Manch has been threatened with death for providing legal help to members of minority communities. The practice of 'encounter' killings preferred by the current government over the rule of law is distinctly visible in Uttar Pradesh, Madhya Pradesh and Maharashtra, where Muslims are often the target of violence.
Advocate Surendra Gadling, Professor Shoma Sen and activists Sudhir Dhawale, Rona Wilson and Mahesh Raut have been framed and arrested in cases related to Bima-Koregaon. And the list continues with the convener of Telangana Democratic Front B. Durga Prasad and students of Hyderabad Central University namely Prithvi Raj and Chandan Mishra, leaders of Democratic Students Union Badri, Ranjit, Sudhir, Com. Madhu, K Prasad, and Y Shantha Rao and activists leading the struggle for podu land in Telangana, leaders of Majdoor Sangathan Samiti (MSS), including the president Bacha Singh and General Secretary of Vistapan Virodhi Jan Vikas Andolan (VVJVA) Damodar Turi, and hundreds of protesters in Thoothkudi including the defending lawyer S Vanchinathan, activists Piyush Manush and Valarmathi in connection with Chennai-Salem expressway, leaders of Bhangar movement in Bengal like Alik Chakrabarty, Kushal Debnath, Sharmishta Choudhary, Ratul Banerjee, Pradeep Singh Thakur and many villagers, eight trade union activist of Reliance cable works at Maharashtra are some of the instances where draconian laws are used to intimidate people and crush their struggles. Hundreds of people protesting against the dilution of SC/ST Atrocities (Prevention) Act on April 2nd 2018 have been arrested whereas the police perpetrators of violence leading to more than a dozen deaths are roaming scot-free. It is against this neo-brahmanical offensive aided by corporate power and police machinery that we have to ensure a broad united resistance.
A protest programme 'Kis Kis Ko Qaid Karoge…' an All India Campaign is scheduled for August 3rd (Friday) at 11 am 2018 at Parliament Street in Delhi jointly organised by democratic organisations all over the country under the banner of: "Campaign against State Repression on Rights Activists".
It is time for people all over India to unite against these repressive measures and defend their democratic and constitutional rights. And demand immediate release of all the activists who have been arrested for standing up for justice.
SUPPORT TWOCIRCLES
HELP SUPPORT INDEPENDENT AND NON-PROFIT MEDIA. DONATE HERE