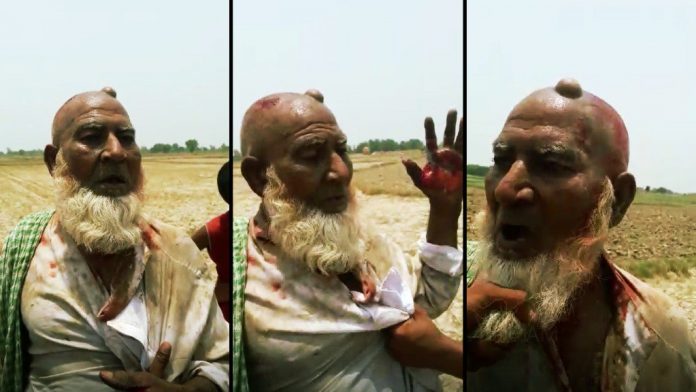 By Manish Gupta for IANS
New Delhi, July 14: Police are trying to weaken the Hapur lynching case at the behest of the BJP and the Yogi Adityanath government, said the witness and survivor of the June 18 murder allegedly by cow vigilantes after he was discharged from a hospital here on Saturday.
---
Support TwoCircles
---
Samiyuddin also sent his first statement detailing about the incident to IG Meerut Range Ram Kumar, expressing his distrust on local police and asking for a judicial investigation into the murder of cattle trader Qasim in Hapur district.
On the fateful day, as he intervened to save Qasim, Samiyuddin was thrashed and is yet to recover from several injuries including fractures of both arms, right leg and ribs.
"I have no faith on Pilkhua police station which deliberately failed to stop the bail granted to main accused Yudhishtir Singh. I have written to IG Meerut Range requesting him for a true judicial enquiry," Samiyuddin told IANS.
Samiyuddin recalled how he was mercilessly beaten up by the group that lynched Qasim at Bajhera village in Hapur district of Uttar Pradesh, 75 km east of New Delhi.
"There is not a single place on my body where they did not hit me. I was sure to die like Qasim but God saved me. The local police is now trying to weaken the case by giving a distorted version, of some motorcycle accident, because of the BJP and Yogi Adityanath government.
"The killers should get strictest punishment. And, immediate action should be taken against Pilkhua police station Circle Officer Pawan Kumar Singh and other staff who forced my brother Yaseen and family-friend Dinesh Tomar to file a false and incorrect FIR," he told IANS.
Samiyuddin said he was attacked after he intervened the mob that lynched Qasim alleging him of killing a cow when there was neither a cow nor any axe or knife to kill any animal. Soon he was bleeding from head to toe and was semi-conscious.
When the police took him and Qasim to nearby G.S. Medical College, he remembers somebody saying "Probably Qasim is dead".
He also remembers being given injections at the hospital and his thumb prints taken on some papers of which he has no idea.
He was finally admitted at Devnandini Hospital at Hapur at about 7-8 p.m., around 12 km from the place of incident that happened around noon.
He regained full consciousness after more than 24 hours. On July 6, he was shifted to Alshifa Hospital in Delhi.
His brother Yaseen and family-friend Dinesh Tomar, who also spoke to IANS, said the police kept misleading about his whereabouts till 5-5:30 in the evening when they were forced to write and sign a false FIR. They agreed as they were afraid of the police and also were more concerned about getting Samiyuddin timely treatment.
Both Yaseen and Tomar, too, have written separate statements to the Meerut Range Inspector General of Police sharing the "true and correct" narration of the incident. Copies of all three statements have been sent to ADG Meerut Zone and SP Hapur.
All three have requested for their statements to be recorded in front of judicial magistrate.
SUPPORT TWOCIRCLES
HELP SUPPORT INDEPENDENT AND NON-PROFIT MEDIA. DONATE HERE