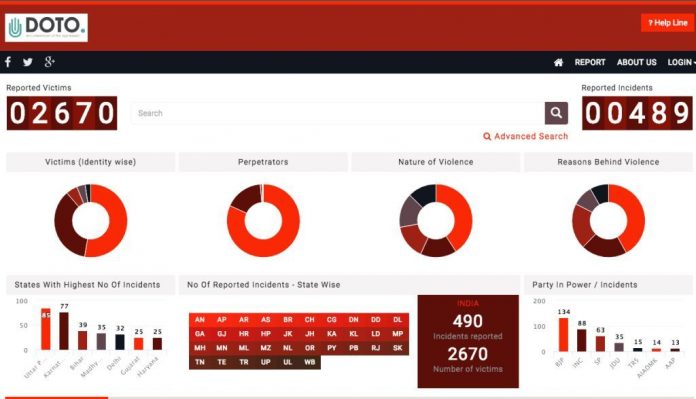 By TwoCircles.net Staff Reporter
The Documentation of the Oppressed (DOTO)- a national Database on hate violence-was launched today at the Constitution Club in Delhi.
---
Support TwoCircles
---
The database, a first of its kind after the HT tracker was shut down, is a joint civil society effort and is run by a large network of civil society organisations both at the national and at the grassroots level. The work on the database started in late 2017 and records incidents from 2014 onwards.
The objective of the database is to encourage community-based reporting and intervention through a common documentation platform for the civil society of marginalised groups. It aims to provide both immediate and long-term issues related to the systemic violation of fundamental rights, erosion of constitutional values and the organization and deployment of 'hate'.
The database, which is a joint programme of Quill Foundation, Jamaat-e-Islami-Hind, Jamiat Ulema Hind, APCR, NCHRO, Citizens Against Hate, United Against Hate, Citizens for Justice and Peace, Jamiat Ahle Hadees and All-India Majlis-e- Mushawarat seeks to create a large-scale repository which can then be used for various purposes: from activating the legal machinery in individual cases, to national and international advocacy.
Currently, the database has 488 incidents in which 2,607 victims are reported. These incidents record different kinds of violence and the major categories of nature of violence include Murder/Lynching (54), Physical Assault (125), Attack Against Religious Infrastructure (51) and Communal Violence (52). A total number of murder/lynching cases recorded are 54 where more than 40 are Muslims. Dalits and Social Activists are the other two major categories of victims. Of the 54 incidents of murder/lynching, 21 are related to cow propaganda, 11 because of religious identity and 8 related to work/ideology of the person. Total cow-related incidents of violence recorded are 85 which has caused murder in 21 cases and injuries in 42 cases. More than 60 Muslims and around 10 Dalits have been victims of these cow related violence. Our database has been able to record 125 cases of physical assault where Christians and Muslims are major communities targeted. The database also tries to record the identity and organisational affiliations of the perpetrators. The political orientation of the majority of perpetrators is related to right-wing Hindutva ideology.
Zafrul Islam Khan, Chairman, Delhi Minorities Commission, pointed out that thousands of Muslims and Dalits have suffered. He highlighted that the incidents of state-sponsored/saffron terror which have been on the rise in the nation. He lauded the effort behind the database and stressed on the need of reporting.
Teesta Setalvad, the founder of Peacemap and Helpline, was also present at the launch. The initiative Peacemap is a seven-stage conflict management platform that aims to warn, predict and prevent violence across India.
Amnesty International has also been working on a database which looks at the prejudice behind the hate crimes. Likhita Banerjee from the organisation pointed out that the database records cases of caste violence, mob lynchings, hate crimes against other identities like Adivasis, Dalits and transgenders. the media of the database is English and Hindi, with incidents starting from 28 September 2015 to 2019.
Ram Puniyani, a senior activist, pointed out that the efforts of this database are a major step in moving towards social justice. He said that we should also address the hatred that has been created after 9/11 all over the world so that innocents can live with dignity in the society.
John Dayal, a senior activist, illustrated the years of experience of civil society and Christian Networks in documenting cases of violence against Christians, and how they have been using church-based documentation, a specific helpline to record data and thereafter the network of lawyers and advocacy tools at national – international level to pursue justice. He stated that they submitted 316 cases of violence against Christians in the year 2017, at UPR process of United Nations.
Other dignitaries Adv Sanjay Hegde, Senior Adv, Supreme Court of India, Ravi Nair, Civil rights activist, and senior journalist Saba Naqvi also spoke based on their experiences of dealing with state institutions.
SUPPORT TWOCIRCLES
HELP SUPPORT INDEPENDENT AND NON-PROFIT MEDIA. DONATE HERE