Siddhant Mohan, TwoCircles.net
The English and Foreign Languages University, Hyderabad has come under attack from students for allegedly discriminating against Dalit-Muslim students of the campus, with the administration passing various discretionary orders without any fair reason.
Ashfaque Ali, a 22-year-old student of Certificate Course in Persian, was denied entry into the EFLU premises couple of weeks back. Ali, who is also associated with Students Islamic Organisation of India, was stopped at the university entrance by the security staff.
"I went there to meet my friends and some faculty members. But security guards did not let me in. When I asked the reason, they referred to the order of University's proctor behind the same," Ali told TwoCircles.net.
He further said, "When I showed them my identity card to avoid any confusion, they blatantly said that I was not a student."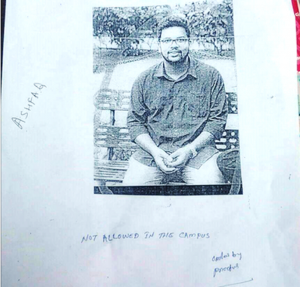 Including Ashfaque, so far 12 students have been either barred from entering into the premises or their student rights have been denied in different ways. At least five students have been denied their hall tickets for various examinations, and few others have been denied admission even they got selected after due examination process.
The reason why students from marginalised communities feel they are being targeted is because all students who have been barred entry belong to either Dalit, Tribal or Muslim communities and work with various politically active students groups. Four students from SIO, two students from Dalit Adivasi Bahujan Minority Students Association (DABMSA), one from Telangana Students Association, one from Muslim Students Federation, two from Ambedkar Students Association and two from Students Federation of India have so far been discriminated against by the administration.
Ali said, "I have tried multiple times to meet the proctor asking for the reason behind the action, but he did not show up." He further said, "Once I waited for him for four hours, but he said through one security staff that he did not want to talk to me or see me."
What seems even more surprising is that all such orders against these Dalit and minority students are casual in nature and have not been issued 'officially'. For example, in case of Ali, the security guards were seen carrying one of his Facebook photos with "not allowed in the campus" written below it.
Action facing students have alleged that they have been "witch hunted" because of their political activity inside the campus. However, the proctor Prakash Kona has said that the students are lying.
"They have some hidden agenda behind spreading all these lies about the university administration. I have not given any such order," Kona told TwoCircles.net.
However, SIO has condemned the university's move in the statement issued. "This is obviously a targeted attack against some students. The gravity of the issue can be seen from the fact that much of them were belonged to Dalit, Muslim communities and were politically active," said Nahas Mala, the National President at SIO of India.
"SIO denounces the witch hunting of students by EFLU authorities. SIO strongly demands the grievances of students be remedied as soon as possible. Otherwise, SIO will initiate mass campaign along with a legal fight," said Mala.