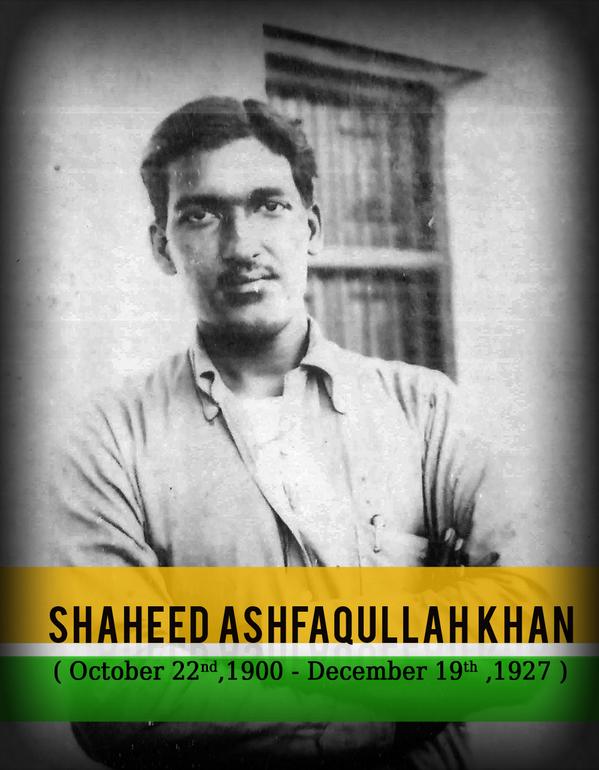 By Nikhat Fatima, TwoCircles.net
Today marks the 117th birth anniversary of Ashfaqullah Khan, one among the many forgotten heroes of India's freedom fighters. Born to Shafiqur Rahman and Mazharunissa in the year 1900, in Shahjahanpur, Uttar Pradesh, Ashfaqullah showed a keenness to join the freedom movement of India right from his school days. He was in school when Gandhi made a public call for people to join the Non-Co-operation Movement and many youths with a fire for independence in their bellies wanted to join this movement to free India.
---
Support TwoCircles
---
During this time, the unexpected firings and death of civilians at the Chauri Chaura incident, resulted in Gandhi calling off the Non-Cooperation action disappointing many among whom was Ashfaqullah. His dismay at events transpiring around him, and his dwindling faith in non-violent strategies, led to his affiliation with the revolutionary group, Hindustan Republican Association (HRA), led by Ram Prasad Bismil.
Such revolutionaries all over India who were banded together in small groups united after the Non-Cooperation movement was called off. They believed that Independence from British Imperialism especially from a large and powerful worldwide empire, could not just be won through non-violence and that it had to incorporate more radical methods, that included armed struggles. For these efforts, they needed money and decided to mobilize money by looting the train bound to Kakori carrying state treasury currency.
The robbery was carried out on 9th August 1925 by Ram Prasad Bismil, Ashfaqullah Khan and 9 other members of HRA. This Kakori train robbery was a real blow to the British Empire who immediately labelled Ashfaqullah and others as 'Terrorists'  and began a hunt to capture them.
Soon, all except Ashfaqullah Khan were caught.  Ashfaqullah went into hiding and was finding ways to move out of the country to further the cause of Independence struggle. But he was betrayed by one of his friends who wanted the bounty money announced by the British on Ashfaqullah's head.
Ashfaqullah was imprisoned. The prison superintendent, a Muslim, tried to intervene by asking Ashfaqullah to testify against Bismil warning that Bismil, a staunch Hindu, wanted nothing but to establish Hindu rule in the country. The superintendent assured Ashfaqullah Khan, that he would help secure his release if he testified against Bismil. But at the time, Ashfaqullah Khan considered Ram Prasad Bismil to be more than a brother and he explicitly refused to testify against Bismil.
The British sentenced 4 of those involved in the Kakori Train robbery to death by hanging and others to life imprisonment. Thus on 19th December 1927, Ashfaqullah Khan, at only 27 years, was hanged to death at a jail in Faizabad.
Ashfaqullah's participation in the freedom struggle has been depicted in a Hindi movie titled Rang de Basanti (Paint me with the colours of the spring).
Today, Ashfaqullah is remembered as an Indian Muslim patriot and freedom fighter whose contributions and radicalism was part of the larger efforts to oust white colonials.
In his time, Ashfaqullah Khan was also an Urdu poet – a shayar who wrote under the pen name Hasrat.
Some of his writings and poetry are recalled even today.  Phoot daalkar shaasan karne ki chaal ka ham par koi asar nahi hoga aur Hindustan azad hokar rahega. (Your conspiracy to divide and rule India will not work; We will make Hindustan ours)
SUPPORT TWOCIRCLES
HELP SUPPORT INDEPENDENT AND NON-PROFIT MEDIA. DONATE HERE