By Auqib Javeed, TwoCircles.net
Srinagar: Journalists in conflict-torn Kashmir have threatened to launch a widespread agitation against the detention of their colleague Asif Sultan by the Jammu and Kashmir Police on August 31.
---
Support TwoCircles
---
Expressing outrage over the continuous detention of Asif, the journalist fraternity termed the charges levied against him as unconstitutional and intimidation on freedom of the press.
Aasif Sultan, an assistant editor with a Srinagar-based monthly news magazine "Kashmir Narrator" was picked up during a late night raid at his home in Batamaloo area of Srinagar for allegedly 'harbouring terrorists'.
The journalist and his family have strongly denied the charges, accusing police of keeping him in an illegal detention for six days.
"The police arrested my son on the intervening night of August 27 and 28. They did not file any case against him; instead, they kept him under illegal detention. On August 31, police called me to the police station and told me that they are releasing my son. They asked me to get a witness to sign his release papers," Muhammad Sultan, Aasif's father told TwoCircles.net, adding that he took his brother Mehrajdin as a witness as he was asked by the police. "When we reached the police station, both of us signed a paper, which read that Aasif Sultan has been handed over to his father. But then the police told us to return on Saturday and instead of releasing him, they booked my son on false charges," Sultan lamented.
According to a police statement, "The initial questioning of the accused, subsequent searches and disclosures made in the case so far have led to the seizure of incriminating materials from various locations. It also establishes his complicity for harbouring known terrorists involved in serious terror crimes," the report claimed. Police have informed that further investigation in the case was ongoing.
The police have reportedly questioned Sultan for his cover story on militant commander Burhan Wani which appeared in the June issue of the magazine, his ideology and other stories. He was told to reveal the source of his story. The police also took away his laptop, cell phones and other documents during the raid.
Journalists have taken up the matter with international media watchdogs like International Federation of Journalists and Committee to Protect Journalists.
According to Sultan's Editor Showkat Motta who met him in custody, Sultan was questioned about stories he published in the magazine. "Police have kept him under illegal custody," he said. "Why did they not produce him before a court in these six days? Why was he only produced after we made it public?"
"The arrest of a journalist and pressuring him in police custody to reveal his sources is against the democratic and constitutional values that govern the press. This amounts to sheer harassment which is highly condemnable" said Kashmir Working Journalist Association (KWJA) and Kashmir Journalist Association (KJA) in a joint statement.
"They accused him of involvement in "harbouring terrorists" but they didn't make the charges against him public. Also, the reason for the FIR that the police gave is silly because they stated that they found some "incriminating material" in his laptop which is vague because every journalist will have such material in his laptop or phone given the nature of their work," the joint statement reads.
KJA believes that the charges levelled against Asif are baseless as the FIR was filed after the concerned police official had an argument with his Editor over his illegal detention.
"The harassment and intimidation by the state police are increasing day by day. They are pushing us towards the wall, we have no option left other than to come out on roads," said a journalist wishing anonymity.
The Kashmir Working Journalist Association and the Kashmir Journalist Association have demanded disciplinary and legal action against police officials for violation of the fundamental rights of an individual through illegal detention. They have also demanded his immediate release.
KJA demands immediate intervention from top officials of police and the Governor of state. "We also appeal the Press Council of India (PCI), human rights bodies, and national and international media and rights watchdogs to intervene in the matter," said the president of KJA.
"Journalists are working on a razor's edge in Kashmir. The situation is worsening here; pressure on us has also mounted," says Moazum Mohammad, President Kashmir Journalist Association.
"The harassment of journalists in Kashmir at the hands of the state is nothing new. This is a part of the coercive structures that seek to prevent reporting ground facts from the valley, as the facts paint an image of repression mostly at the hands of state forces," said another Journalist, Irfan Mehraj adding that "The harassment against journalists in Kashmir is a coercive action aimed at victimization of reporters for writing about militant activity or state violence".
Senior Journalist of the Valley Naseer A Ganai sees this as the most "worrisome and dangerous time" for a Journalist in Kashmir
"We see journalists being called for the questioning; at times they are being detained illegally during such questioning sessions. And when local journalist bodies raise questions over the illegal detention of a scribe, the law enforcement agencies promptly register an FIR to justify the illegal detention of the scribe," says Naseer while referring to the detention of Asif.  According to him calling a journalist for questioning seems to have become a norm in the present day. "It has become a routine exercise to an extent that even journalist bodies take such questioning as normal."
Asif is not the first journalist in Kashmir to be arrested for dubious charges of militancy involvement. Photojournalist Kamran Yousuf was detained for more than six months before finally being released on bail in March 2018. Kamran who now works with a web portal has to travel National Capital, New Delhi every month for the hearing of his case. Another Journalist was also summoned to New Delhi and interrogated on July 14 and 15 this year over an interview with a separatist leader.
Meanwhile, the international media watchdogs called for "immediate release" of Asif while condemning his detention.
International Federation of Journalists (IFJ) General Secretary Anthony Bellanger said: "The arrest and charge against Asif Sultan for his reporting is deplorable and unacceptable. We demand his immediate release and urge the Indian Government to critically address the deteriorating situation for media workers in Kashmir who are increasingly being targeted for doing their job."
The Journalists in Kashmir continues to face the brunt of the conflict. The situation remains grim with media on the edge, particularly following the June 14 assassination of Shujaat Bukhari, the editor of Rising Kashmir daily, outside his office by unidentified gunmen.
According to data released by the International Federation of Journalists (IFJ) in December, at least 21 journalists have been killed since 1990, often in targeted killings or because of being caught in the cross-fire while attempting to cover the conflict in Kashmir. The situation has become more dangerous for journalists since 2008 when Kashmir witnessed its first major uprising against the Indian state in the last two decades.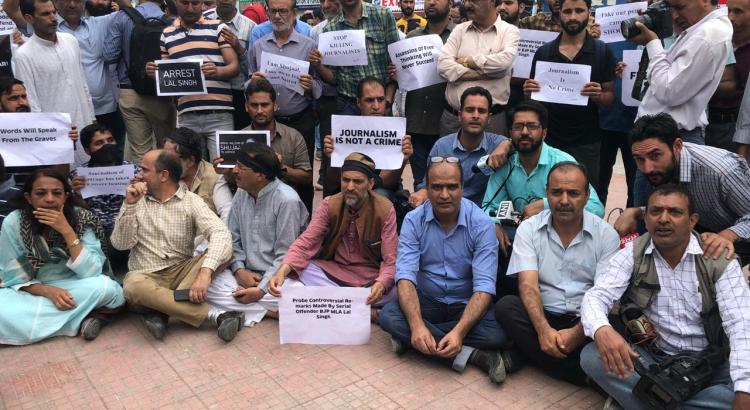 SUPPORT TWOCIRCLES
HELP SUPPORT INDEPENDENT AND NON-PROFIT MEDIA. DONATE HERE