TCN News
The 18th convocation of Markazul Ma'arif Education and Research Centre (MMERC) was held in its campus at Mumbai and it was presided over by the grand Mufti of Maharashtra Mufti Azizur Rahman Fatehpuri on 27th April 2019.
---
Support TwoCircles
---
Madrasa graduates who completed their two-year 'Diploma in English Language and Literature' (DELL) course in MMERC, Mumbai were conferred Diploma certificates by the dignitaries and intellectuals of the city and in addition to it some of the graduates were awarded with precious prizes for their outstanding performances in academic as well as extracurricular activities.
The chief guest of the program Maulana Badruddin Ajmal Qasmi, a well-known Islamic scholar, MP and founder of MMERC, congratulated the MMERC graduates said, "Today community, country and world need such ulama whose characters and ethics are as white as white-dress and by the grace of Allah Almighty you are adorned with such qualities therefore you should enter in the practical field without any hesitation and fear. Moreover, you do not need to come under any kind of pressure because you have ample knowledge of the glorious Qur'an and Hadith that have the true power to lead and guide the world."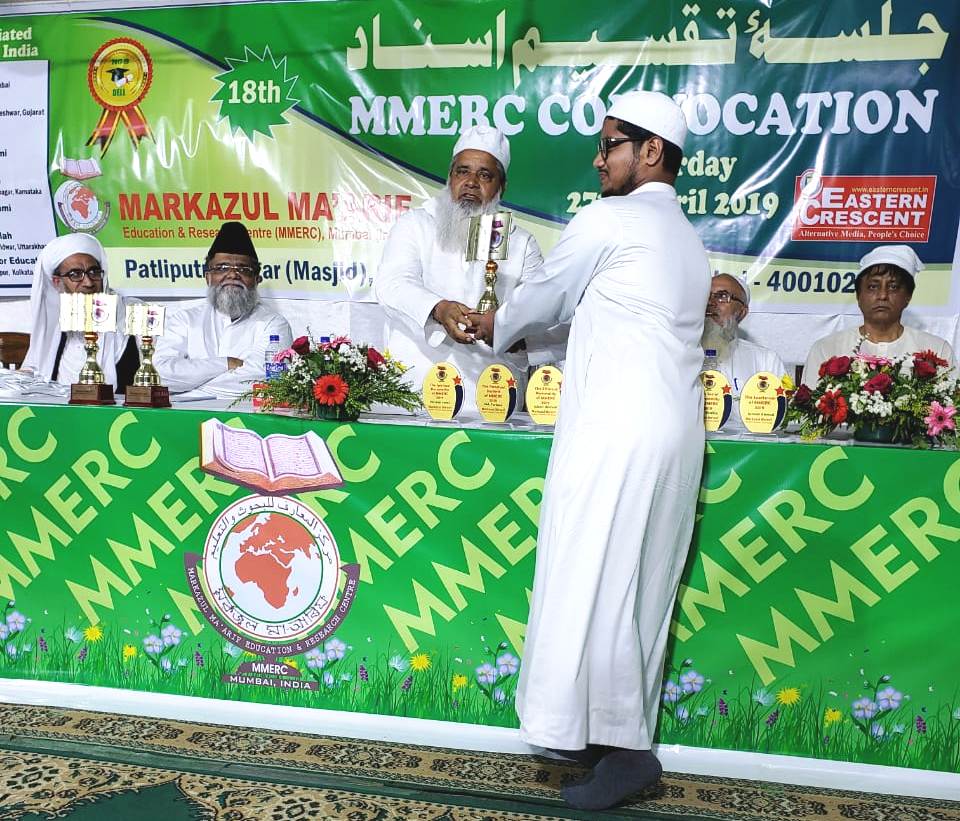 The guests of honour Maulana Manhood Daryabadi, general secretary All India Ulama Council and Maulana Faizul Waheed Qasmi congratulated the students and wished them success in  their endeavours in the future. And advised them to plan wisely and take guidance from experienced teachers and carry out their works.
Maulana Muddassir Ahmad Qasmi, the National Coordinator of DELL course and Assist. Editor of Eastern Crescent, informing the audience said, "This year 29 meritorious madrasa graduates have completed their Diploma Course and out of them 24 are given in-campus placements by MMERC in different institutions or organizations for teaching and preaching purposes and remaining 5 will continue their education in prestigious universities of India and abroad. He further said, 'Alhamdulillah, 95% of MMERC graduates are purely associated with different religious missions in India and in other 20 different countries of the world."
The president of this gala function Mufti Azizur Rahman Fatehpuri addressing the passing out ulama said, "Sincerity is a must for any religious work, therefore, wherever you go, do your respective works with utmost sincerity." Encouraging the graduates he further said, "You have added one more feather of modern education in your crown while you were already well-versed in religious education, now, you have double responsibilities on your shoulders. So do not become only a man of words but utilize your inner power too for getting desired goal and fulfilling the cherished dream of this institution. More importantly, keep in touch with public because evil powers always try to detach ulama from public for spreading averseness towards Deen." The grand of Mufti of Maharashtra further added, "Remember that competent ulama should work as per the demands of time."
The lecturers and officials of MMERC Professor Ahmad Kamal Khusro, Maulana Atiqur Rahman Qasmi, Maulana Aslam Javed Qasmi and Mufti Jaseemuddin Qasmi, Mufti Muhammad Rashid Qasmi, Maulana Muaz Muddassir Qasmi and Maulana Waseem Ahmad Qasmi contributed their best to add on to the magnificent Convocation program and making it a great success. 
SUPPORT TWOCIRCLES
HELP SUPPORT INDEPENDENT AND NON-PROFIT MEDIA. DONATE HERE