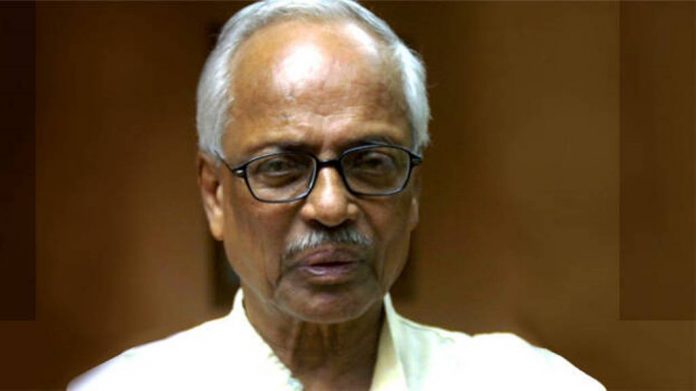 TCN News
Beeyathul Mohiyudeen Kutty, Pakistani politician from Kerala, 89 died on Sunday early morning in Karachi.
---
Support TwoCircles
---
Born in 1930 at Tirur, Kerala, Kutty migrated to Pakistan in 1949 out of his own will – 'to see the geographical area' as he put it and had wanted to return back to India. But when he went to Lahore, he changed his mind and settled down there.
He started his political life as a student in Kerala by joining students of the communist party called the Kerala students federation in 1940.
And in Lahore he associated himself with the communist party and thus began his political journey in Pakistan.   In the beginning he associated himself with Azad Pakistan Party in Lahore and then joined the Awami League party thus becoming one of the pioneers in Pakistani politics.
He was active in the political sphere working with left parties such as the National Awami Party and after the party was banned he joined National Democratic Party where he worked till 1979 and then worked with Pakistan National party 1979 to 1997.
Kutty also served as Pakistan Peace Coalition secretary general and Pakistan Labour Education and Research director and was leader of 'Movement for Restoration of Democracy' which worked to bring back democracy in the country.
He was also a journalist. He spent some years in jail for protesting for the workers and once for alleged relations with Russia.
The highlight of his political career is his tenure as political advisor to former Baluchistan Governor Ghaus Baksh Bizenjo.
He had continuously worked for India-Pakistan friendship and unity. He had come to India to release his book titled 'Sixty years in self-exile: No Regrets – a political autobiography' – which was released by Natwar Singh.
His wife Birgiz Mohiyudeen Kutty predeceased him. He survived by his 3 children Javaid Mohiyudeen, Dr Yasmin and Shaziya.
Kerala CM expressed his condolences in his post on his Face book account. He recalled BM Kutty as 'a leader who fought for peace and against communalism, he was a leader who worked to better India-Pakistan relations, always kept close relations with Kerala'.
SUPPORT TWOCIRCLES
HELP SUPPORT INDEPENDENT AND NON-PROFIT MEDIA. DONATE HERE