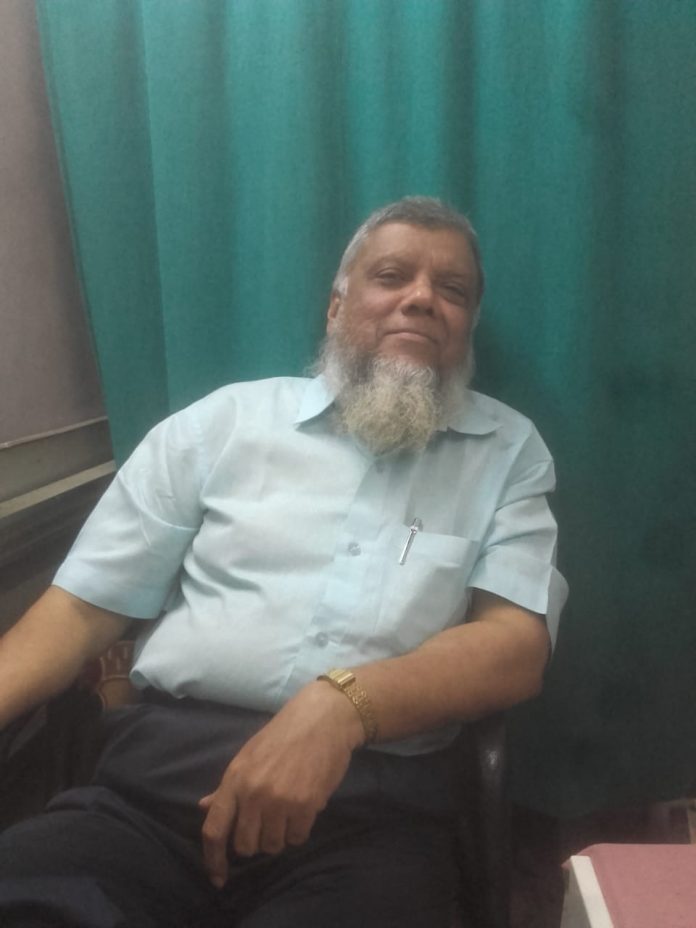 By TwoCircles.net Staff Reporter
On May 28, 1994, Dr Ashfaq Syed Murtaza Meer, then 32 years old, returned from his medical clinic located on Grant Road, Mumbai to his home barely a kilometre away near JJ Hospital. The day had been a long one; like most of his days, and after dinner, he went to sleep as usual along with his wife and their one-and-a-half-year-old son. That was the last night Dr Meer would sleep as an 'innocent' person.
---
Support TwoCircles
---
"That night, I was made to feel like I am India's biggest terrorist in the country. They (police) came with big guns, more than two dozen of them. They surrounded the house and picked me up around 2.30 am. I had been practising in Mumbai for a few years by then…I went to my clinic every day. They could have picked me up anytime but they chose the middle of the night.  I can never forget that night no matter how much I try," recalled Dr Meer in a lengthy conversation with TwoCircles.net.
The charges that followed were severe: along with Dr Meer, Jameel Ahmed Abdullah Khan, Mohammed Yunus Mohammed Ishaq, Farooque Nazir Khan, Yusuf Gulab Khan, Ayyub Ismail Khan, Waseemuddin Shamsuddin, Shaikha Shafi Shaikh Azeez, Mumtaz Syed Murtuza Meer, Haroon Mohammed Bafati and Moulana Abdul Qader Habibi were arrested and charged under section 120 (B) and 153 of IPC and Section 3(3)(4)(5) and Section 4(1)(4) of TADA Act for allegedly conspiring to avenge the December 1992 Babri Masjid demolition and obtaining terror training.
For the next four months, the 11 were jailed but got bail after that period as the case stalled due to whether TADA was applicable in the case or not. More importantly for the 11, they were out on bail. "I went back to a normal life but can you really live normally when you are accused of terrorism?" asks Dr Meer.
Given the charges, it would have been normal and only expected for the police to pursue this case with all vigour. This was the mid-90s and Mumbai and Maharashtra were still recovering from the Mumbai serial blasts. However, the police were only too happy to let the case pass. It was not until 1999 that the charge sheet was filed. And here is the interesting part: the charge sheet was filed only because the accused approached the High Court to quash the case. "Imagine…5 years after calling us terrorists, the police did not even bother to follow up. When we approached the High Court, the Honourable Court directed us to get the discharge on the case from the lower court itself. Only then did the police file a charge sheet," Meer recalled.
Bail and the never-ending wait
The charge sheet itself was so weak it was almost tragical. "We were the first ever set of people who got bail from a TADA court (based on the charge sheet)," Meer said, almost with a smile. At a time when TADA court was known to go after the accused with all vigour, the bail was a welcome relief. "The charge sheet had no actual evidence. We were accused of being premier-level terrorists but beyond a few xeroxed pages of some random text, there was no evidence to corroborate the same," says Meer.
Although the case was not discharged and the case was accepted, the trial never took off. The accused were thankfully out of jail, but never at peace. "I treat so many people on a daily basis but I personally never was at peace. Between 1999 and 2016, I went to the TADA court in Nashik every month…sometimes nearly three times a month…only to get delays and further delays. And you cannot dare to miss the date because then there is a chance that a warrant will be issued against you. The case never took off and the trial never started. We were stuck in a situation we could neither avoid nor address," he added.
It is important to mention that in May 2003, the Government set up a review committee to review all cases of TADA in which trial had not started. The said committee recommended that there was prima facie no offence made out under the provisions of TADA and recommended dropping of proceedings against the accused persons under TADA. However, the trial Judge did not accept the recommendation of the State Government and rejected the application filed by the State Government for dropping of TADA offences against the accused persons.
Supreme Court steps in to ensure an end to suffering
But even then, charges were not framed until 2012 against the accused persons. The accused challenged the aforesaid order before the Hon. Supreme Court. The said appeal was disposed of by an order of the Hon. Supreme Court dated 09.11.2016, directing the trial court to complete the trial within 1 year and liberty was granted to raise all points before the Trial Court.
"It is difficult to explain what went through our life during this period…you are thankful in a way because the truth is, the court could have denied us bail and made us rot in jail for all these years. But you just have no order, no peace and no relief in life. I could not go anywhere…clinic, home, court. This is all I did," Meer expressed during the conversation.
When the Supreme Court ordered a fast end to the trial, the Jamiat-Ulema-e-Hind (Arshad Madani) came in with a legal team to help the accused and put an end to their misery. The team of Advocates Sharif Shaikh, Ansar Tamboli, Mateen Shaikh, Shahid Nadeem, Razzik Shaikh, Mohammed Arshad and Hetali Sheth took apart any and every argument put forward by the persecution, who were dealt a big blow when the public prosecutor Kishor Rakwanat walked away from the case.
A source close to the case told TwoCircles.net that although he cited the distance between Malegaon (his hometown) and Nashik (where the case was being heard) as a reason, that was not the full story. "He saw that the case was very weak and decided to walk away rather than lose the case and damage his reputation," the source said. When contacted, Rankawat said he was unaware of the judgement but denied that fear of losing was one of the reasons. "The distance between Malegaon and Nashik was one reason but beyond that, I do not wish to comment," he told TwoCircles.net.
The Jamiat team put up a convincing argument in the court, pointing out how the public witnesses had either turned hostile or admitted that they were fooled/threatened/misguided by the police. Beyond this, the investigation was carried by a constable even though TADA mandated that a police officer not below the rank of SP investigated the case.
Meer cannot help but express happiness when asked about February 27, the day all the 11 were acquitted. "It was 6 pm and the court hours had ended…all 11 of us were sitting along with our family members. That is when we came to know that we had been acquitted. For the next one hour, all of us just cried…they were tears of happiness. We had waited for so long to hear this," said Meer in an emotional note.
Despite such a long-drawn case that could have had a much more serious implication on his life, Meer says he has no complaints against the Police officials. "They were doing their job," Meer says. "The 'Hukumat' tells them to go arrest a certain number of Muslims as terrorists, so they do exactly that. If they do not follow orders, they will lose their jobs," he adds.
Dr Meer, who continues to practice regularly, says the weight off the shoulders feels amazing. "I finally feel free in my life," he adds. When asked what all he would like to do, he lists a number of things including his wish to go for Hajj with family. "I went for Hajj in 1992 before the case began and I would be so happy if I can go again with my entire family," he adds.
"I always knew I was innocent, now I have the proof to say so too," he says.
SUPPORT TWOCIRCLES
HELP SUPPORT INDEPENDENT AND NON-PROFIT MEDIA. DONATE HERE