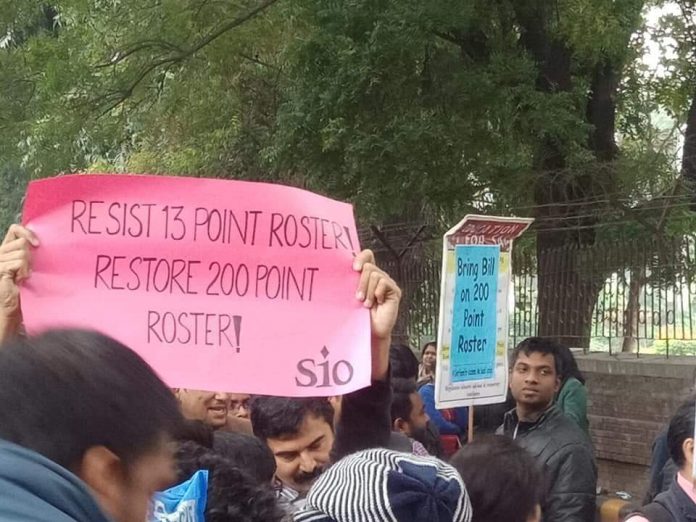 By Nikhat Fatima, TwoCircles.net
Following countrywide protests, the much-criticised 13-point roster system for Indian universities has been overturned and the original 200-point roster system has been restored.
---
Support TwoCircles
---
The 200-point roster system ensured that teaching positions were reserved by treating the university as one unit. So, a deficit of reserved seats in one department could be compensated by more people from the reserved communities in other departments. However,  the 13-point roster considers each department as one unit. So, for at least one appointment from each reserved category to be applicable, there must be a minimum of 14 appointments made (hence the term 13-point roster). This can have an adverse impact on the reservation and hence resulted in anger among marginalised communities.
The 13-point roster was first passed by the Allahabad High court and then upheld by the Supreme Court.
Following the SC order, several teachers' associations wrote to the Ministry of Human Resources and Development and the Union Cabinet approved the ordinance on March 7 to restore the 200-point roster system. Thousands came out in protest against the 13 point roster demanding to  #BringBack200pointroster
A nation wide Bharat bandh was also organised on 5th March on the issue of the 13 point roster and Forest rights.
The same day the ordinance was passed, the UGC ordered all central, state and deemed universities to resume the recruitment of teachers which had been put on hold from July 2018.
The SC order had seen a lot of backlash in various universities in the country including JNU, Delhi. Speaking to TwoCircles.net, Deeksha Rahul, an MA Sociology student from JNU and a member of Birsa Ambedkar Phule Students Association (BAPSA) said, "The protest against 13-point roster is a concrete example of agitation advocating the collective dissent by people over the denial of a constitutional right by the Supreme Court. The fight against 13-point roster is against the Brahmanical idea for keeping away the marginalised from their constitutional right to representation.
"The 200-point system ordinance over the 13-point system is the success story of the Bahujans. Dr B.R. Ambedkar asked us to Educate, Agitate and Organise. When educated Bahujans start understanding the Brahmanical face of the system, they come together to agitate for their rights and organise themselves for the assertion of unity and strength."
Akash Poyam, Founding Editor of Adivasi Resurgence told TwoCircles.net, "The ordinance is a victory of people's movement and of all the students who vehemently protested against the 13-point roster. It was a clear threat to the majority of marginalised communities from the SC, ST, OBC communities. For example, ST representation did not even come under the 13-point system and was placed at the 14th number."
SUPPORT TWOCIRCLES
HELP SUPPORT INDEPENDENT AND NON-PROFIT MEDIA. DONATE HERE