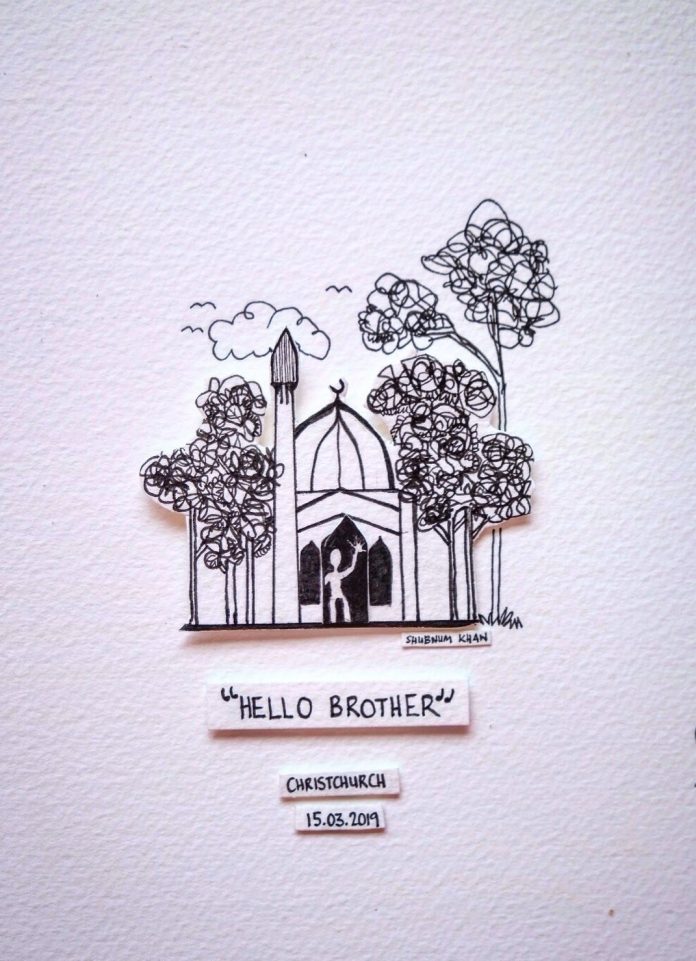 TCN News
The killing of 50 worshippers in two mosques in New Zealand, Christchurch city on 15th March 2019 has sent waves of dismay in the whole world and Muslims especially are shocked and saddened over this incident.
---
Support TwoCircles
---
Gunmen entered the mosques and started firing at the people who had gathered for the prayers while one of them live streamed on social media sites.
The two mosques are Al Noor mosque in central Christchurch and the suburban Linwood mosque.
While the death toll is 50, another 40 people are still being treated in the Christchurch hospital while those with minor injuries have been discharged.  And 11 of them are in intensive care unit.
Four people have been arrested by the police. Two were the gunmen and the other two probably their accomplices. One of the gunmen who livestreamed the shooting is of Australian origin and supposedly wrote a manifesto in which he has stated that this is a terrorist attack making references to "white genocide" driven by "mass immigration."
Although the  Prime Minister of New Zealand, Jacinda Ardern, has described this as a terrorist attack calling it as one of the darkest days in New Zealand, several news channels did not call it an act of terror but referred to it as 'mosque shootings' which drew criticisms from many people.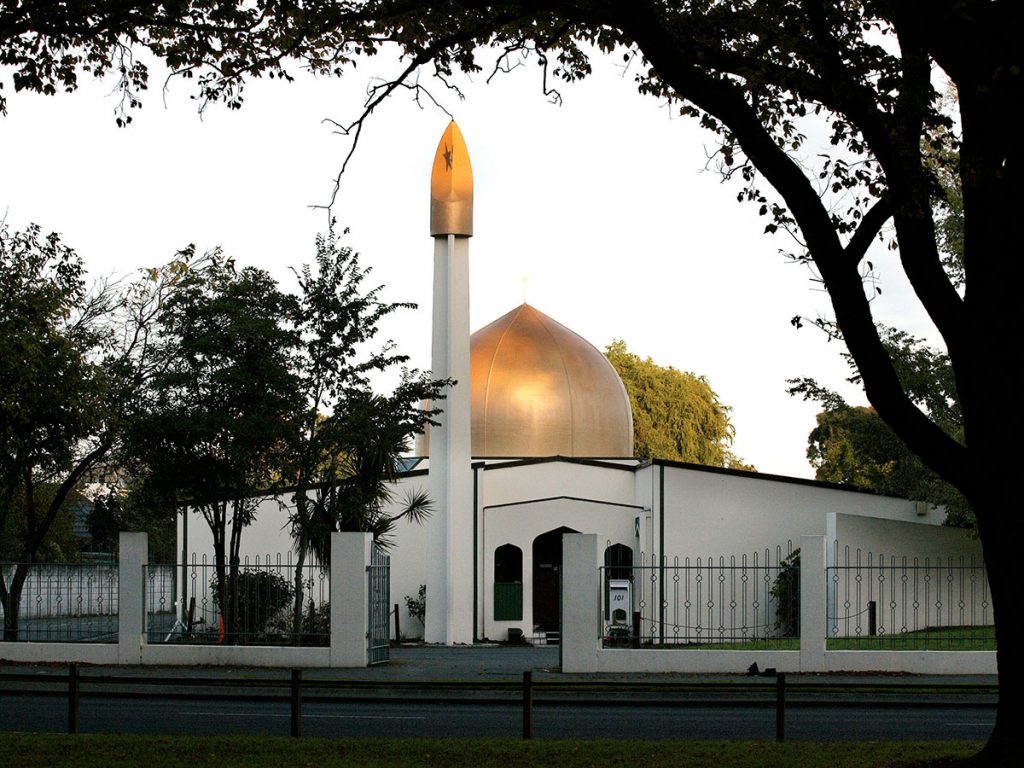 Armeena Khan, resident of UK, tweeted " Terrorism isn't just reserved for Muslims. You need to fix the wording and don't downplay this" in response to BB News ( World)'s tweet.
Heads of several nations including the Prime Minister of India have expressed their sorrow over this terrorist attack in which innocents have been killed.
Ibrahim Abdul Halim, Imam of one of the mosques who survived the attack, said " We still love this country".
Dr Syed Zafar Mahmood, President  Zakat Foundation of India  The Zakat foundation has organised prayers in absentia 'Salat al-Gha'ib' for those who died in the Christchurch mosques in New Zealand. The salat-al-Ghaib prayers are being organised in many places over the globe where Muslims are residing.
Dr Anis Ansari, IAS (Rtr), founder Vice Chancellor of Urdu, Arabic Farsi University, Lucknow, expressed sorrow at the shameful attack by the 'white terrorists' to TwoCircles.net. According to him the reason of this attack is the speed at which Islam is spreading. He said, " Since Islam is spreading in the west among the marginalised communities, the extremist elements among the white racists have felt threatened, hence this attack on the mosques which is symbolic of their desperation."
Syed Fasiuddin, a software professional, Indian (Hyderabadi) residing in the US told TwoCircles.net that even there in the US the TV channels show a Muslim who may have committed even a petty crime as if he were a representative of all Muslims. He said this way they are injecting hate in the minds of people against Muslims and this incident is a result of all that hatred against Muslims. "Some people build up animosity because of these rhetoric built by TV channels and political goons. Why are so many guns made available to the common man? Why are so many bullets sold recklessly? This applied to the Pulwama incident also. Where did that person who blew up the jawans get the material from?" he asked.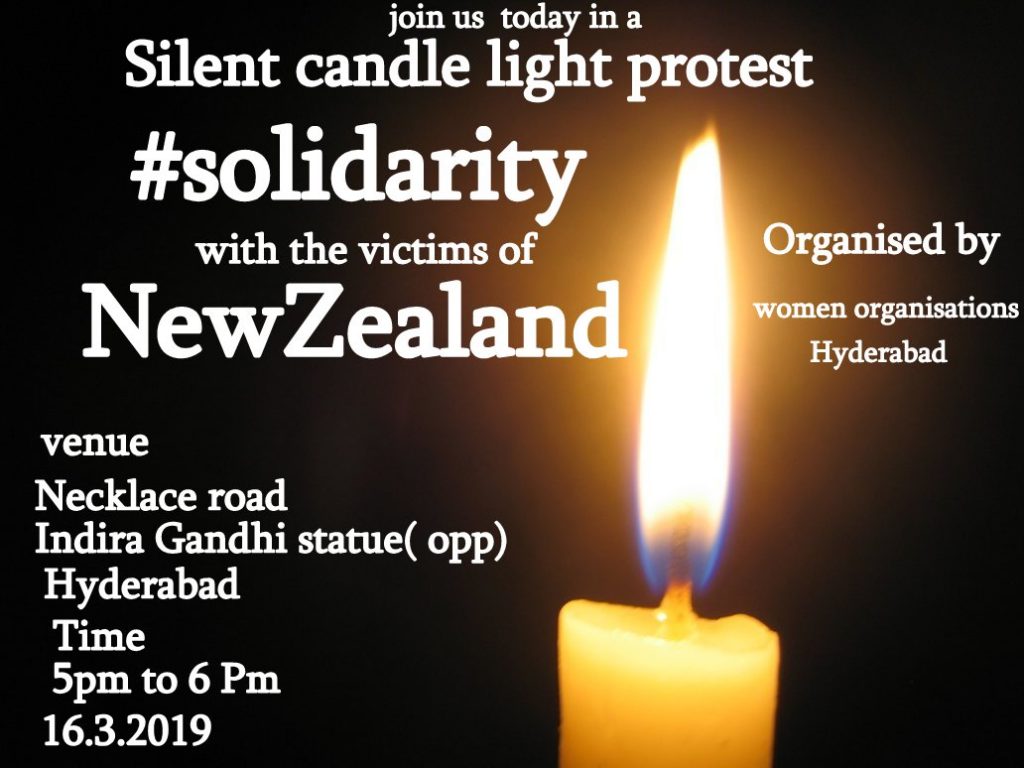 Hyderabad Women's groups organised a candle light protest to express solidarity with the New Zealand victims.
The MP of Hyderabad, Assaduddin Owaisi, also expressed sorrow and prayed for the victims. Among the 50 persons shot down there are supposed to be at least 15 of them from India. And about 5 from Hyderabad who were residing in New Zealand from many years.
However there are other groups who, though shocked and saddened, over this incident, not only condemned this barbaric act but also say that it is a well planned terrorist act and is a direct result of Islamophobia.
Muslim Peace Coalition -USA leader Dr. Shaik Ubaid, the Co-Chair, in the press statement released said, " "We blame the Islamophobic propaganda for this massacre which has now become politically acceptable in many countries including the US because of the opportunist elements among the politicians and in the media who have joined the bandwagon of the religious extremists, ultranationalists and White supremacists. Even the President of the US has been guilty of Islamophobic hatemongering as admitted by the terrorist mass murderer in New Zealand. The terrorists belonging to the RSS in India, Ma Ba Tha in Burma, Kach in Israel regularly praise and quote the President."
There is another side to this attack which Khalid Hasan, General Secretary of Awami Insaaf Movement, Hyderabad expressed to TwoCircles.net, "  The attack on the two Masjids in Christchurch, New Zealand while men,  women & children were offering Jumuah prayers is extremely saddening & heart-breaking.  However, this incident has brought entire nations & communities to stand with Muslims, offer their sympathies & actually had the opposite effect of what the killers wanted."
"People who never knew what a Masjid looks like, now have visited the Masjid in their locality with flowers. They are meeting Muslims neighbours & inviting them home, which was probably unthinkable before this incident. Most importantly, the MYTH of Masjids as breeding grounds of terror has broken as no devotee carried a gun or fired back. It is important that instead of locking up our Masjids as some people suggest, we must keep them open so anyone can walk in and see how peaceful Muslims are," he added while sending prayers to the deceased and strength for the survivors and the families of both.
SUPPORT TWOCIRCLES
HELP SUPPORT INDEPENDENT AND NON-PROFIT MEDIA. DONATE HERE