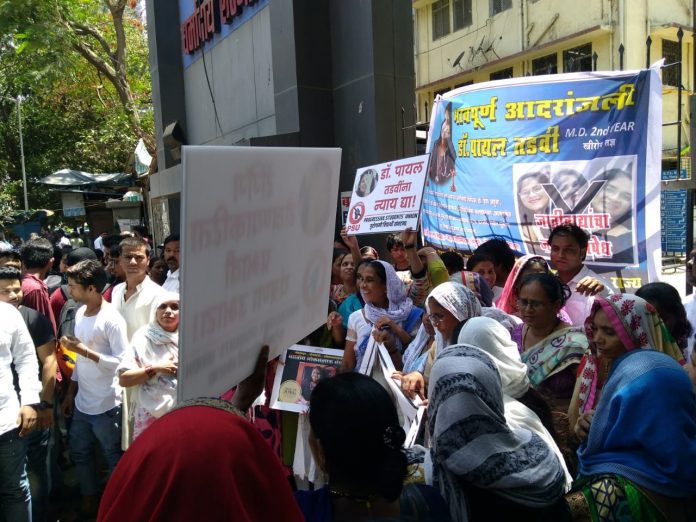 By Daisy K, TwoCircles.net
In yet another kind of institutionalised murder, Dr. Payal Tadvi, a 26 year old Post Graduate Student  at Mumbai's famed BYL Nair Hospital in the Obstetrics and Gynecology Department of Government run Topiwala National Medical College was driven to suicide after facing  discrimination and harassment at the hands of three of her senior colleagues, Hema Ahuja, Bhakti Mehar and Ankita Khandelwal.
---
Support TwoCircles
---
According to AISHE's (All India Survey of Higher Education)  2018  data there are a  total of 130 female students and 107 male students pursuing M.D (Doctor of Medicine) belonging to the  Scheduled Tribes (ST) category in Maharashtra, which is a total of 3.08% of total students in the state of Maharashtra –  low compared to the reservation mandate.
Overall, within, Maharashtra medical colleges there are no mechanism available to address such issues like caste-based harassment. Educational bodies like the UGC (University  Grants Commision) do have guidelines for creation and maintenance SC/ST Cells and Equal Opportunity cells in colleges. But medical colleges come under the MCI(Medical Council Of India) which does not have any guidelines for cases related to caste based discrimination.
Jalgaon based activist Mr. Moulana Mujaheed Tadvi, President of Adivasi Yuva Kranti Dal and Adivasi Bhil Tadvi Bahuddheshiye Sanstha, said, " It is the first time that an issue related to a tribal person is been taken seriously and has gained momentum, otherwise many such atrocities against tribals take place everyday but they go unnoticed. We are planning a zilla and tehsil level protest regarding this case. We are also planning a protest March in Mumbai very soon".
Dr.Payal Tadvi, hailed from Jalgaon district in the North of Maharashtra. Tadvi, belonged to the Bhil Tadvi Community, part of the population of which is Muslim. Dr. Tadvi  was a practising Muslim and had kept her Roza  for  month of Ramadan. The Bhil Muslim Tribal Community and are classified under Scheduled Tribes in states like Maharashtra, Gujarat, Madhya Pradesh and Rajasthan.According to the 2010 census the Tadvi Bhil population in Maharashtra is 1,818,792.
Regarding the Bhil Tadvi community he further added "The Adivasis like Tadvis have been facing discrimination and atrocities since long time, I have personally toured areas of Bhil, Akola, Amravati, Buldana and the conditions of communities like Bhil and Gonds is pathetic. There is no of employment, many of the tribals have forced out of the forests and hence have lost their livelihood, many of them engage in small time labour work in fields. The education levels are also dismail, the condition especially of the women is very bad".
Dr. Rewat Kaninde, Ex-President Dr.Ambedkar Medicos Association, currently working in JJ Hospital, Mumbai said that  " Even during my UG days I too have witnessed verbal discrimination in terms of taunts, even if the students from the reserved category are at the top the class, they are still subjected to taunts from the students and teachers".
He further added that a mechanism should be put in place to help the students. "We demand that all the medical colleges should compulsory counsel students since many of them come from rural areas, not only the SC/ST, and OBC students but even general students should be counselled. Already in a country like India the doctor patient ratio is one of the lowest in the world. She would have treated lakhs of patients and now she is no more, this is a very serious thing. Every single doctor is important in a country like India and doctor being driven to suicide like this is not acceptable. This a very serious issue. We demand that cells like SC/ST Cells and Equal Opportunity Cells to be set up in Medical Colleges with immediate effect".
Speaking to TCN a third year female MBBS student from tribal community on condition of anonymity fearing  being targeted  said, " Many of the tribal students come from areas like Gadchiroli and Nandurbar regions of Maharashtra, for them to cope with the environment of higher education in Mumbai becomes very difficult.  Many of the students come from very backward areas and are from working class  backgrounds. I personally faced lot of problems in my first year, it was very difficult to talk and adapt to the environment. Things are easier for students who come from well-off families. Students from the reserved categories are left to fend for themselves as there is  no emotional support available, I feel giving students the emotional support they require is very important".
A call for protest was given by the family of Dr.Tadvi. A protest march was held on 28th May in front of BYL Nair Hospital in Mumbai. The three accused under section 306 (abetment for suicide) of the Indian penal code (IPC), sections of the SC/ST Atrocities Act, Anti-Ragging Act and Information Technology Act, 2000. Dr. Tadvi's body was taken to JJ Hospital for post mortem and was later taken to her hometown of Jalgoan District in Maharashtra. According the recent developments, Dr. Tadvi's husband has alleged foul play in the suicide case.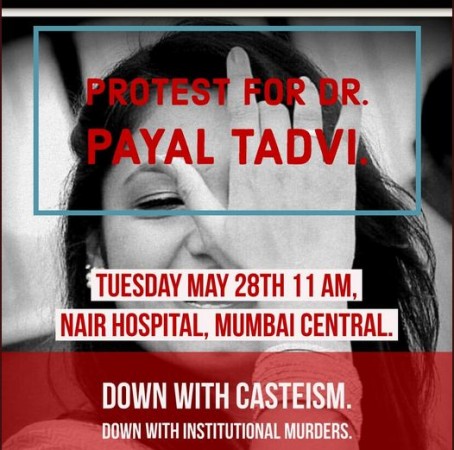 SUPPORT TWOCIRCLES
HELP SUPPORT INDEPENDENT AND NON-PROFIT MEDIA. DONATE HERE