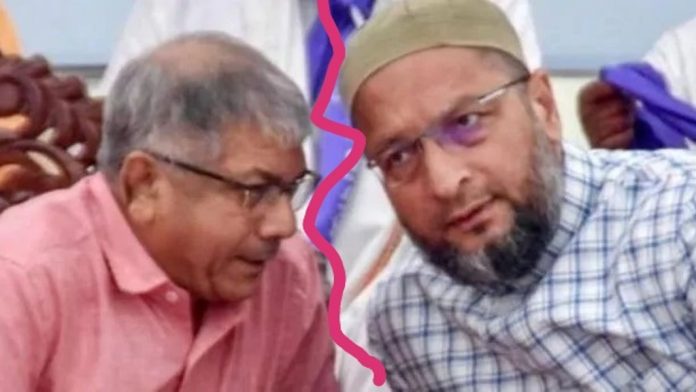 By Imran Inamdar, TwoCircles.net
Vanchit Bahujan Aghadi a political tie-up between Asaduddin owaisi's All India Majlis Ittihadul Muslimeen (AIMIM) and Prakash Ambedkar's Bharip Bahujan Maha Sangh who had contested all 48 Lok Sabha seats from Maharashtra state have now broken the alliance due to disagreement over seat-sharing in the upcoming elections.
---
Support TwoCircles
---
In the 2019 elections, through the alliance, only one seat was won. But still, the VBA managed to garner around 41 lakh votes from all the seats. It was a pleasant victory for both the Dalits and the Muslims.
The VBA was formed in March 2018 when Ambedkar had merged his Bharip Bahujan Mahasangh with AIMIM.
Though both the parties had decided to contest in the upcoming assembly polls together a disagreement over seat-sharing struck a blow to the Dalit-Muslim unity and has upset many AIMIM activists.
After several marathon meetings in the last two months, both the party leaders failed to reach a favorable solution. State president and MP Imtiyaz Jaleel of AIMIM released a press statement three days ago in which he shared the details of seat-sharing which is 8 seats to AIMIM out of the 228 seats saying that this was not acceptable.
His press release posed the question about the status of political ties of VBA with AIMIM. However, Prakash Ambedkar remained silent over the statements made by Imtiyaz and was waiting for AIMIM supremo Asad Owais's formal statement.
On Tuesday Asad Owaisi supported the state president's stand and closed all the doors of hopes of the alliance by saying "Imtiyaz Jaleel 's stand is our party's stand".
A Pune based senior activist who doesn't wish to be named expressed serious concern over this political drama and told Twocircles.net that it is a huge blow for both the parties. He says, "As per the reports if VBA fields 25 Muslim candidates and gives 15 seats to AIMIM that would be great. Of this figure minimum, 20 could register a victory from different parts of the state and become a strong political force."
Eijaz Manzoor Alam a diehard fan of Asad owaisi and a member of his party said that "VBA had emerged as a good option for secular voters and is the need of the hour now. It would be better if they keep their egos aside and contest the elections together. This alliance would have strengthened the marginalized communities".
"They should not belittle or disregard each other," added Eijaz.
Samiullah Shaikh an ex. Spokesman of AIMIM in Solapur District said, "Alliance with VBA is favourable for our party because this alliance is helping us to maintain the secular image. It has given us a member of parliament from Aurangabad. We must thank Balasaheb (Prakash Ambedkar)".
SUPPORT TWOCIRCLES
HELP SUPPORT INDEPENDENT AND NON-PROFIT MEDIA. DONATE HERE