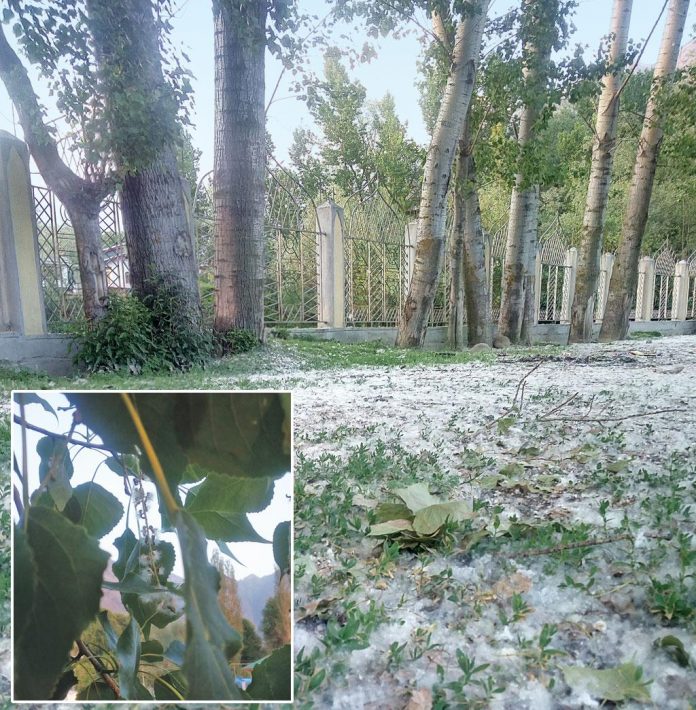 Auqib Javeed,TwoCircles.net
Srinagar: The Union Territory Administration in Kashmir has started a massive axing and looping programme of Russian female poplar trees locally know as "Russi phras" in wake of Covid-19 on the directions of Divisional Commissioner, Kashmir.
---
Support TwoCircles
---
As the erstwhile state grapples with an escalating economic loss due to the six months lockdown, the government has ordered axing of 16 million Poplar trees in Kashmir. The order came in wake of rapid spread of COVID19 as the Valley records 04 deaths and over 200 positive cases, with government claiming that the pollen generated by this Russian breed trees during the spring season could become carriers of the coronavirus.
Economic loss
The order, issued last week, has stoked fear that the drive may result in large-scale cutting of poplar trees — a move that many experts believe will have a huge impact on not just local ecology but also the economy.
"We sell around 600 crore boxes of apples every year in fruit Mandi and most of the boxes are made of Russian Poplar wood," Fayaz Ahmad told TwoCircles.net. Ahmad, who leads Asia's largest fruit market in North Kashmir's Sopore believes axing of poplar trees will surely hit the fruit the industry.
As Poplars are the only fast growing tree species in the Valley, they are considered as the economic back bone of farmers in Kashmir, fetching them an income of Rs. 9,000 to 15,000 per tree at a short rotation of 10 to 15 years. A trader who deals with wood business told TwoCircles.net that he is associated with the trade since last 20 years and government's ill thought action will leave them unemployed.
There are about 16 million Poplar trees in Kashmir, dotting highways, urban and rural pockets in the Valley.
Poplar wood was initially cultivated in J&K for making boxes for apple packaging and for manufacturing pencils. The trees are also used for plywood manufacturing with over 30 plywood factories dependent on it. A vast number of traders dealing in wooden craft are also reliant on Poplars.
Ecological Disaster
Poplars are one the most important tree species in the Valley for its multiple benefits other than revenue generation. They facilitate carbon sequestration, uses in fruit industry, phyto-remediation, ecological treatment, stream bank stabilization, soil building, bio filtration, soil erosion control etc.
"It is most tragic that lakhs of Russian Poplars are being chopped in Kashmir on the order of Jammu and Kashmir High Court, based on the wrong perception that these trees are a severe health hazard for the region," said Jauhar Parrey. Jauhar is a PhD scholar at Faculty of Forestry, Sher-e-Kashmir University of Agricultural Sciences & Technology of Kashmir ( SKUAST-K). He added that it is unfortunate that government has started a war against Poplar trees without expert advice stressing that they cannot underestimate the importance of Poplars in terms of environment cleaning and economical value.
Back in 2015, the Jammu and Kashmir High Court had ordered chopping down Russian Poplars all over Kashmir. Following this, about 2 lakh trees were cut down in south Kashmir between 2017-2018. Jauhar, remembering the same, noted that there is enough research available which suggests that Poplar seeds are not allergic in nature. Similarly, experts argue that the decision was not supported by any scientific evidence.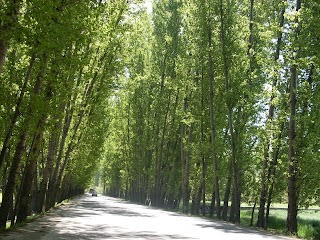 Covid-19 and Pollen 
A 2017 study by Government Medical College, Srinagar, reveals that Pollens of Russian Poplar cause allergy in 20% population, Common grass in 73.5%, Pine in 62.7%, Chinar in 60% and Dust in 92.7% (cutting of trees increases dust and pollution). Similarly, the cottony substances dispersed are seeds, whereas the pollens are invisible to the naked eye. And ironically, no allergic protein has yet been found in the cottony seeds of Russian Poplar.
A year later in 2018, Faculty of forestry SKUAT-K had organized a brainstorming session on Poplars including scientific experts, officers of Forest department, medics and legal authorities who collectively concluded that poplars show no allergic nature. Another seminar was organized by the Faculty whose Principal Investigator was Dr JA Mugloo, senior scientist at Faculty of Forestry SKUAST-K. This seminar was instrumental in proving that unfertilized seeds of Poplars are not allergy-causing in nature.
"Grass produces more pollen which is more allergic to humans, does it mean we will clear them off?" said Dr. Mughloo told TwoCircles.net. As per Dr JA Mughloo, there is only a management problem of Poplar trees in Kashmir and removing of 60-70% of canopy would significantly reduce pollen shedding of these trees to the maximum, without having to cut them off fully.
"Simple pruning is enough to deal with the pollen shed by these trees," said Dr SA Gangoo, Chief Scientist at Faculty of Forestry SKUAST-K. Talking about pollen, Dr Gangoo discussed that conifers like pine, kiker, chinar and their other species also produce pollen grains and seeds and instead of bulk hacking them, pruning saves a lot. He opined that Poplars not only reduce the cotton fluff produced by trees, but also increases its productivity in terms of tree girth and height so it is not a solution to relate Covid19 with pollen.
SUPPORT TWOCIRCLES
HELP SUPPORT INDEPENDENT AND NON-PROFIT MEDIA. DONATE HERE