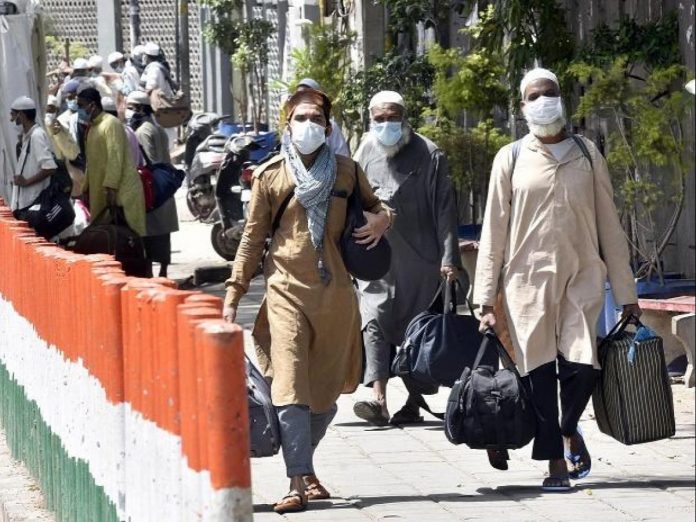 TCN News
Jamiat Ulama-i-Hind's General Secretary Maulana Mahmood Madani responded to the Bombay High Court's verdict on Tablighi Jamaat by calling it "a lesson for governments which disregard national interests and indulge in communal politics."
---
Support TwoCircles
---
The High Court in its final statement has quashed all the cases against a total of 29 foreign nationals who were booked under various provisions of IPC, Epidemic Diseases Act, Maharashtra Police Act, Disaster Management Act and Foreigner's Act for allegedly violating their Tourist Visa conditions by attending the Tablighi Jamaat annual congregation at Nizamuddin in Delhi during early March. Madani said that the High Court's verdict is "a clear mirror in which central and state governments can see their stained faces," as it has defeated "the nefarious design of the communal forces" and brought justice for justice-seekers.
Speaking on the continued humiliation, media trials and hate speech campaign against the Tablighi Jamaat, Madani has demanded that "it is now high time for the concerned to repent about this action taken against the foreigners," and serve justice by "taking some positive steps to repair the damage done" done by months of social boycott of Tablighi Jamaat members all around the country. He demanded that repairs can only be done when the central and state government withdraw all cases registered against the Tablighi Jamaat members across the country while respective state authorities release those who have been incarcerated.
"This verdict has a very important lesson especially for the UP Government which has treated these Tablighi foreigners very badly," he resonated. While referring to the Court's original statements, Madani recalled the old Indian saying 'Atithi Devo Bhava(Our guest is our God)', and questioned whether the current central and state governments "really acting as per our great tradition and culture." He continued that even now many are languishing in Allahabad's Naini Jail, urging the governments on behalf of the Jamiat to release them and provide "proper compensation for their mental and religious persecution."
Much like Jamiat's stand against hate campaign, the Bombay High Court's decision has criticized the media's portrayal of foreign nationals who attended Tablighi Jamaat. It said that "there was big propaganda in print media and electronic media against the foreigners who had come to Markaz Delhi and an attempt was made to create a picture that these foreigners were responsible for spreading COVID-19 virus in India." The Court recounted that there was "virtually huge persecution against these foreigners," which got further accelerated by the COVID-19 pandemic situation.
The Court pronounced that "we need to show more tolerance and we need to be more sensitive towards our guests particularly like the present petitioners." Madani repeated the statements where the High Court has acknowledged that the allegations made against foreign Tablighi Jamaat attendees "show that instead of helping them we lodged them in jails holding them responsible for violation of travel documents and for spreading of the virus." He stated that the material produced on the record shows that even under the recently updated Manual of Visa, "there is no restriction on foreigners for visiting religious places and attending normal religious activities like attending religious discourses."
Referring to anti-CAA-NRC mass protests all over the country, the High Court has said that most of the persons participating in the protest were Muslims as the CAA is "a contention and discriminatory against Muslims." It also acknowledged that Muslims were taking part "by holding Dharna at many places in India from at least prior to January 2020 as fear was created in the minds of those Muslims." Such fear in the public minds, the Court maintained, indirectly gave warning to Indian Muslims that action in any form and for anything can be taken against Muslims and therefore "there is a smell of malice to the action taken against these foreigners and Muslim for their alleged activities."
Madani hailed the Court's final statement that current circumstances like malice are important consideration when relief is claimed of quashing of FIR leading the Bombay High Court to conclude that "the state government acted under political compulsion and action against the foreign nationals can be inferred as malice."
SUPPORT TWOCIRCLES
HELP SUPPORT INDEPENDENT AND NON-PROFIT MEDIA. DONATE HERE