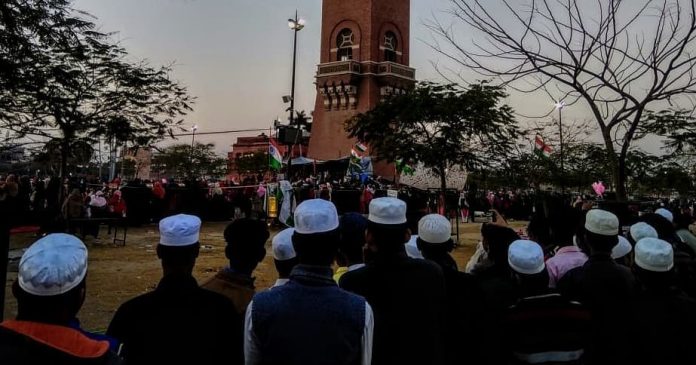 By Nabeel Ahmad, TwoCircles.net
With the rising hyper-nationalism and Islamophobia, Indian Muslims are constantly bombarded regarding their identity. Forget about full-grown beard and skull cap, even a slight assertion by Muslims causes uneasiness in the majority community. Communal polarization and disharmony have risen to such levels that it has become nearly unthinkable for Muslims in some areas to have the courage to go out with their religious identities intact.
---
Support TwoCircles
---
No wonder that everyday Muslims have to face prejudice for wearing their Muslim identity insistently. The suspension of Intesar Ali, UP police SI from Baghpat, for growing a beard is just a recent incident that appeared in mainstream media. Muslims who have a beard or wear skull caps are often seen as conservative and fundamentalist. They are often denied houses in urban areas and forced to move into ghettos. In their own country, they are made to feel like outsiders and asked to go across the border. When article 25 of the Indian constitution gives the right to practice and propagate religion, Muslims who are tied up to their faith are refused opportunities or face discrimination at all levels of society. Both the identities – a Muslim and an Indian, can undoubtedly co-exist freely in a heterogeneous state. Muslim men who wear a beard and women who wear hijab are not considered an example of Indian Musalman. Furthermore, the macroaggressions leads many Muslims in a constant conflict of whether they should be asserting their identities or let it remain hidden to make sure the majority feels comfortable.
Sadly, when it comes to discrimination, women have to face it at two levels. First as a Muslim and then as a woman. The rejection of Ghazal Ahmed (AMU journalism student) for the job of news anchor for wearing a headscarf, is evident enough to weigh the fact. Despite being widely discussed in the media, Muslim women are hardly seen as members of the media itself. They are merely seen discussing and debating Muslim issues but never as experts talking on some general social issues.
"I was very calm at the call but was shouting inside that what a job has to do with my religious identity. Why can't I observe my faith at my workplace? This is not only culture but a whole created propaganda that Muslims can't assert their identity in this nation anyway," writes Ghazala on her Twitter handle.
A woman wearing Hijab is often seen as persecuted, regressive, and vulnerable when actually what maddens patriarchs and Islamophobes the most is a practicing Muslim woman asserting her identity and professing the space she deserves. Even though a piece of cloth cannot decide and hinder women's professional growth, they are barely accepted and thus are underrepresented in the elite circle. Muslims who shrug away their religious and cultural identity are only accepted and come under the compass of liberalism.
At the end of last year, the silence of decades broke down when the young generation of the community was attacked, which consequently strengthened the ongoing anti-CAA-NRC movement and delivered that Muslim identity is unapologetic and legitimate in all spheres. Apart from witnessing the largest participation of Muslims in the post-independence era, the movement embodied vindicating a Muslim's identity assertion and leeway to live a life of dignity. The notion that one could be a Muslim and an Indian without brushing off one's identity was acknowledged especially among Muslim youths.
But despite the unprecedented assertion and agitation by Muslims during anti-CAA-NRC movement, where the streets were occupied largely in skullcaps and Hijabs, performing the Namaz and claiming public spaces, they were criticized and questioned by the liberal squad for politicizing the movement. Among all the loud voices during the anti-CAA-NRC discourse, somewhere the voice of Sharjeel Imam was left unheard or deliberately misinterpreted by left-liberals. Despite being the actual brain behind one of the largest agitations, the organizers of Shaheen Bagh and the Jamia Coordination Committee managing the protests at the university did not delay in distancing themselves from Imam. Unsurprisingly, a learned individual asserting his Muslim identity unapologetically is bound to be accused of being sectarian. Also, the majority of Muslims failed to show their resentment on the issue. Consequently, the academic silence and lack of solidarity from the civil society gave friction to the state to charge him with NSA and UAPA.
The dyadic "good Muslim" and "bad Muslim" has been set long ago by left-liberals who are continuously pushing atheism down the throats of Muslims. According to them, a Muslim can only be a good Muslim and Indian if he keeps his religious identity aside. And if someone fails to do so, he would be blatantly termed as extremist or orthodox. Well if truth be told, the level-headed and focused new Muslim has denied becoming a puppet of any political party or ideology.
Nabeel Ahmad is from Lucknow, Uttar Pradesh. He is postgraduate in Library and Information Science from Aligarh Muslim University (AMU).
SUPPORT TWOCIRCLES
HELP SUPPORT INDEPENDENT AND NON-PROFIT MEDIA. DONATE HERE