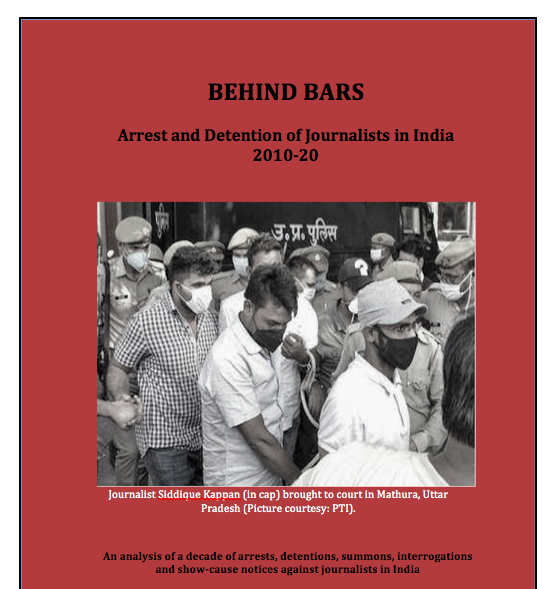 -154 journalists detained for their work in last decade in India
– 3 journalists killed in India in 2020
– Covid-19 lockdown resulted in salary cuts, loss of livelihood for journalists in India
By TCN Staff Reporter
---
Support TwoCircles
---
A new report by Mumbai based Free Press Collective has termed the sharp rise in criminal cases against journalist's in India – especially in BJP ruled states – as "contributing to the deterioration in the climate for free speech in India."
The report titled "Behind Bars: Arrests and Detentions of Journalists in India 2010-2020" provides an analysis of a decade of arrests, detentions, summons, interrogations and show-cause notices against journalists in India in the last decade.
The 33-page report says that in the last decade, 154 journalists in India were arrested, detained, interrogated or served show cause notices for their professional work and a little over 40 per cent of these instances were in 2020.
"Nine foreign journalists faced deportation, arrest, interrogations or were denied entry into India," says the report.
Free Press Collective said that the year 2020 has been a bad one for journalists in India.
"The Covid-19 pandemic has caused illness and death, and the lockdown resulted in salary cuts and loss of livelihood due to mass retrenchments effected by media houses. The killing and attacks on journalists have continued unabated. While self-censorship within the media remained an open secret, the government sought to increase regulation of the media, with media policies, funding and administrative mechanisms for online media," the report notes.
The report says that the stringent sedition law has been increasingly applied against journalists in India, "apart from cases (filed against journalists) under various sections of the Indian Penal Code (IPC), and 'terror' related charges.
Three journalists are in custody under various sections of the Unlawful Activities (Prevention) Act, 1967 (UAPA), one of them being convicted with life imprisonment, says the report.
The report makes notes of the difficult situations journalists in India had to work in  2020 amid the Covid-19 pandemic.
"Given the lockdown due to the pandemic, sections of the Disaster Management Act and Epidemic Diseases Act, along with prohibitory orders under Sec 144 of the Criminal Procedure Code (CrPC) have also been increasingly applied against journalists," the report said.
"Along with the already prevailing impunity for crimes against journalists, these instances clamp down on the flow of information and have a chilling effect on the freedom of the media in India," the report notes.
SUPPORT TWOCIRCLES
HELP SUPPORT INDEPENDENT AND NON-PROFIT MEDIA. DONATE HERE