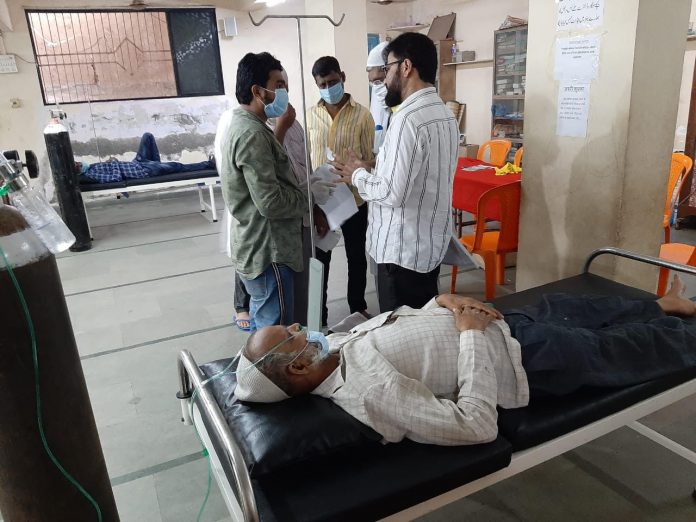 Aparajita Ghosh, TwoCircles.net
Mumbai: Vinayak Shingole, 70, resident of Bhiwandi, was suffering shortness of breath one evening and when he went to the hospital, he found there were no beds and no testing facilities. "We got to know of an oxygen centre at Makkah Masjid from a social worker and obtained the benefits," he said.
---
Support TwoCircles
---
With the cases of COVID-19 in Maharashtra rising up to 1.92 lakh, the lockdown has been extended till July 31.
Kamruzzama Ansari, 59, had recently undergone an angioplasty and was low on oxygen after being home for a long time. "Since our neighbour was suffering from pneumonia, we contacted Jamaat-e-Islami Hind, Bhiwandi unit, and asked for oxygen to take precautions,' he said.
Jamaat-e-Islami Hind is an organization that has assisted and conducted relief and rehabilitation work during the crisis in every corner of the country. Amid the ongoing pandemic, when the world is fighting the deadly coronavirus, Jamaat-e-Islami Hind in collaboration with Movement for Peace & Justice (MPJ), Shanti Nagar Trust of Bhiwandi converted Shanti Nagar's Makkah Masjid into a makeshift oxygen centre.
The initiative began on 18 June when the vicinity observed a surge in COVID-19 cases and hospitals were shutting out of fear. The fear of contracting the virus caused jitters among civilians.
"We decided to start an emergency oxygen centre and provide at least oxygen to relieve stress among individuals", said Ausaf Ahmed Falahi, President of Jamaat-e-Islami Hind, Bhiwandi.
In a span of three days, a setup with five beds and ten oxygen cylinders was stationed at the masjid. Within no time, the project was in the public eye and the demands began pouring.
Quickly, fifty more oxygen cylinders were procured to home deliver the deprived.
"Both the initiatives are open for all regardless of caste, creed and religion. The beneficiaries are from all walks of life", says Shaheen, member of Jamaat-e-Islami Hind, Bhiwandi.
The general practitioners of the area are offering gratis and unlimited services for 24-hours, and the needy are provided with free medicines as well.
The initiative has benefitted nearly 195 patients till date and 'if needed, the services will be expanded'.
The patients do not have to be suffering from COVID-19 to derive benefits from the service. Those currently availing treatments are majorly suffering from pneumonia, low-oxygen, asthma and even depression, which requires oxygen therapy.
"This gives a very strong message out to people that a Masjid is not just open for ibaadat (prayers) but for benevolence and social causes too", says Riyaz Shaikh, a social activist.
SUPPORT TWOCIRCLES
HELP SUPPORT INDEPENDENT AND NON-PROFIT MEDIA. DONATE HERE