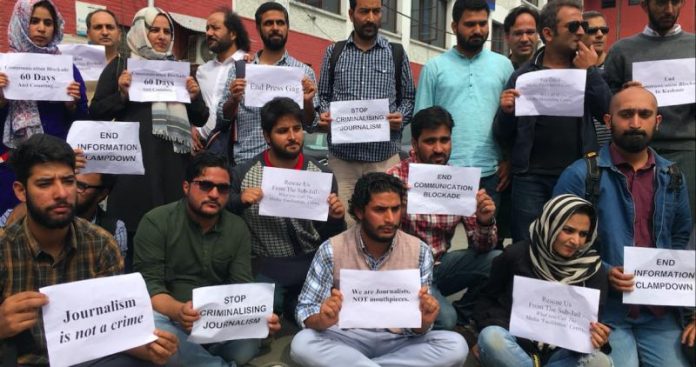 By Gowhar Geelani, TwoCircles.net
Though the influential Srinagar-based Kashmir Editors Guild and other major journalist bodies and unions are strangely mum on J&K government's new Media Policy 2020, many are summoning courage to speak up despite the choking atmosphere that prevails in the region since August last year.
---
Support TwoCircles
---
On July 6, a group of journalists under the banner of "J&K Media Guild" protested against the Media Policy and demanded its immediate rollback. Carrying banners and placards that read "Don't Gag Media, We Are an Equally Important Pillar of Democracy", "Down with Media Policy 2020", the members of J&K media guild gathered at Srinagar's Press Enclave to register their dissent.
"The new media policy is aimed at gagging journalists in Jammu and Kashmir," the protesters said in unison.
In the absence of an elected government since June 2018 the bureaucrats and police are having a field day in J&K. They are enjoying their unbridled powers as George Orwell had predicted in one of his finest books Nineteen Eight Four.
The current situation in Kashmir is similar to Orwell's imagination of a state that believed in surveillance and gaining more and more control over people. He talked about how war is peace, freedom is slavery and ignorance is strength when the Big Brother is watching you. The Ministry of Truth (media) concerned itself with news and entertainment. The Ministry of Peace concerned itself with war. The Ministry of Love concerned itself with law and order. And The Ministry of Plenty was responsible for economic affairs.
In an e-mailed response, the RSF's (Reporters Without Borders) Head of Asia-Pacific Desk Daniel Bastard told TwoCircles.net that, "At RSF, we see this New Media Policy of the Jammu & Kashmir administration as a new Orwellian tool with which the authorities will further impose their own narrative to Kashmiri citizens. As no clear definition is given of what is "fake news", what is deemed "anti-national" or what "violates decency", the executive power has an infinite space for interpretation, and will basically decide what is "truth" or "false"."
The Paris-based Reporters Sans Frontieres or Reporters Without Borders (RSF) described the J&K Media Policy "totally Kafkaesque".
Daniel further wrote: "In a working democracy, it is not up to the government to arbitrarily determine what is and is not true. This is what usually happens in autocratic regimes, and it speaks volumes about the state of democracy in J&K. Similarly, the government's intention to "conduct tours /field visits for media persons, from both within and outside J&K", is a sad reminder of Czarist Russia's Potemkin villages, and is a practice that you would normally see in China-occupied Tibet or in North-Korea."
He said that the RSF condemns this regulation in the strongest possible terms because, in both form and substance, it poses unacceptable obstacles to the free flow of journalistically verified information in the (Kashmir) Valley and beyond.
The latest media policy empowers the J&K government to take legal action against editors, media entrepreneurs, owners, publishers and journalists over what it would deem as "fake report", "anti-national" and "unethical" content. According to the 53-page media policy document, the J&K government through its Directorate of Information and Public Relations (DIPR) could initiate legal action against journalists besides curtailing or completely stopping advertisements to the media organisations. The "Media Policy-2020" allows the DIPR to "examine" content of print, electronic and various other forms of media for "fake news, plagiarism and unethical or anti-national activities."
Anuradha Bhasin, Executive Editor of the Jammu-based English daily Kashmir Times, echoed the same views and said that the new Media Policy is "a leaf from the Orwellian World of treating the very process of thinking as a crime. The 'Media Policy 2020' adds some clarity to the vision of a surveillance and police state that the government is building step by step in Jammu and Kashmir."
"The Media Policy 2020 paves the road for killing journalism in one go," she told TwoCircles.net.
Key Kashmir watchers are of the view that the recent cases filed against prominent journalists and writers in Kashmir by Srinagar's Cyber Police are aimed at stifling free speech, controlling the Kashmir narrative and containing the Kashmir story.
The Press Council of India (PCI) too had chosen to write formally to the Jammu and Kashmir Chief Secretary and J&K Police Chief and sought their response within two weeks concerning a written complaint by the Srinagar-based influential body, the Kashmir Press Club or (KPC), about the continuous alleged harassment and summoning of Kashmiri journalists to various police stations.
Signed by the PCI's Secretary Anupama Bhatnagar, the notice, a copy of which lies with TwoCircles.net reads: "Please find enclosed herewith a copy of the complaint received from Kashmir Press Club dated 21st May 2020 on the subject mentioned above. On consideration of the complaint, Hon'ble Chairman, Press Council of India has decided to take cognisance in the matter and I have been directed to call for your comments in the matter which may be filed within two weeks from the date of receipt of this letter to enable the Council to determine further course of action in the matter."
The PCI letter under the subject "Complaint of Kashmir Press Club against summoning of journalists in Kashmir by the Police" has been sent to B. V. R. Subrahmanyam, the Chief Secretary of Jammu and Kashmir, and Dilbagh Singh, Director General of J&K Police. A copy of this letter has been sent to the KPC as well.
Ishfaq Tantry, General Secretary, KPC, confirmed to TwoCircles.net that the Kashmir media body had registered a formal complaint with the PCI in May. Commenting on the development, Tantry said, "It is good that the PCI has taken cognisance to our complaint. The body should have acted much earlier."
Tantry said that the PCI has to act swiftly to ensure that journalists in the Kashmir valley are not harassed anymore. "Well, the freedom of the press has to be restored in Kashmir. It now also depends upon what line the authorities take in their response to the PCI's cognisance," he told TwoCircles.net.
The ugly pattern of filing First Information Reports (FIRs) against journalists and routinely summoning them to the Srinagar-based Cyber Police Station and various other police stations intensified in Jammu and Kashmir soon after the restive region lost its semi-autonomous status and statehood in August last year.
More recently, two separate FIRs under UAPA and IPC were registered against an award-winning 26-year-old female photojournalist Masrat Zehra and this writer in April this year. In May, the editor of The Kashmir Walla web portal and newspaper Fahad Shah was questioned for nearly six hours at Cyber Police Station over a story his organisation had done on the Srinagar Nawakadal gunfight and subsequent burning of 15 or more residential houses.
In February this year, Special Correspondent of The Outlook Naseer Ganai was questioned by the Cyber Police and an FIR under UAPA was registered against him in a police station. He was questioned along with another journalist Haroon Nabi over carrying a statement of the proscribed Jammu and Kashmir Liberation Front (JKLF) in their publications.
Prior to this, in November last year, journalists Basharat Masood of The Indian Express and Irfan Hakeem of The Economic Times were summoned by the Srinagar-based counter-insurgency headquarters, aka Cargo, and questioned for several hours about their stories. Similarly, Aquib Javed of the Kashmir Observer was taken to New Delhi by the National Investigative Agency (NIA) concerning an interview he had conducted with Asiya Andrabi, a pro-Pakistan woman leader of Dukhtaran-e-Millat (DeM), and a photojournalist Kamran Yousuf was questioned by the same agency. Currently, Yousuf is out on bail after spending nearly six months in Delhi's Tihar Jail.
In August 2019, Special Correspondent of The Hindu Peerzada Ashiq was summoned by Srinagar's Kothi Bagh police station and allegedly pressurised to reveal his source for his story he had filed on political detentions then. In April 2020, a formal FIR was registered against his story on the return of possible bodies of militants to their families in south Kashmir's Shopian district. Ashiq was first questioned at Cyber police station and subsequently had to travel 55 km on the same day for another interrogation in south Kashmir's Anantnag district.
South Kashmir-based journalist-editor Qazi Shibli too was picked up in August last year and was recently released after nearly nine-month-long detention. Another Kashmiri journalist Asif Sultan who worked with a local news magazine, Kashmir Narrator, continues to be in prison for nearly two years now. Sultan had done a cover story on slain militant commander Burhan Wani and was later charged under various sections of Ranbir Penal Code (RPC) and Unlawful Activities. Later, he was also accused of allegedly "harbouring militants", a charge strongly denied by him.
Deeply worried over this trend of registering FIRs against journalists, summoning and interrogating them at various police stations on a routine basis, the journalist's bodies are also concerned over the newly-framed J&K Media Policy 2020. They are of the view that this policy will be used as yet another tool to harass and intimidate journalists, kill the idea of independent journalism and also criminalise opinions in Kashmir.
SUPPORT TWOCIRCLES
HELP SUPPORT INDEPENDENT AND NON-PROFIT MEDIA. DONATE HERE