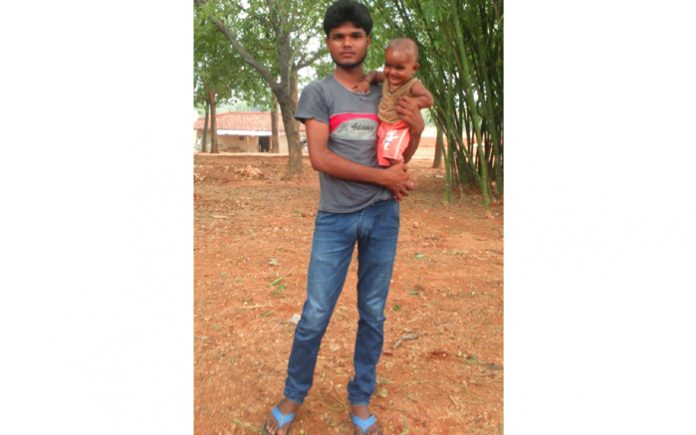 By Nazish Hussain, TwoCircles.net 
Jharkhand: Nearly four years after the custodial death of 22-year-old Muslim youth Minhaj Ansari in Jamtara district of Jharkhand, the proceedings of the case are yet to begin.
---
Support TwoCircles
---
In October 2016, 22-year-old Minhaj Ansari from village Dighari in Jamtara district died in police custody in Narayanpur Thana, Jamtara.
Minhaj was one of the admins of a WhatsApp group where a picture of beef was allegedly shared by someone. A Bajrang Dal member Sonu Singh made a complaint before the police accusing Minhaj of hurting his religious sentiments. Acting on the complaint filed by Singh, Sub Inspector Harish Pathak of Narayanpur Police Station, Jamtara picked up Minhaj Ansari from his shop on October 3 and took him to a police station, where he was allegedly beaten resulting in his death.
The police officer who allegedly killed Minhaj recently got posted in the Chief Minister Hemant Soren's constituency where he continues to harass minorities, TwoCircles.net has learnt.
"It has been four years and I am not able to understand what's going on. Till date, no justice has been served to me nor has the murderer been punished," Ajhela Bibi, mother of Minhaj Ansar told TwoCircles.net.
Being the eldest among six siblings, Minhaj was married and would take care of his family's needs. He ran a cellphone shop in the village which was the source of the family's income. Everything changed for the family after the police picked up Minhaj.
"There is this green colour thing, they call it WhatsApp. I don't know what trouble it brought to my son. They sent my son to jail over it," Ajhela Bibi said.
Ajhela Bibi said that it was Harish Pathak who picked up Minhaj from his cellphone shop.
Ajhela Bibi, who was home at the time of his son's arrest, had no knowledge of what was going on with her son.
"My younger son came running to me saying "they took Bhai (Minhaj) away," she said, adding, "When I asked who did, he told me it was Police."
The police had come in civvies and took away Minhaj. They had whisked him away in the jeep and started beating him, Ajhela Bibi narrates.
"Shocked by the news, I started crying," she said.
Ajhela Bibi said that following his son's arrest, two police jeeps had arrived at her home. "That time I was away. I went to the villagers, telling them that police have taken my son, hoping they would inform me of something," she says.
"When Harish Pathak came to my home he started verbally abusing my daughter and daughter in law (Minhaj's wife). He started banging the door with bricks, asking them to hand over the laptop and SIM card to him. He started threatening them of death. Then my daughter and daughter in law opened boxes and trunks for him to search. After that, Harish Pathak left," she said.
On the next day at 6 am Ajhela Bibi went to the police station to see her son. "My son was in very poor condition. He was unconscious. He was not able to say anything. Seeing him like that I started crying. They tied my son's hand and legs to the chair and beat him," she said and added that when she tried to intervene, "Harish Pathak verbally abused me and told me to go away from here or I will beat you too."
Ajhela Bibi adds, "Sonu Singh was also there in the police station. Sonu Singh and Harish Pathak both were beating my son."
Senior Advocate Abdullah Allam told TwoCircles.net that the following day police took Minhaj to a local hospital where the hospital authorities refused to admit him saying he was severely injured. "Then they took him to Sadar Hospital (Jamtara). From there they took him to Dhanbad Patliputra Medical College for his treatment," he said.
Advocate Allam says that they believe Minhaj was already dead due to police beating. "Sonu Singh went after a few hours but who knows how much the police beat him during the whole night. They had already beaten him so much that he lost consciousness. They might have beaten him more after. When someone went to see Minhaj they saw foam coming out of his mouth. He might have been dead already," he adds.
According to the lawyer the police did not inform his family and took Minhaj to Dhanbad. "When Minhaj's family reached Dhanbad there the doctor said that Minhaj's condition is very serious and there is no scope of his recovery. However, we believe Minhaj was already dead. But at the hospital they mentioned 'serious condition'," he said.
He continues, "There Minhaj's family in anger said something to Harish Pathak, to which Harish Pathak pleaded guilty. He held his mother's hand saying he is responsible and if they want to beat him they can beat him. When Minhaj's mother shook his hand he received a scratch on his hand from her bangles. Harish Pathak then filed another FIR stating that Minhaj's mother and brothers beat him and attacked him with a blade. He filed this FIR on 6 October in Dhanbad."
Minhaj's lawyer said that Police took Minhaj on 3 October and filed FIR on 4 October under the Jharkhand Bovine Animal Prohibition of Slaughter Act, 2005. "They didn't give any information at the court regarding Minhaj's arrest. They sent the FIR to court but didn't produce the candidate at the court. And the FIR that Ajhela Bibi filed which she submitted in Thana on 4 October, the police registered it on 6 October," he said.
On 6 October, Police brought Minhaj to Ranchi. It was at Rajendra Institute of Medical Science where they declared him dead.
However, Senior Advocate Allam says, "Minhaj was dead already."
Talking about Harish Pathak, advocate Allam said, "After his death, the officer did not send FIR within 24 hours to the Jamtara court. FIR was sent days later."
After the news spread of Minhaj's custodial death, political leaders reached his home and promised justice. However, Minhaj's mother said that there has been no justice yet.
"Sibu Soren came to my home. He gave much assurance, saying he will help me get justice but nothing has happened yet," she said.
Ajhela Bibi also went to Delhi to meet Congress leader Rahul Gandhi. "I went to Delhi once in 2016 with Irfan Ansari MLA, Jamtara. He took me to Delhi to meet Rahul Gandhi. He assured me of help. After that, demonetization started and then nothing happened."
In 2017, Advocate Allam filed two writs at the high court – one for compensation and job and the other criminal writ for CBI investigation and punishment against Harish Pathak.
The family has received rupees four lakh in compensation but no punishment or proceedings against the accused have been initiated.
After a letter by Human Rights Commission and Minority Commission, the case was handed to special Police, who filed a chargesheet in the case under section 304 IPC (Punishment for culpable homicide not amounting to murder).
Advocate Allam says that the government has been very lenient with the case. "The case should have been filed under IPC 302 and not 304," he says.
The then Home Secretary Government of Jharkhand's response came stating that the charge sheet has been filed, the prosecution has been sanctioned and the trial will go on.
"Despite this, the proceeding couldn't go further as the public prosecutor is hand in glove with the police in Jamtara," claims Allam.
Allam said that their demand was the case be immediately regulated and handed over to CBI. "These people are sitting on the case for the past 3 to 4 years," he adds.
"Our appeal for a CBI inquiry is ongoing. But meanwhile, Harish Pathak managed to get a stay on the case," Minhaj's lawyer informs.
Another complaint filed by Ajhela Bibi through her lawyer against Harish Pathak stating custodial murder has also been halted. "Instead of running departmental inquiry on murder, the enquiry was done on being absent and delaying FIR. Thereafter, deducting one increment they revoked his suspension."
"From all this, it is clear that government officials are with the accused. The prosecution did not do anything. And now, he has been given a new posting which he is enjoying," Allam said.
Harish Pathak is posted in Barhet Thana. He has been accused of targeting and abusing minorities and Adivasis and cases have been filed against him.
A complaint filed against Harish Pathak in April 2020 at Barhet Thana accuses him of harassing Adivasi and minority communities. Harish Pathak is also accused of using religious and casteist slurs and beating people including women. He is also accused of threatening poor people of implicating them in false cases and extorting money from them.
For Aljeha Bibi, recounting his son's death brings tears to her eyes. "They broke the bones on his neck. I have spent the last four years in mourning. It has been very painful for me," she said.
Minhaj is survived by a wife and a daughter. They live with Ajhela Bibi who looks after them. "My eldest son was there but they murdered him. Whenever I think of him I feel numb. I don't know who to approach and who to talk to. I don't even have anyone to share my grief with. Grieving over my son I have become a Diabetes patient now," she said.
Ajhela Bibi demands justice for her son and punishment to the accused. "The one who killed my son the government gave him a job. I demand justice and I want the culprit to be punished. I want him to be hanged," she said.
SUPPORT TWOCIRCLES
HELP SUPPORT INDEPENDENT AND NON-PROFIT MEDIA. DONATE HERE