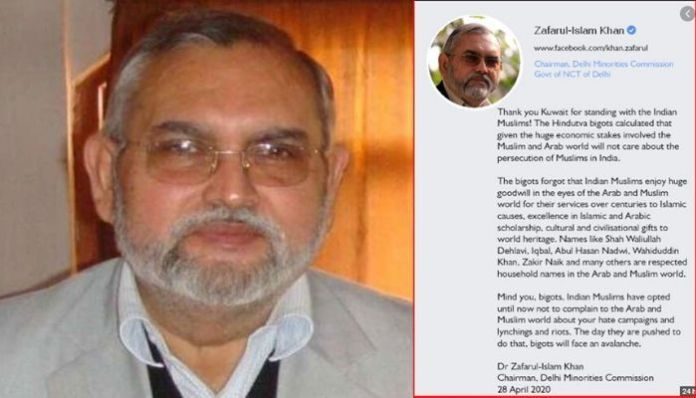 NEW DELHI: Popular Front of India Chairman O M A Salam on Sunday condemned the 'sedition and other fabricated criminal charges framed against the well-known Islamic scholar, journalist and Chairman of Delhi Minority Commission Dr Zafarul Islam Khan by the Delhi Police.'
In a statement, Popular Front said that "a tweet by Dr Zafarul Islam Khan was taken out of context, distorted and added inflammatory content to it by some miscreants," adding that this was followed by a vicious campaign against him by a section of media and social media handlers."
---
Support TwoCircles
---
Acting against the tweet, the Delhi Police Special Cell booked Dr Khan for sedition (sec 124A) and creating communal divisions (sec 153A). The FIR was registered by a resident of Vasant Kunj, on April 30. The booking of Khan under sedition comes just days after Karnataka cadre IAS, Mohammad Mohsin was issued a show-cause by the Karnataka government for praising Tablighi Jamaat members on donating plasma for coronavirus treatment.
Popular Front termed the framing of FIR as indicative of the very low level of individual targeting and character assassination ongoing in our country under the patronage of BJP government.
Popular Front, which has been proactively fighting hate speech against Muslims on social media and mainstream, called Dr Zafarul Islam Khan "a blotless personality and a strong advocate of human rights and minority rights and has been doing an exemplary job as the chairman of Delhi Minority Commission." The organization has been working in response to ongoing Islamophobic campaign by reporting FIRs against such hate campaigns and it has issued 500 rejoinders and notices to different media houses for the same. Additionally, 1015 cases were filed in Karnataka, Tamil Nadu, Kerala, Telangana, Madhya Pradesh, Rajasthan, Bihar and Maharashtra for which legal processes are in process.
Popular Front said that the Delhi Police must be made answerable on account of many complaints received by the Commission. "Due to this reason, the communal divisive elements in government and police found him a threat to their abuses of power and hence the vilification campaign against him," they said.
Salam said that Khan's arrest is a "malicious campaign by Hindutva camps" and this "misconduct of Delhi Police under Central Government against the head of a statutory minority panel will further worsen the already damaged overseas image of India."
Salam accused the Delhi Police of giving fuel to communal divisive elements, saying that slapping criminal charges against Khan was done because "government and police found him a threat to their abuses of power and hence the vilification campaign against him."
Extending solidarity with Khan and ensuring full support through legal and democratic means, Popular Front called upon the Central Government and Delhi police to stop the witch-hunt and withdraw the baseless criminal charges against Dr Khan.
SUPPORT TWOCIRCLES
HELP SUPPORT INDEPENDENT AND NON-PROFIT MEDIA. DONATE HERE