Naazish Hussain, TwoCircles.net 
RANCHI: Given the ongoing lockdown crisis, the Jharkhand government initiated the program of bringing back the migrants stranded in other parts of the country. The government also initiated an online registration form and helpline numbers to facilitate the procedure of the migrants return. However, technical glitches are acting as a roadblock for the stranded migrants.
---
Support TwoCircles
---
According to a report published in The Indian Express around 6.54 lakh labourers from Jharkhand are stranded in various states of the country. Confusion, lack of communication and uncertainty over ration, wages and confirmation of reaching home has caused anxiety among migrant workers.
Twenty eight year old Krishna Jamuda from Paschim Singhbhum, village Baikia of Jharkhand is stranded in the Nellore district of Andhra Pradesh where he was working at a Maruti plant.
Krishna went to work out of Jharkhand for the first time in December last year. Since the March 24 lockdown, he along with his co-workers is stuck there.
"Now the biggest problem before us is going home. One week before, I applied in the online registration form issue by the Jharkhand government. Since then I am waiting for the confirmation but I have not received any message," Krishna told TwoCircles.net.
Asked about the functionality of helpline numbers issued by government, he said, "We also called the helpline numbers issued by the government there it was said that we will be given details but we don't know when."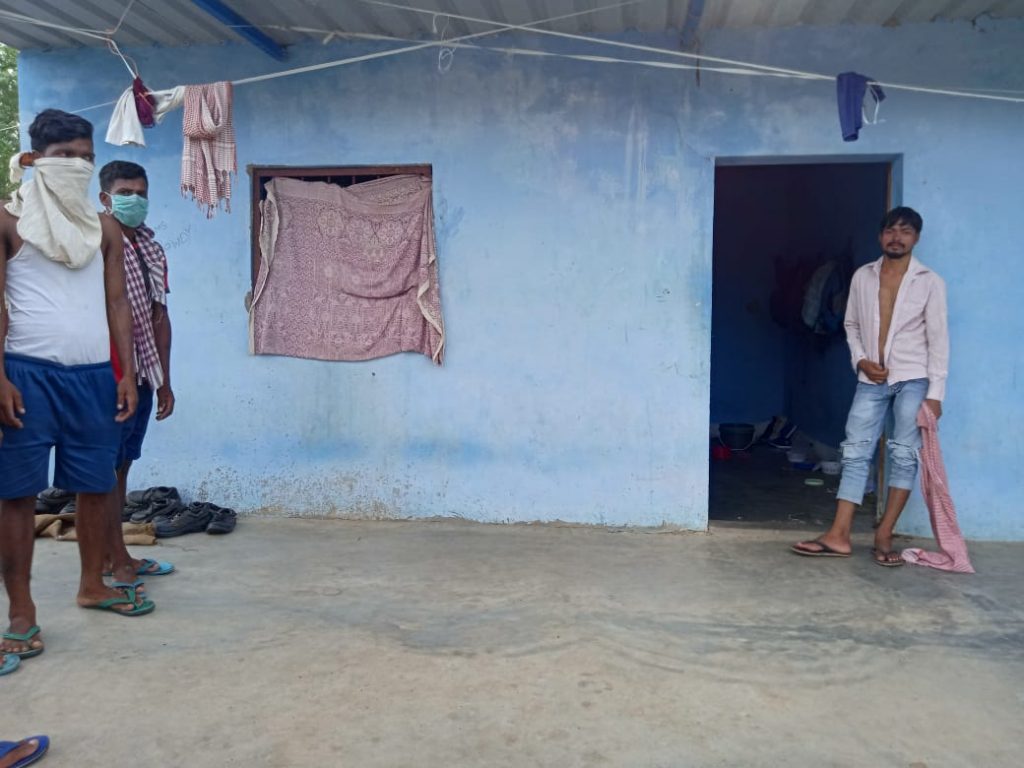 Krishna is staying with 27 other migrant labourers from Jharkhand. He says around 8-9 people are staying in one room.
Talking about the difficulties faced by the labourers in a lockdown situation, he says, "We have run out of money. We don't have rations. There is not even a soap to wash clothes. Earlier the owner would provide us the ration. Now he is saying it has been so many days how can I provide for so long. In a day we are somehow managing little food for two times only."
The workers have also not been paid their wages in full for the work they did.
"We have not been paid wages. The owner says I don't have money," he said.
On the twitter handle of COVID Control Room Jharkhand there have been number of complaints regarding the poor working of the online link and the helpline numbers issues by the government.
"The link keeps crashing," many users complained.
Many users said that they are also not able to get the confirmation message post filling the online application.
Forty year old Rando Marla, construction worker from Chakradharpur Jharkhand is stranded in Krishnagiri Tamil Nadu.
He wants to go home as there is no work during the lockdown.
"There is no proper food here. There is no work or salary here. Somehow we are managing but the problems are there," 25 year old Rinki Munda from Moradi village in Chakradharpur told TwoCircles.net.
"17 people are stranded here. We applied for available online form. But we don't know what is next. We tried on the given helpline number but we couldn't connect. Sometime, it said the line was busy," says Marla.
TwCircles.net tried reaching the Nodal Officers assigned to help the stranded migrant workers for their comment; however, the calls went unanswered.
"It is the month of Ramadan and we want to go home. We applied for the Jharkhand government online registration form but we did not get any message. Later we registered with in the Tamil Nadu government. But we don't know when and by which train we will be going back. So we are waiting for the update," says 26 year old Shahbu from Jamtara, Jharkhand who is now in Coimbatore, Tamil Nadu.
Shahbu along with 10 other people were working in Coimbatore as construction workers.
"Had the engineer paid us we would have left before the lockdown but now we are stranded here," says Muhammed Bakrid, one of the workers.
"We are about to run out of money. And the prices have hiked for ration. Also our salaries are due. Daal is selling for 120/kg which we got after so many days today. Potatoes are 60/kg. Whatever vegetable we buy costs us more than 80-90/ kg. It's very expensive," adds Bakrid.
Bakrid adds that the festival of Eid is approaching and they wish to be home.
"After this is over, we have to again look for jobs. If we work daily we eat, if there is no work then we will starve. We don't know if there will be employment opportunities there. If we would have found employment in the home state we wouldn't have come here. Now we have to see what government has planned for us there," he said.
SUPPORT TWOCIRCLES
HELP SUPPORT INDEPENDENT AND NON-PROFIT MEDIA. DONATE HERE