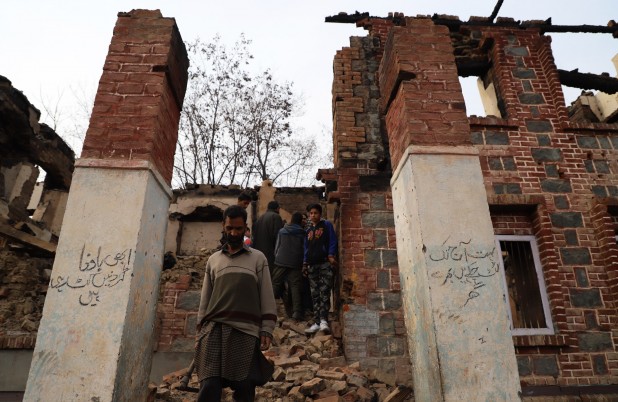 By TCN Correspondent
 Pehley yeh ghar meray liye bas ik makaan tha
---
Support TwoCircles
---
Ab yeh jagah meray liye ik aastan hai
 It used to just be a house for me
Now this place is a shrine for me
SRINAGAR: This is what 55-year old Kashmiri poet Ghulam Mohammad Bhat aka Madhosh Balhami wrote when his two-story house was turned into rubble after three militants got trapped in Balhama, 10 kilometres from Srinagar, the summer capital of the Union Territory.
The 12-hour long gunfight not only consumed the house of Balhami but also his 30 years of poetic work that was burnt to ashes. Three other houses in the village, besides Balhami's, were destroyed. All three militants were eventually killed in the clash.
As the encounter was over, Balhami returned to see his house that was built by his father in 1967. He saw the entire home razed to the ground and a few standing walls.
Balhami picked-up charcoal from the ruble and wrote an Urdu couplet on one of the pillars of his home that was still standing after the encounter. He wrote,
Bohot aaj tak lut chukay hai bharey ghar
abhi bawafa gardanein kat rahe hain
(Countless prosperous homes have been plundered 
 Now the loyal are being butchered)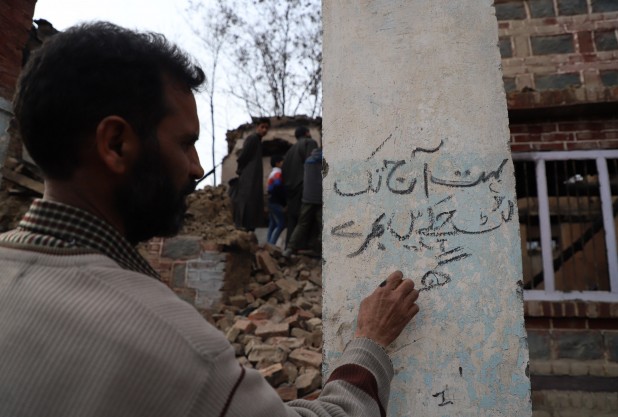 The couplet by Balhami reflects the feelings of many other residents who have lost their homes as a result of clashes between militants and government forces in Kashmir over the last three decades.
On May 19, at least 15 families were rendered homeless after over a dozen houses got damaged in an encounter between militants and Govt forces in a densely populated area of downtown Srinagar.
The gunfight that started around 3:00 AM has left behind a trail of destruction. Two Hizbul Mujahideen militants were in killed in the 15-hour-long gun battle with forces.
To blow-up the houses, the Government forces use different explosives like IED, UGBL etc. Sometimes gun powder is sprinkled around the house to put it on fire.
The encounters and subsequent destruction of homes in Kashmir is also happening at a time when the entire world has been gripped by the Coronavirus pandemic and when people prefer to stay at home.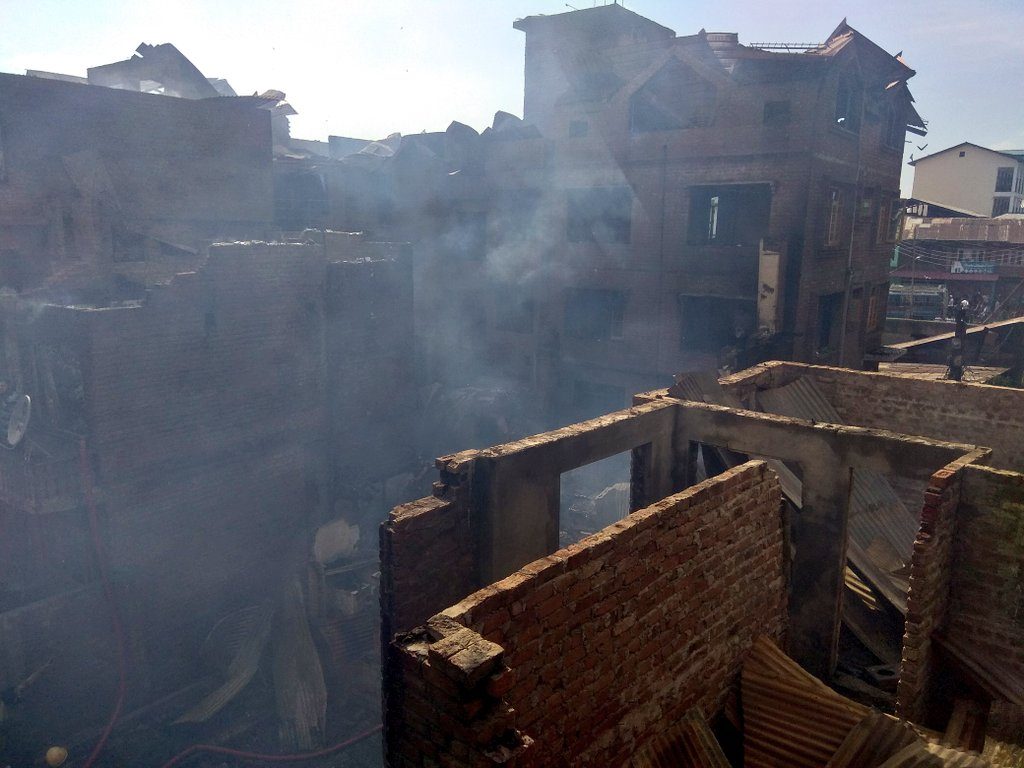 "But when the home is not available, where shall we go," Bilal Ahamd Rah, whose house got partially damaged in Nawakdal encounter, told TwoCircles.net.
Abdul Hameed, owner of the house where the Sopore encounter took place last month in which two local militants were killed says his entire hard work of over years was turned into ashes during the encounter.
"I along with my family live in a shanty shed. We don't have enough money to construct another house and I have little hope for completion," he told TwoCircles.net.
Hameed says it's very hard to live in the shed in the heat.
Abdul Aziz of Dangerpora area of south Kashmir's Pulwama district lost lifelong achievements of his children apart from his home.
On May 3, Govt forces launched a cordon and search operation in Dangerpora. The forces zeroed on two suspected militants in his house. In the ensuing gunfight both the militants were killed in several hours of fighting.
"All the degree certificates of my children, my assets and important documents got burned along with the property," Aziz told TwoCircles.net.
Aziz who lives now at his uncles' house says his home was blasted on three sides and it was unimaginable that anything could have been saved.
"It was a sudden shock for my family, everything happened within no time," he said.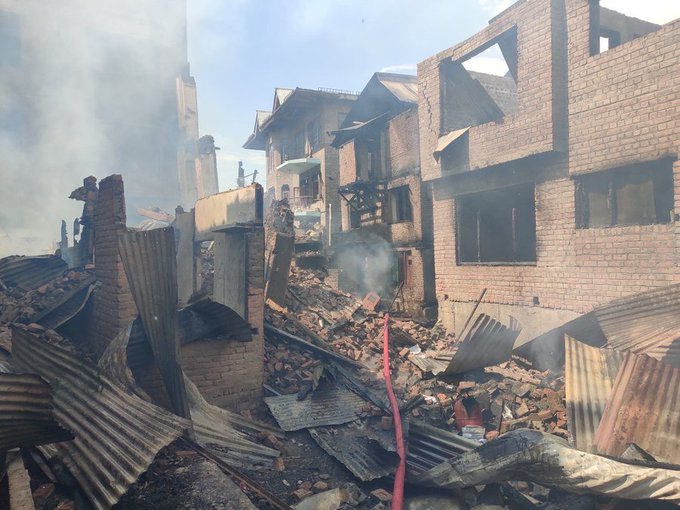 Few days after the Pulwama encounter, Govt forces on May 7 launched a massive Cordon and Search Operation in Beighpora village of Awantipora. The tip was the presence of Kashmir's most wanted militant commander Riyaz Naikoo with his aide Aadil Bhat.
In the ensuing gunfight that lasted for over 7 hours, the duo was killed and their bodies were taken by the police.
As the villagers returned to the encounter site after the gunfight was over, they could find only rubble. At least five houses were destroyed in the encounter, while more than 10 other houses and livestock suffered damage.
"The families of the gunfight victims are living with the neighbours since then and the Mohalla committee takes care of everything," Sheeraz Ahamd a local told TwoCircles.net.
Sheeraz says the houses belong to Teli brothers, who were detained by the police shortly after the encounter.
"They aren't here but we take care of their families. We are also collecting money to rebuild their homes," Sheeraz said.
The practice of destroying buildings and other structures during gun battles is not new in Kashmir. This is happening since the armed uprising against the "Indian rule" started in the valley in the early 1990s.
Kashmiris see this as a "collective punishment" for their support to the militancy and to "break the will" of the people.
Last month a video of a house, where militants were trapped, was blown-up in a single IED blast – the video of which went viral on social media.
Security grid in the valley, however, asserts that the use of IED's and other explosives are used to avoid the causalities of troopers.
"Normally we can't kill militants with just bullets and in-order to wind-up the operation in shortest possible time, we have to use explosives," said a top official from the counter-insurgency wing.
There are no official records detailing how many homes have been destroyed, but locals believe thousands of houses and other structures have been damaged during encounters.
According to official data accessed by IndiaSpend, in South Kashmir's Pulwama district alone, at least 105 homes were destroyed during gunfights between 2015 and March 2018, were gunfights usually happen.
In five months of this year alone, 80 militants were killed in different encounters, most of them inside residential houses.
The government doesn't provide monetary relief to the people whose houses are destroyed and accuses them of "sheltering" the militants. The government compensation is meagre, while the process of claiming it is complicated and slow.
Noted human rights activist Khurram Parvez says that this isn't the first time that armed forces have used "disproportionate & indiscriminate force" in Kashmir.
"Since 1947 Kashmiris have witnessed large scale state violence which led to widespread loss of lives & destruction of properties, like entire Batamaloo locality, many villages in Beerwah, Mawar in Langate were burnt down in 1965," he tweeted after the Nawakadal gunfight.
Pankaj Singh, the Srinagar-based CRPF spokesman, told TwoCircles.net that the Nawakadal area of Srinagar is a congested area, where houses are close to each other.
"Anything happens in one house will be affecting other nearby houses but this is happening for years. Much bigger buildings got destroyed during gunfights," Singh said.
He further added that people shouldn't give shelter to militants and must appreciate forces as they avoided civilian causalities in Nawakadal encounter.
SUPPORT TWOCIRCLES
HELP SUPPORT INDEPENDENT AND NON-PROFIT MEDIA. DONATE HERE