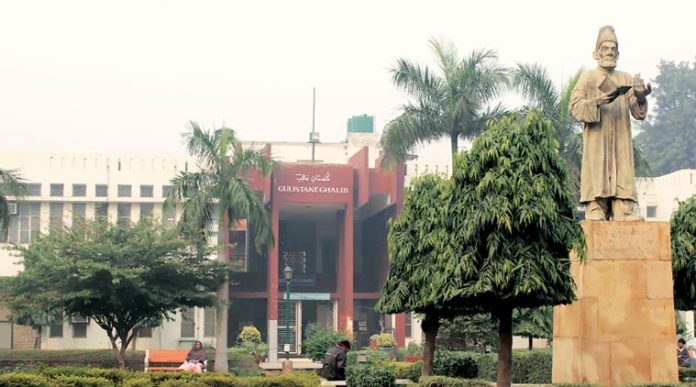 By Md Mustafa
  This year Jamia Millia Islamia University is celebrating 100 years of its founding (1920 to 2020) and in all these years, it has seen various ups and downs.
---
Support TwoCircles
---
 After police action in Jamia in December 2019, people cutting across the ideological line questioned the conduct of the Delhi Police while dealing with Jamia students and raised many concerns. 
 But what pained me the most as a student of this prestigious institution, which has its root in the national movement of India was the labelling Jamia Millia Islamia University as an 'anti-national university' and its students as 'anti-national' by some media houses.
 I believe these media houses would not have spoken in this way if they would have known the evolution and history of Jamia Milia as a university and its role in nation-building.
 In August 1920, father of the nation Mahatma Gandhi gave a call for Non-Cooperation with the aim of self-governance and obtaining full independence, in which he asked Indians to boycott British courts, educational institutions, services and foreign goods.
 In direct response to Non-Cooperation movement, the Jamia Milia Islamia was founded by Muslim nationalist leaders like Maulana Mahmud Hasan, Maulana Muhammad Ali, Hakim Ajmal Khan, Dr Mukhtar Ahmad Ansari, and Abdul Majid Khwaja, because they were not happy with the Aligarh Muslim University's decision to bar its students and teachers to participate in Non-Cooperation Movement and Khilafat Movement.
 Aligarh Muslim University is the brainchild of Sir Syed Ahmad Khan whose aim was to prepare Muslim youth for British government services. However, Jamia had a different objective altogether from its parent organisation AMU. Latter's main objectives were to inculcate nationalism among Muslim youth in addition to modern education. 
 In Urdu, Jamia means 'university' and Millia means 'national'. 
 Initially, it was established in Aligarh (which was then part of the United Province) but later in 1925, shifted to Karol Bagh (Delhi) and finally moved to Okhla (New Delhi) in 1936. Since then, Jamia is located here and it became a central university by an act of Parliament in 1988.
 In the initial days, Jamia Millia Islamia faced a financial crisis which forced Mahatma Gandhi to write several letters to raise funds including to G.D Birla (a close associate to Gandhi). 
 In 1925 when Jamia was going through a financial crisis and there were talks to close it, however, it was Mahatma Gandhi who insisted Hakim Ajmal Khan to not close down Jamia, and he said "If you are facing a financial crisis, I am ready to beg'' (Apko Rupyaa Ka dikkat hai to main bheekh maang lunga). (Source Mahtab Alam https://thewire.in/education/gandhi-a-lifelong-friend-of-jamia-millia-islamia )
These words from the Mahatma encouraged Ajmal Khan to not close down Jamia even during its worst period of the financial crisis. 
 Throughout its history, Jamia was headed by several nationalist leaders like Mukhtar Ansari who went on to become President of Indian National Congress session in 1927 and Zakir Husain who later served as the 3rd President of India between 13 May 1967 to 3 May 1969.
 Upon the establishment of Jamia, the nightingale of India Sarojini Naidu said: "They built up the Jamia Millia stone by stone and sacrifice by sacrifice". 
 Rabindranath Tagore called it "one of the most progressive educational institutions of India".
The riots following partition shook north India but Jamia Campus remained peaceful, on which Mahatma Gandhi called it an "an oasis of peace in the Sahara of communal violence".
 From its inception, its students and teachers played a very important role in Indian National Movement and it is still contributing to nation-building by introducing progressive courses in Jamia.
 It has added many progressive courses and launched many centres like the centre for Sarojini Naidu, Centre for Study of Social Exclusion and Inclusive Policy (fortunately I am the student of this centre). It also has added AJK-Mass Communication Research Centre (MCRC) which is considered one of the best institutions for mass communication in India and has produced distinguished alumni like Barkha Dutt (senior Television journalist) and Shahrukh Khan (popular Indian actor).
 On December 15 2019, students of different faith were not protesting for any type of restoration of Muslim rule in India but they were protesting against a recently passed citizenship amendment act and what they believed it to be textually and contextually discriminatory and violative of the fundamental right of equality and principle of secularism laid down in Indian constitution. 
 Isn't peaceful protest a fundamental right as enshrined by our constitution?
 Jamia Millia Islamia is a central university. Aren't the police supposed to seek approval of the university authorities before entering?
 How can a university, whose founding fathers rejected the idea of Pakistan and opted to stay in India and committed to serving India could suddenly become an anti-national university at least in the rhetoric of some media houses?
 On the 100th year of its founding, we the students of Jamia, celebrate each other's festivals from Raksha Bandhan to Eid and Christmas and proudly reclaim the Ganga-Jamuni Tehzeeb, which has seen some ups and downs in recent years.
Md Mustafa is a student of MA (Social Exclusion and Inclusive Policy at Jamia Millia Islamia University, New Delhi.
SUPPORT TWOCIRCLES
HELP SUPPORT INDEPENDENT AND NON-PROFIT MEDIA. DONATE HERE