By Nazish Hussain, TwoCircles.net
Jaggarnath Mahli of Hesal village, situated 20 kilometres from Ranchi city, makes bamboo articles for a living. Due to the coronavirus pandemic and lockdown, his livelihood has been hit badly. Before lockdown, he worked two jobs for livelihood. He lost his job as a security guard at a nearby institute. Now he is working as a bamboo artisan but he is struggling to sell his artefacts as the market is experiencing a crunch.
---
Support TwoCircles
---
Jaggarnath lives with his wife and three children in Hesal. The Hesal panchayat falls in Khijri assembly constituency of Jharkhand which is reserved for Scheduled Tribe (ST). According to villagers, around 60-70 Mahali families are residing in the village. Mahali tribes in Jharkhand take bamboo craftsmanship as their traditional occupation. There are around 25-30 bamboo artisans in Hesal Panchayat presently.
"During the complete lockdown, it was difficult for us to sell the items. Whenever we tried stepping outside, the police would chase us. It was very difficult in those days to make any sale," recalls Brihasmani Devi, Jaggarnath Mahli's wife. "Bamboo article making is our only livelihood now," she says.
The family makes bamboo articles which include baskets, fans, items for storing paddy, including the items used in a village household.
"We work on it daily and when the goods are ready we move from village to village on a bicycle to sell the items. Now the biggest problem before us is to find a market to sell these goods. It consumes an entire day to roam around and sell the items. We hardly earn Rs 200-250 from one time sale. It takes much concentration and meticulous effort to make one single item. Sitting long hours also proves detrimental to us. We would happily put our efforts but since there is hardly any sale we feel discouraged," says Jaggarnath Mahali.
The gradual unlock phase is going on and markets and transport has reopened to a great extent. But the condition of this artisan family has not improved much. For the bamboo artisans, even the current phase is not very good for selling their items, as their market is confined usually to the nearby surrounding villages.
Jaggarnath Mahli reasons that lockdown has affected people's income and people do not have enough money to spend on commodities. This is affecting the sale of bamboo products in the villages. "At times we get some orders for bamboo items which we make and supply. The items are priced between Rs 100-200 each. At times when the market is poor, we even sell at low prices just to make some sales. If we don't make any sales, what will we eat and where will we get the capital for bamboo to make another set of items?"
The Ministry of Tribal Affairs website says India is the world's second-largest cultivator of bamboo after China. Half of the bamboo production in India comes from Jharkhand. According to news sources, the government of Jharkhand earns up to 50 lakhs from bamboo production.
 "This year in the lockdown there was no work for anyone, people had to feed themselves. They sold karils (new bamboo shoots) to sustain themselves. (The new bamboo shoots take over a month to grow into long bamboo stems which are cut and used to make articles.) This is why we are not getting enough bamboo this time. Those Mahlis who have their bamboo plants save the new shoots as they have to work with bamboo only. But they don't sell their bamboos to others," says Jaggarnath.
Jaggarnath buys bamboo from nearby villages which are priced as per its quality. "Now, one single bamboo stem is priced at 30 rupees," he says.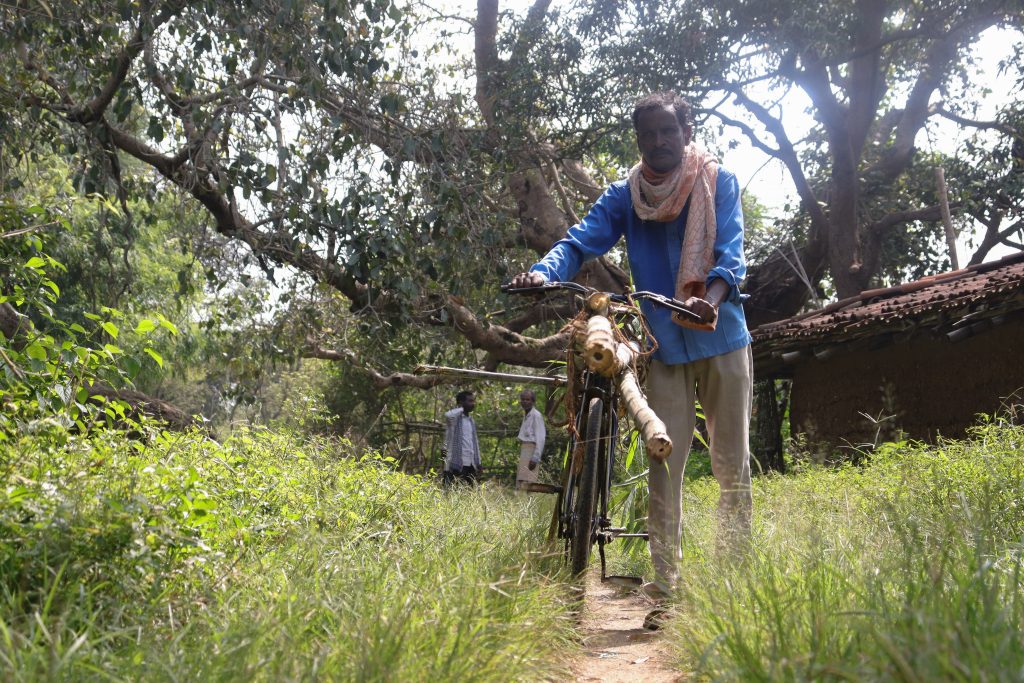 Jaggarnath Mahli carrying Bamboo from a neighbouring village on his bicycle for making bamboo items.
Jaggarnath describes the labour intensive job that it is. After obtaining the bamboo from the tree it is cut in long pieces and left to dry for some hours depending on heat intensity. The bamboo pieces are then cut further in length according to the measurement of the items to be made. The cut sticks are further split into thin layers ensuring its flexibility and strength for weaving and binding purpose. It is then soaked in water for half an hour. The soaked bamboo layers are peeled to make it smooth. After which it is dried again. The thin bamboo layers are sprinkled with water at the time of weaving.
"It is a labour-intensive job which is time-sensitive as well. If there is any delay, bamboo will be over dried and brittle rendering it useless," says Jaggarnath.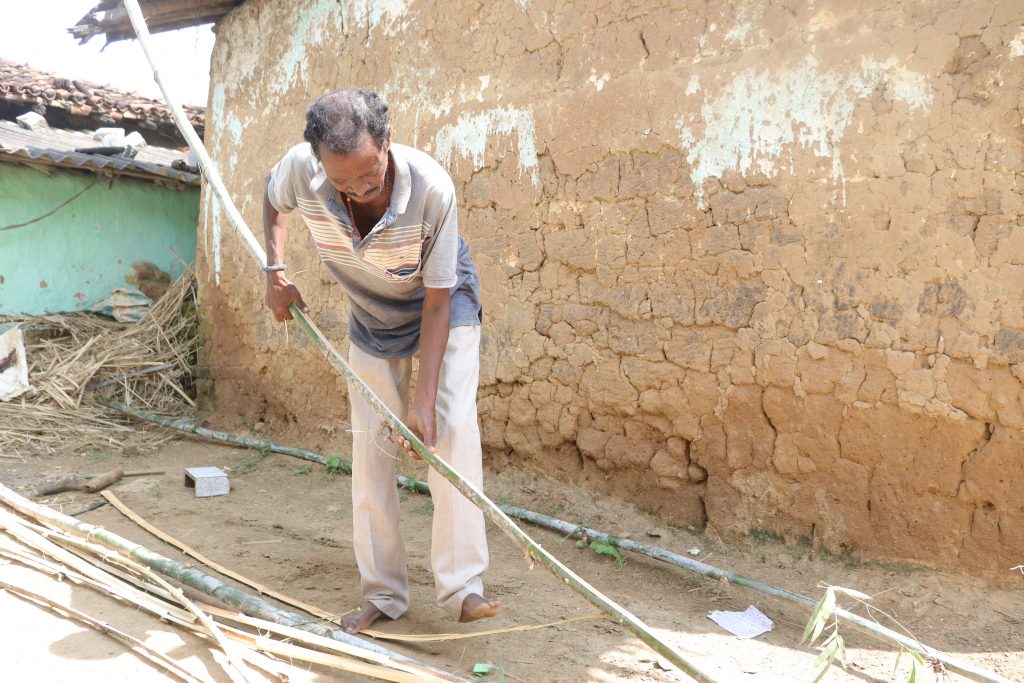 Jaggarnath splits the bamboo into thin long pieces to dry under the Sun.
Adding further about the status of this traditional occupation Jaggarnath shares that, "It takes a few family members to work on it. It can't be done by a single person. This is one of the reasons why many families are not able to continue this traditional work. The new generation goes to school and they are occupied with it. Those who have dropped out are more interested in doing other daily wage works. We are too old to work as labourers now so we stick to it."
"My son who has got some education has taken a job of household painting work. The new generation is leaving traditional work. After us, the next Mahli generation will have to buy bamboo items from others. However, since this is our occupation learning the skill will help the future generation," he opines about the future of the traditional Mahali artisan skill.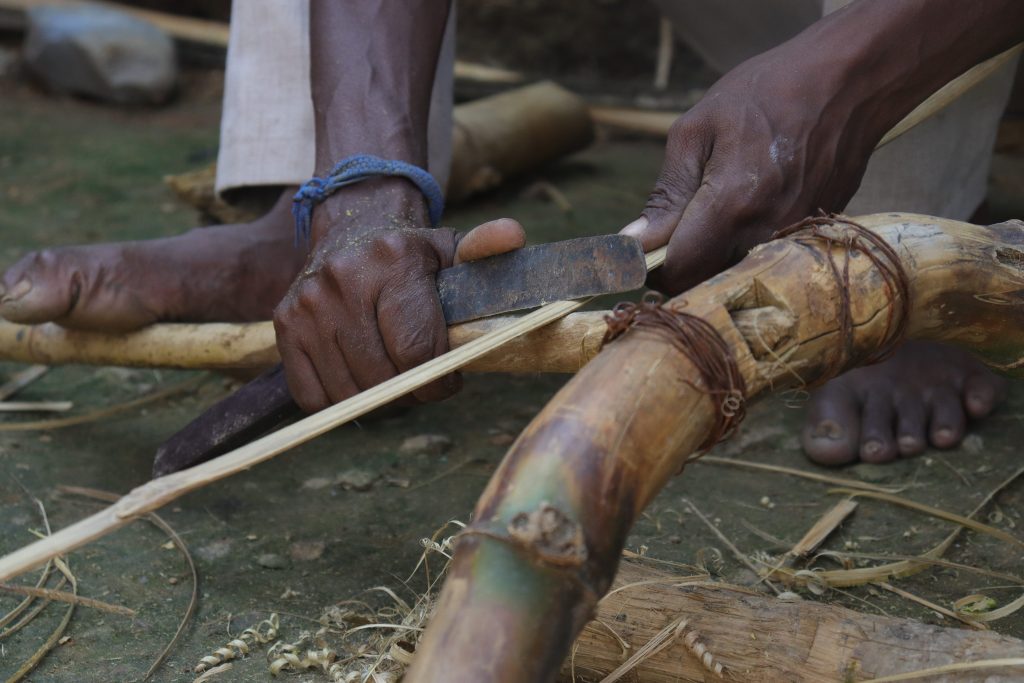 Jaggarnath peels the bamboo sticks to get the desired width for making the specific bamboo item.
In 2019, the then Jharkhand government took initiative through the National bamboo mission and Jharkhand state bamboo mission to promote the production of bamboo in the state. The government emphasized to increase bamboo production in the state and to impart skill-training to the artisans. A two-day bamboo artisan mela was also organized to impart training to artisans on sustainable development.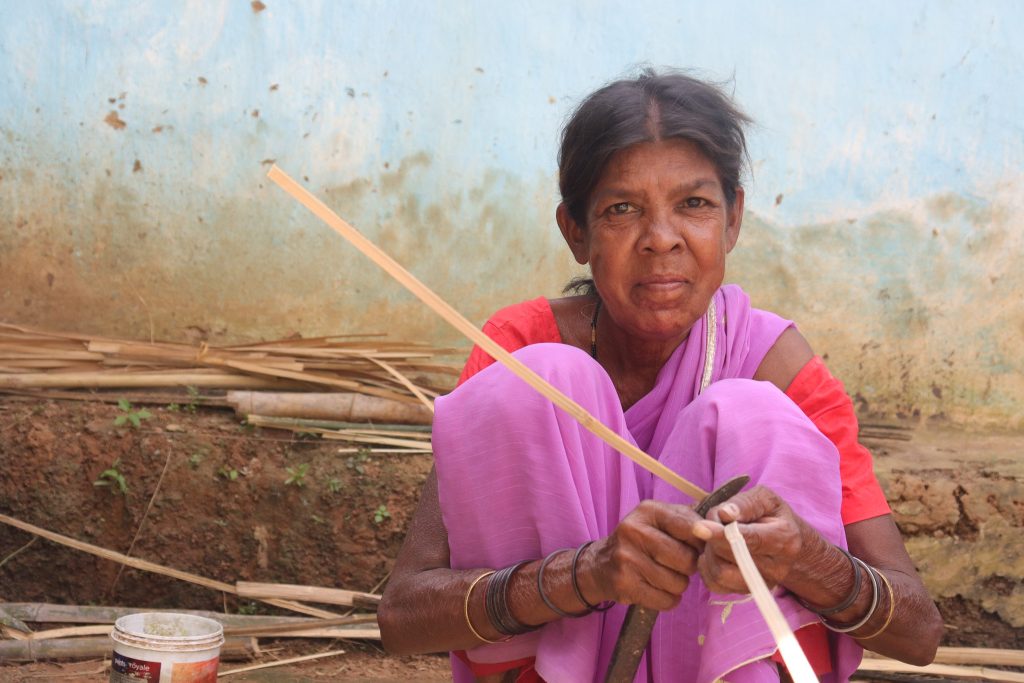 Brihasmani Devi splitting the sticks into thin bamboo layers for binding purpose. 
Jaggarnath takes me to show the Mahali community centre which was established for the Mahali community in the Hesal panchayat. The concrete hall was inaugurated in 2001. It is now used by the community as a workshop area to make bamboo artefacts. There is no electricity connection or fans at the centre. It is one single hall with large windows on both sides of the wall. There is one small office adjacent to the hall. "If there is not enough space at home for bamboo it is a good place. In the rainy season, it is more helpful. Everyone comes here to work," informs a Mahli artisan working there.
At some places on the roof, the concrete has fallen exposing the rusted rods. "It feels risky working here. In heavy rain and thundering, it felt the roof would fall upon us. We have raised the demand to fix and repair it. Let's see when they take cognizance of the matter," says another woman talking about her experience working at the community centre.
Mahli artisans in Hesal village informed that a businessman came to their village and proposed to buy bulk items from them. A Mahli family agreed to the said proposal as it would have given them a regular market. Since they did not have a working capital they demanded 1000 rupees to start off making the said items. "We did not get the money and the businessman never returned after," informed the Mahli family.
"We are pure Mahlis. We belong to the ST (Scheduled Tribe) category. In Durga Puja, items for performing puja will be bought from us. Even in chatt puja people buy our goods only. There is another caste Dom-Mahli which is lower than us and Turri-Mahli is even lower in the caste hierarchy. They come under schedule caste. Those who know their caste won't buy bamboo items from them. We (Mahli ST) don't even marry in them, neither do we marry our daughters to them or take their daughters," mentions Jaggarnath Mahli.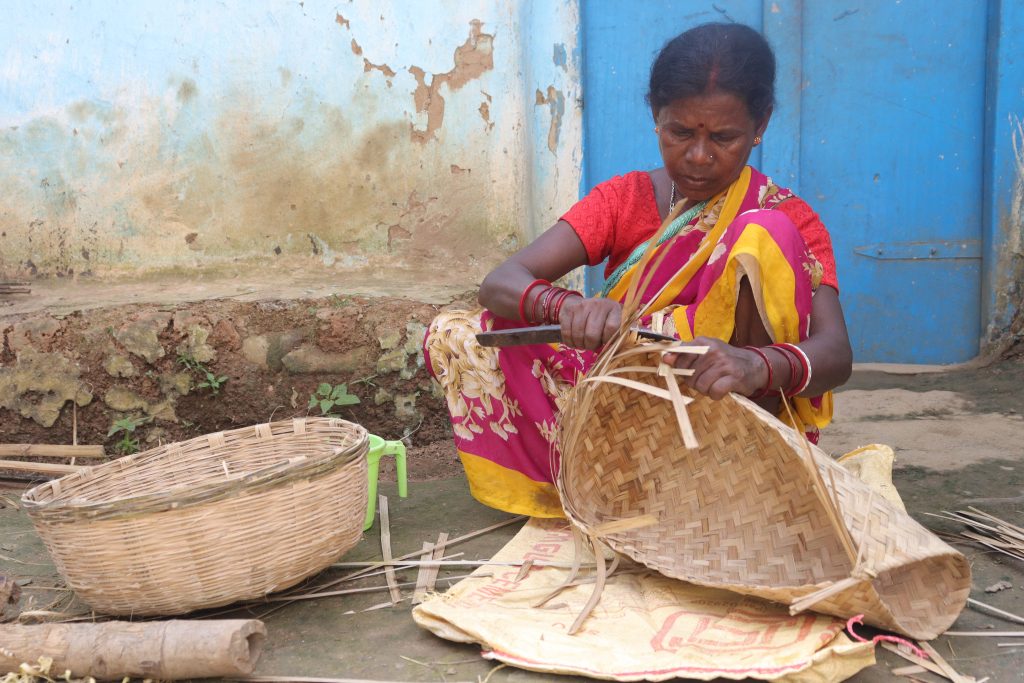 Jaggarnath's relative Dasmani Devi finishing the sup (a common bamboo article used in the household)
"But now it has become a business so anyone can do it. There are so many bamboo businesses emerging now. It is not that only Mahli's are doing it. There are so many other castes that do it now. Since it has now become a business, so anyone can do it," he adds.
Talking about the challenges artisans from the Mahali community face, Jaggarnath mentions, "The government does not buy anything from us. They have only provided us with shade to work in. Now there are many plastic products in the market which has heavily impacted our business. The sale of bamboo products has gone down. The lockdown condition has made it even worse for us."
The Mahali community at Hesal putting forth their demands say, "Now, in a week we make 2-3 items and spend the rest of the time to find a market. If we get working capital for buying bamboo we could be more productive at our job making a large number of goods. Getting a stock buyer would save our time of finding markets to make a sale. It will fetch us a steady income and secure our livelihood."
SUPPORT TWOCIRCLES
HELP SUPPORT INDEPENDENT AND NON-PROFIT MEDIA. DONATE HERE