Iqbal is a 62-year-old gravedigger and a caretaker of a graveyard in Saharanpur, Uttar Pradesh. In this photo-essay story, Iqbal describes his busy life amid the pandemic and experiences of preparing the last journeys of people infected with the deadly virus.
By Musheera Ashraf, TwoCircles.net
---
Support TwoCircles
---
Saharanpur: The board outside the Nirgan Shah Graveyard at Numaish Camp in Saharanpur Uttar Pradesh reads, "Iqbal, Qabr Khodney Waley (Iqbal – The Gravedigger). The board also has a phone number where the gravedigger Iqbal can be reached.
The Nirgan Shah Qabristaan (Graveyard) is spread over 8 hectares of land and is said to be more than 100 years old.
As the coronavirus pandemic is raging in India, the country has crossed a once-unthinkable threshold. India has become the 3rd country in the world to record 3 million cases, with over 67000 deaths.
"The increased number of deaths due to the COVID-19 pandemic has made us busier," says Iqbal, a 62-year-old gravedigger from Saharanpur. Day or night doesn't seem to make a big difference for him. There is no specific timing for his work. He can be seen digging the graves in early mornings and even at the odd hours under the dark sky.
Iqbal moved to Saharanpur city from his native Khujraw village some 25 years ago and started with a monthly income of Rs 3. Later, he started to work as a gravedigger. It has been 10 years now since Iqbal came into this profession. Iqbal has been the lone bread earner for his family of 7 daughters and 4 sons. Two of his daughters are yet to get married. According to him, his sons don't take much interest in family matters.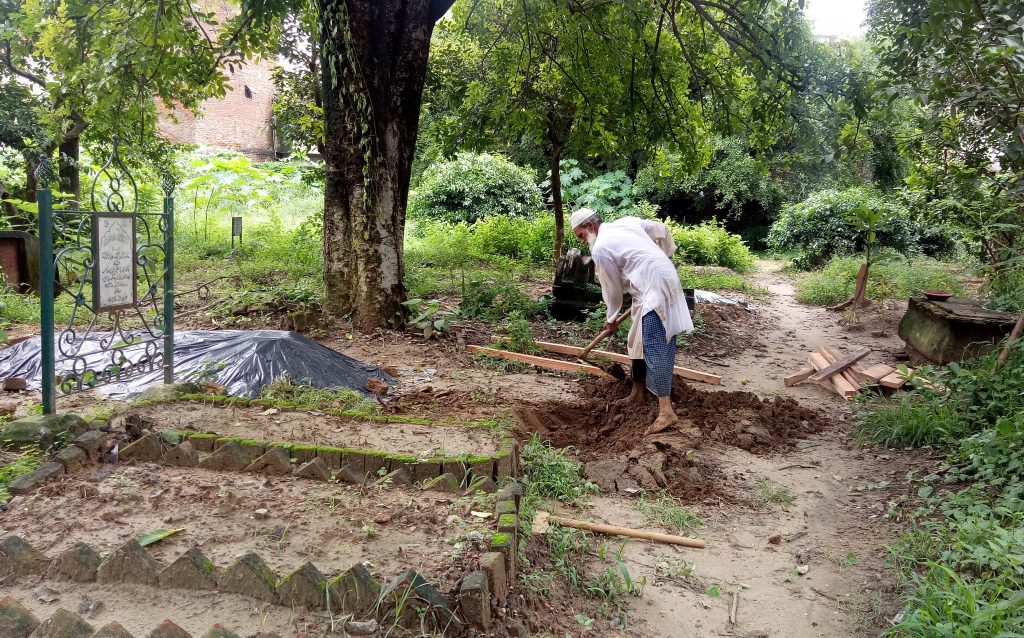 For Iqbal, the outbreak of COVID-19 has brought great distress. "I have to be very precautious otherwise they will keep me in quarantine," he says. Iqbal digs the grave for both COVID and non-COVID patients.
Describing the change he experienced due the pandemic Iqbal says, "maybe few people stop loving their family members once they discover that they are corona patients".
He feels so because he has been a witness to incidents where the family members prefer to stay away and don't want to come near the body even after wearing a PPE. "The stigma is more harmful to society than the virus," he says.
"Coronavirus has revealed the insensitive side of humans," he adds.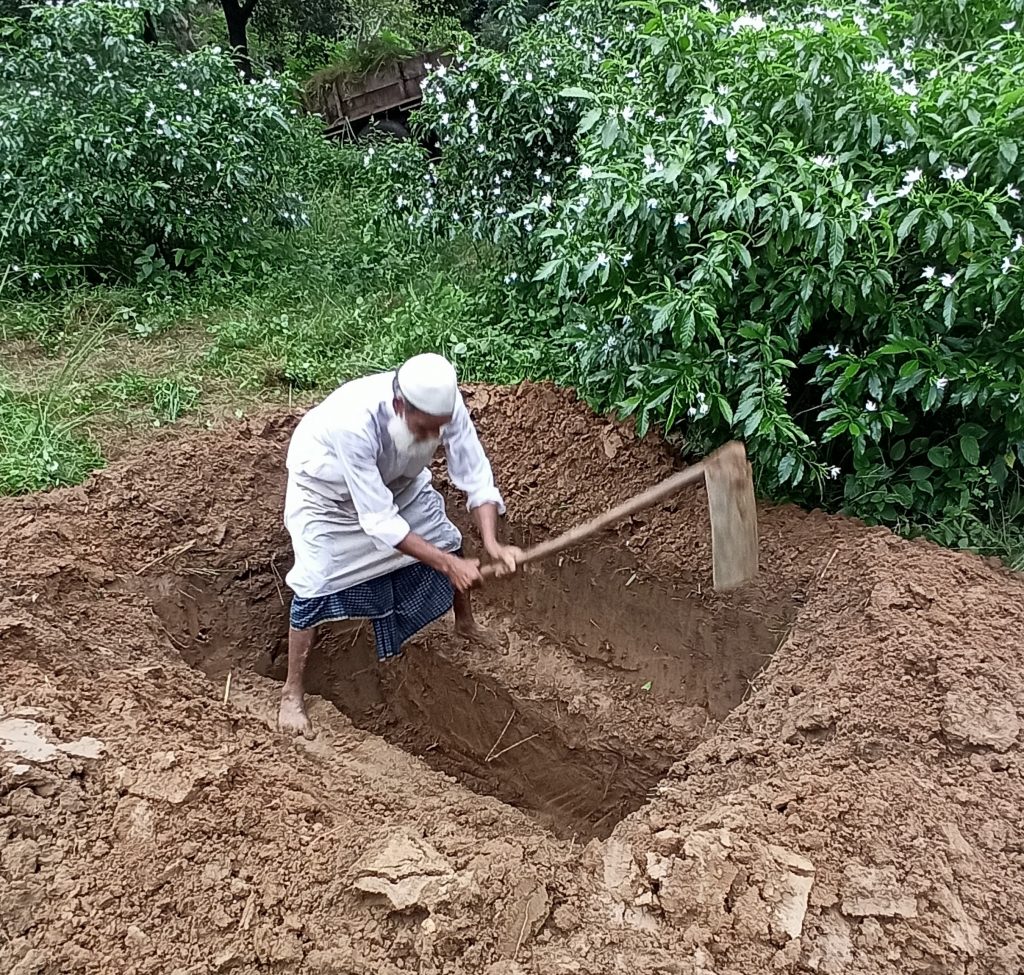 "I have now lost the count of graves that I have dug till date," says Iqbal while he lifts his shovel to dig.
For corona patients, Iqbal says, "the people who come from hospital perform the last rituals and bury the body themselves." Iqbal only digs the grave and guides them about the procedure of burial. While for non-COVID bodies Iqbal helps in the burial and covers the grave with soil himself.
The World Health Organisation (WHO) has urged countries to test as widely as possible to curb the pandemic, but India has only been testing those who have travelled from affected countries or come in contact with a confirmed case and shown symptoms after two weeks of quarantine.
On 11 August, India carried out more than 631,000 tests, according to data from the international comparison site, Our World in Data.
However, daily figures released by the Indian government are slightly higher than this, with the latest data showing there were 830,391 tests on 12 August.
Looking at the tests per 100,000 people, India currently carries out around 45 tests each day. In comparison, South Africa tests 50 people and the United Kingdom tests more than 220.
Worried by the news about coronavirus and keeping track of the increasing number of COVID cases, Iqbal tries to follow proper precautions for non-COVID bodies as well. "No one knows who dies a natural death and who dies of COVID," he says. "One should take precautions but not spread stigma," he adds.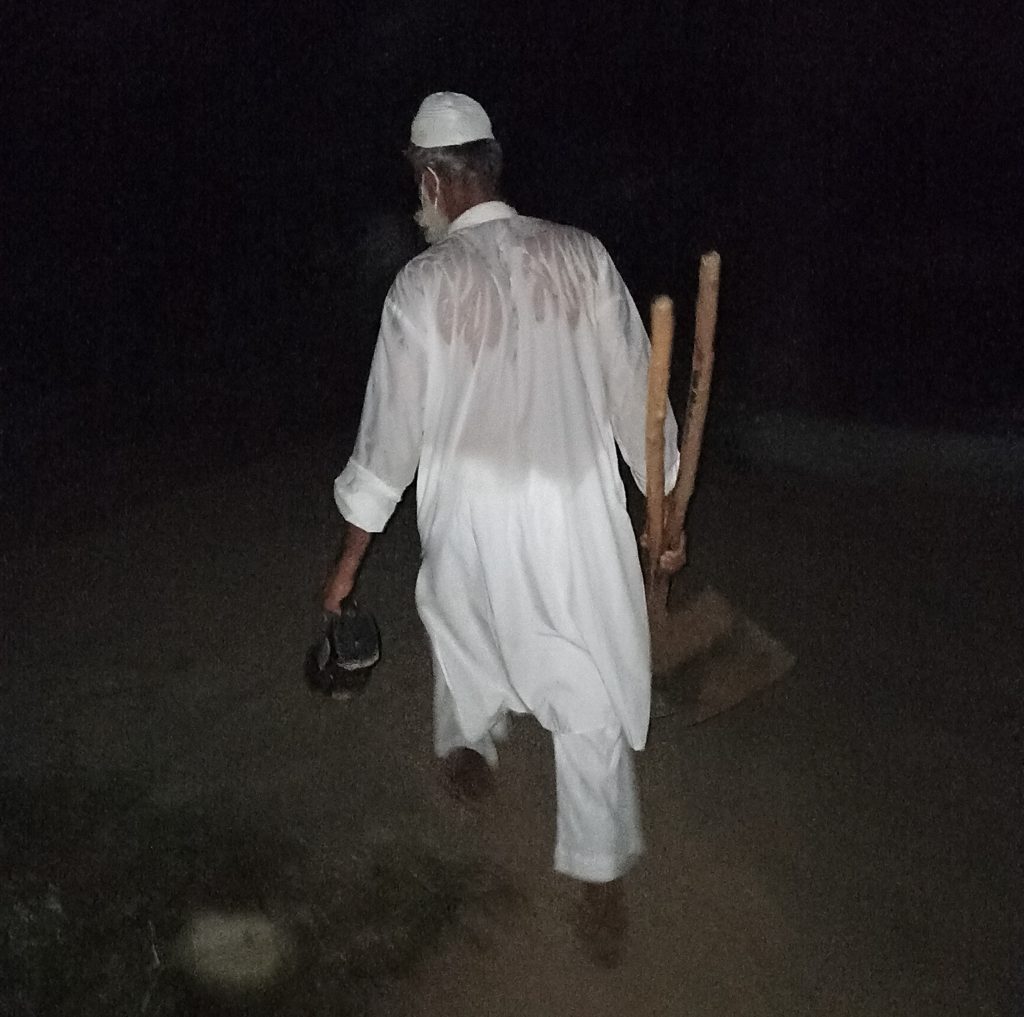 "Many a time I am alone here at midnight. Though there are many people inside the graves but all of them are asleep," chuckles Iqbal, "You need to have heart to prepare the final goodbye."
Iqbal gets around 500 Rs for digging one grave and a monthly stipend from the Qabristaan committee. Though he wishes his salary to be increased, he doesn't want to take advantage of the crisis and charge more unlike the gravediggers in other states. "Gravediggers are charging up to Rs 5000 or even more for COVID bodies now," he says.
"It is not an easy task, it requires energy, but I'm used to this work," he says. "Usually it takes 3 hours for two men to dig one grave but I do it alone," he adds.
For the bodies infected with coronavirus, the family members inform him on phone hours before they bring the body for the burial. They bring the PPE kits for themselves and keep them in a separate room which is located inside the graveyard, where Iqbal keeps a praying mat, clothes and other essentials.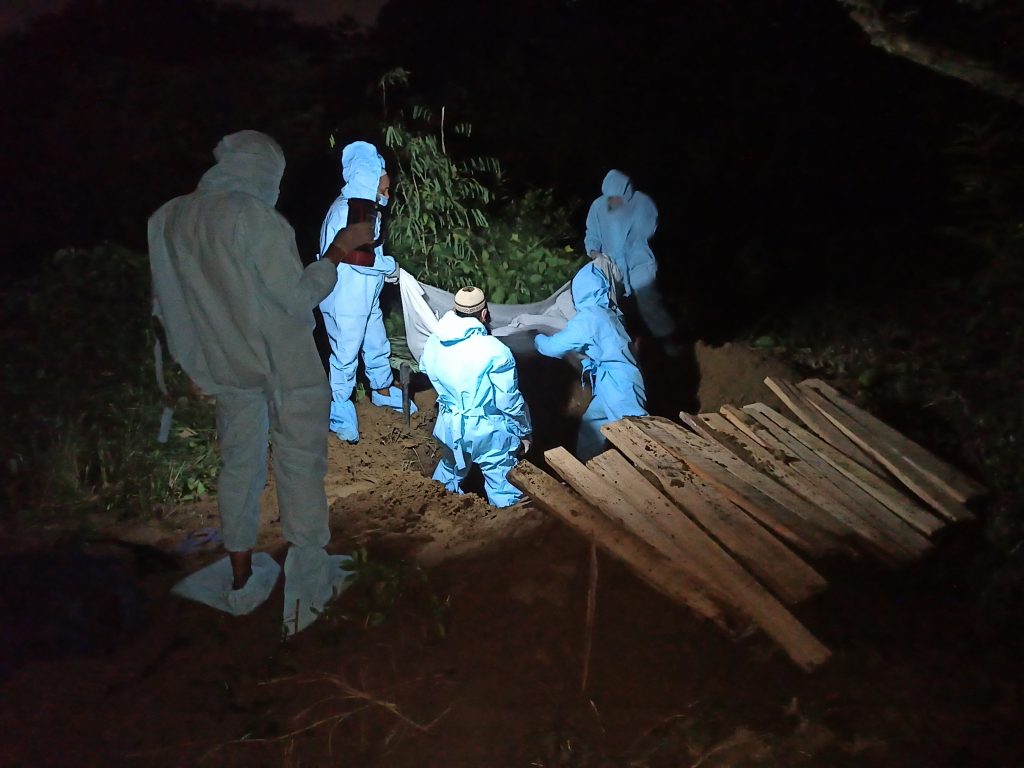 "No matter what the reason for death, I have to dig for everyone," he says.
Sharing his experience Iqbal says that many people have told him to dig their graves at a particular place if they die. He follows the instruction for the ones he remembers and seeks forgiveness to God for the ones he forgot.
"The grave has to be of appropriate dimensions. I double-check the dimensions before the body arrives because this is serious work," says Iqbal.
For persons who have died due to coronavirus, the body arrives in an ambulance and the body is unloaded and the ambulance leaves. The family members wear PPE kits and proceed for last rituals while he stands aside guiding them.
"After the burial, we burn the PPE kits then and there," he says.
He has been strictly instructed by the Qabristaan committee to make sure that the PPEs are burnt after burial.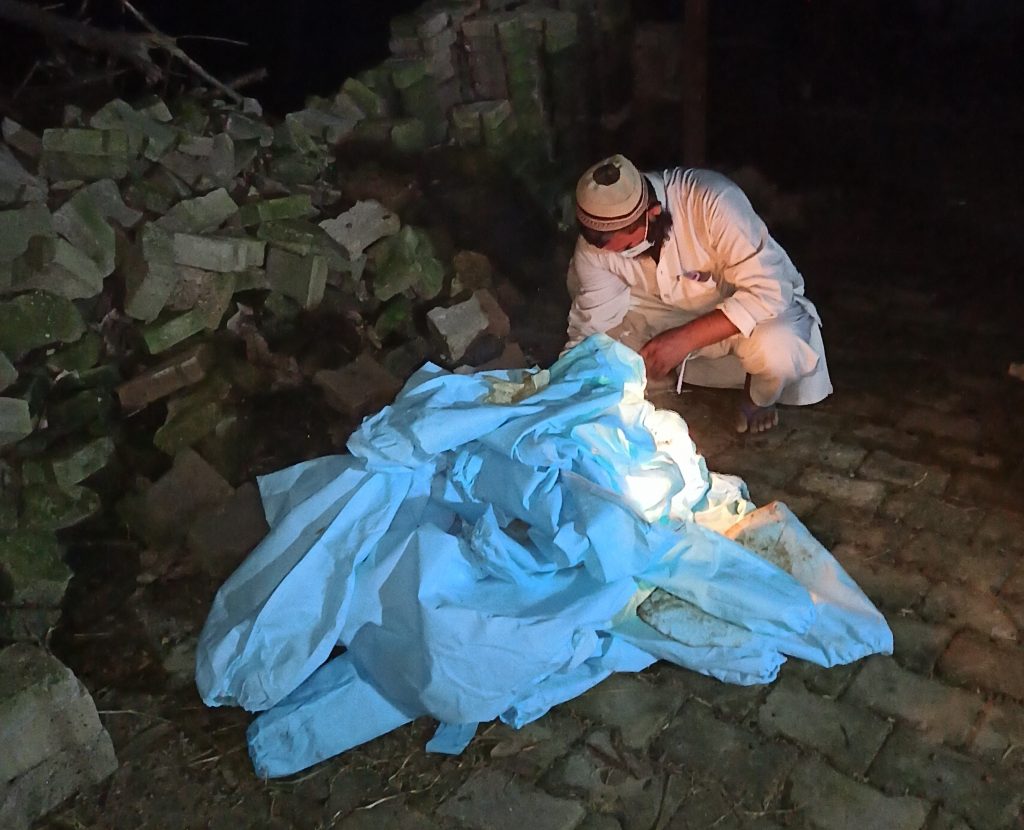 This pandemic has been the most unfortunate time for the people to die," he says recalling an incident about a man who was originally from Meerut but was in Saharanpur for work. The man was found to be COVID-19 positive after he died in a hospital. Some people who knew him took NOC from the hospital and performed his last rituals. His family saw his burial through a video call. "In normal days his body would have been taken to Meerut but amid the pandemic, the authorities don't allow it. They prefer to bury themselves," he says.
"Such burials are a heartbreak for the family members," Iqbal adds.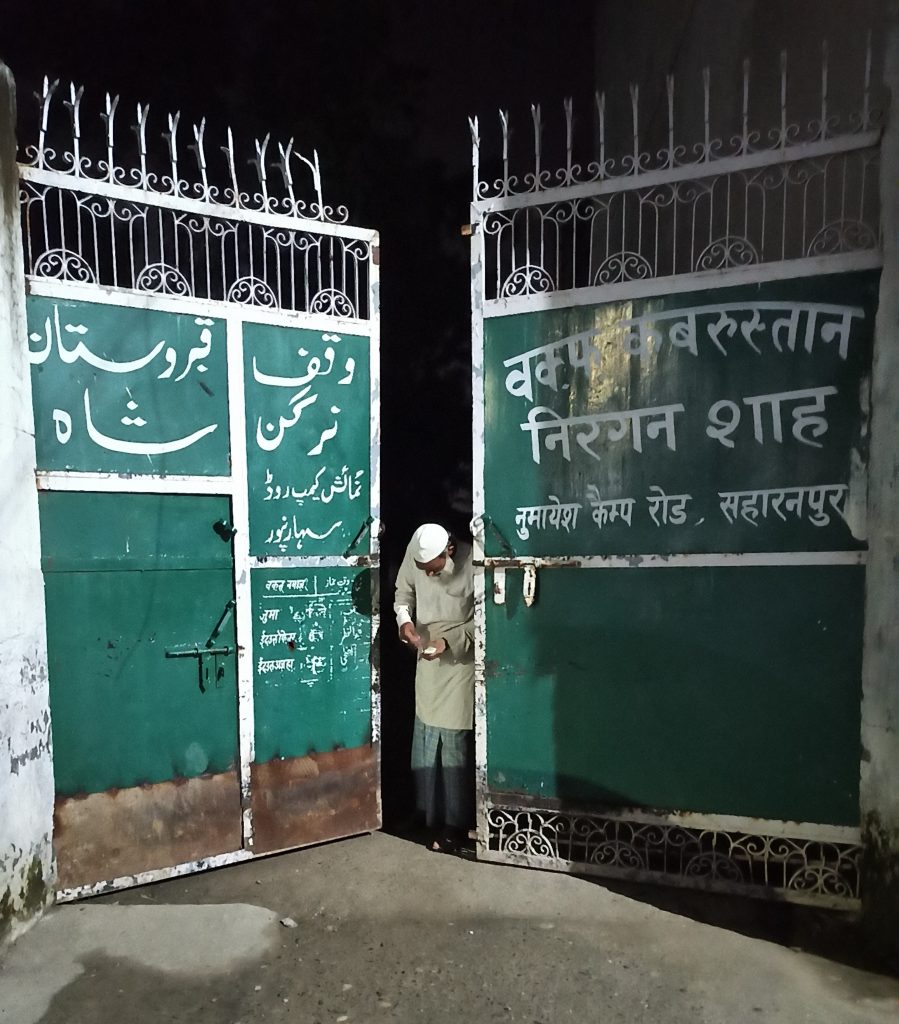 After the burial, Iqbal leaves for the home which is 10 minutes of walking distance. "Every new day starts with news of someone's death. This is how my life goes on," he says.
Iqbal hopes the pandemic to be over soon so that people come out of fear and offer dignified burials to their loved ones as before.
SUPPORT TWOCIRCLES
HELP SUPPORT INDEPENDENT AND NON-PROFIT MEDIA. DONATE HERE