By Auqib Javeed, TwoCircles.net
Srinagar: Amid the ongoing COVID-19 pandemic, Muharram processions in Kashmir this year became sites of protests in which over 200 people were injured in police action.
---
Support TwoCircles
---
On 28 August as many as 200 Shia mourners were reportedly injured when the police fired teargas canisters and pellet shotguns to disperse a Muharram procession in Bemina and Zadibal area of Srinagar city.
According to reports, over 100 youths were hit with metallic pellets while 10 received grievous injuries in eyes and may not be able to see for the rest of their lives.
The administration in Kashmir had earlier announced a complete ban on holding of such rallies given the spike in COVID-19 deaths and positive cases in the Valley. The admin had urged the heads of religious organizations to use their influence and make people aware of the importance of following COVID-19 SOPs including social distancing protocol and use of face masks while commemorating the martyrdom of Imam Hussain (AS).
However, in some areas the Shia mourners took out rallies asserting that they were following the SOP's, resulting in clashes.
The prominent Shia leaders maintain that this is not the first time that Shia mourners have been met with force.
They argue that Shia mourners are attacked during rallies since the inception of militancy in the Valley.
It may be noted that in Kashmir Valley, an official ban remains in force on organizing mourning rallies and processions along select traditional routes on the 8th and 10th day of Muharram, the first month of the Islamic calendar.
Only small mourning rallies and processions with certain restrictions would be permitted in the areas having sizable Shia populations.
However, this year, the authorities decided to impose a blanket ban on such rallies and processions in view of COVID-19.
Since August 5 2019, when the disputed Himalayan region was stripped of its partial autonomy and put under a crippling lockdown, padlocks have been hanging from the doors of the famous mosques and shrines across Kashmir valley.
Although the restrictions were lifted a year later on 17 August 2020, local people were not allowed to open major mosques and shrines in the Valley.
For 49-year old Mohammad Shaban, a resident of Nowhatta area of Srinagar, where Kashmir's oldest mosque Jamia Masjid, the situation has changed post abrogation of Article 370.
Shaban sees more restrictions on the right to practice one's religion ever since the special status of Jammu and Kashmir was revoked.
"For more than a year the Jamia Masjid was closed and now it's difficult to pray there due to fear of contracting COVID-19, " Shaban told TwoCircles.net, adding that "security forces remain encircled around the mosque usually."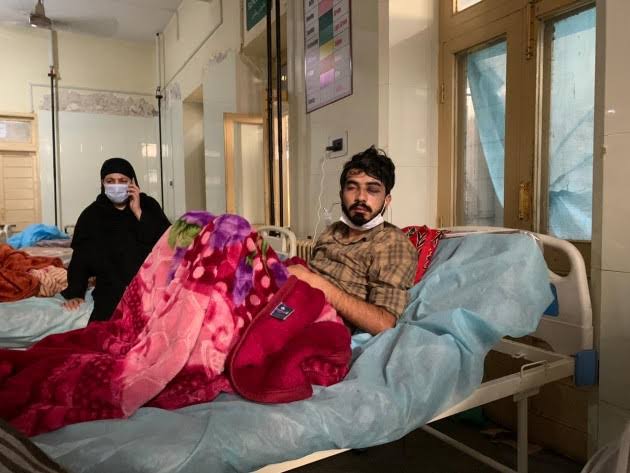 Locals maintain that for over a year now, on festivals like Eid people have been prevented from exercising their religious rights and disallowed from congregating.
Senior Shia leader and President of Ittehadul Muslimeen (JKIM) Maulana Masroor Abbas Ansari said that although the restrictions on Shia mourning processions has existed for nearly three decades now, the "latest pellet terror was unusual."
"It was for the first time when mourners were showered with pellets and teargas. Unfortunately, you don't have a right to practise religion in Kashmir," Ansari told TwoCircles.net.
Ansari maintained that freedom of religion was never allowed in Kashmir, however, post-August 5 2019 the situation has gone from bad to worse.
"The mourners were booked under anti-terrorism law (UAPA). You can imagine how much religious freedom we have," Ansari added.
As per reports, seven individuals have been booked under the stringent Unlawful Activities Prevention Act (UAPA) for their alleged involvement in raising anti-India and "pro-Azaadi" slogans at a Muharram procession in Srinagar.
Post abrogation of Article 370 on 5 August 2019, scores of Muslim religious leaders were among more than 5,000 people arrested by the government.
In Kashmir, the Friday sermons at the mosques would often refer to the Kashmir conflict. However, post-August 5 2019, most of the imams were reportedly summoned and told not to talk about the issue which is against the "Indian constitution".
Authorities have banned prayers at the main mosques for extended periods during civil unrest in 2008, 2010 and 2016.
Besides Jamia Masjid in Srinagar, the authorities placed unprecedented restrictions on congregations at Dargah Hazratbal. Last year, during the yearly celebration of the birth anniversary of the Prophet Muhammad (PBUH), authorities blocked all roads leading to Dargah Hazratbal, the region's most revered Muslim shrine. Only a few hundred devotees were allowed to pray there — far fewer than the tens of thousands the event is known to draw.
The declining religious freedom in Kashmir and other places in India has been criticized by local and international human rights bodies alike.
In June, the U.S. State Department said in a report that religious freedom in India continued a downward trend in the year 2018.
In August, the Organization of Islamic Cooperation (OIC) raised concerns about India's lockdown in Kashmir and called for authorities to ensure that Kashmiri Muslims could exercise their religious rights.
SUPPORT TWOCIRCLES
HELP SUPPORT INDEPENDENT AND NON-PROFIT MEDIA. DONATE HERE