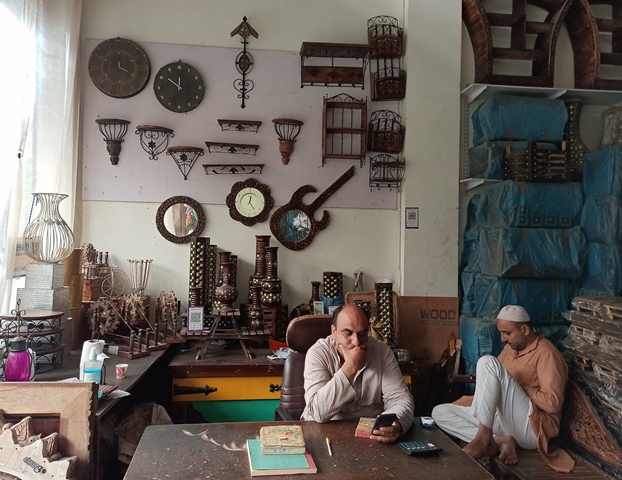 The decline in demand and supplies has badly affected many traditional crafts. Woodcarving in Saharanpur, Uttar Pradesh is one of them. Artisans and traders in Saharanpur tussle to make ends meet. TwoCircles.net correspondent Musheera Ashraf documents their struggle. 
By Musheera Ashraf, TwoCircles.net
---
Support TwoCircles
---
Saharanpur: Saharanpur is internationally famous for its woodwork and carving factories. These large and small units support the livelihood of more than two lakh workers, including craftsmen, labourers and suppliers. The two-month COVID-19 lockdown that entailed all establishments selling or producing non-essential items be shut, has greatly impacted its 400-year-old wood carving industry. Although the restrictions are being lifted over the past month, things are not the same. Craftsmen, labour class and suppliers are in debt and are struggling to earn their livelihood.
Woodcraft work in Saharanpur is spread all over the city. Khata Kheri being the main hub of manufacturers is known as a wooden city. Apart from Khata Kheri, the woodwork traders and artisans have their units at Habibagarh and Pul Kambohan.
With the dust from wood cutting surrounding him, Irshad sits in his small shop at Pul Kambohan turning rectangular wood planks into round table supports.
It has been 6 days since Irshad returned to work. Before the lockdown, he had gone to visit his sister in New Delhi and while he was there a nation-wide COVID-19 lockdown was enforced to prevent its spread. With all transport shut, this forced him to stay in New Delhi for 4 months.
"I knew there is no work back at home, so I preferred to stay in Delhi with my sister's family," he says, and added, "Lockdown has just reflected the intentions of this government."
Irshad has no expectations from the government. "Why will they help us, it is our responsibility to survive harsh times," he said.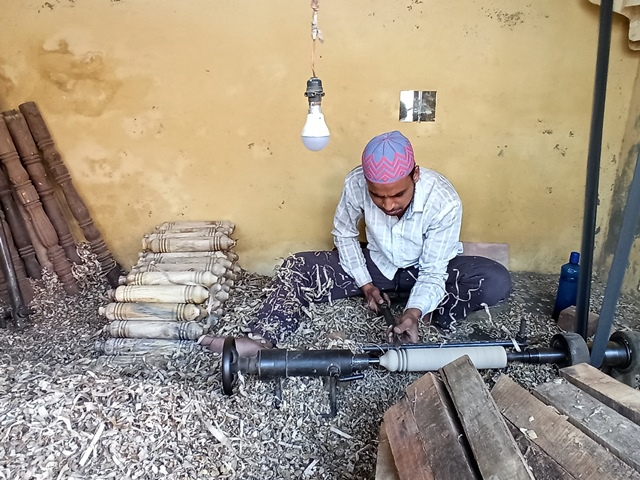 "In Delhi, I came to know how this government has taken advantage of pandemic and targeted a particular community and also small scale workers like us," he goes on.
Facing a shortage of both demand and customers, Irshad shares how his friends who were working as woodcraft workers have decided to change their profession and many of them are selling vegetables.
"In the vegetable market they can make money consistently, he says. Previously, he used to get 5-6 orders every week but now he has received only 2 orders since he returned to work. Irshad believes that it will take years to come back to normal.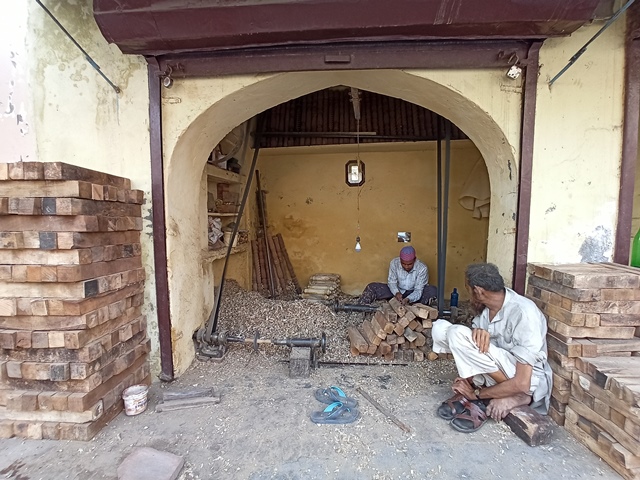 For Bilal, a 35-year-old carpenter the current lockdown has been extra harsh. He lost his labourer. Amid the Corona crisis, some of them chose to take up other work where they might get regular payments.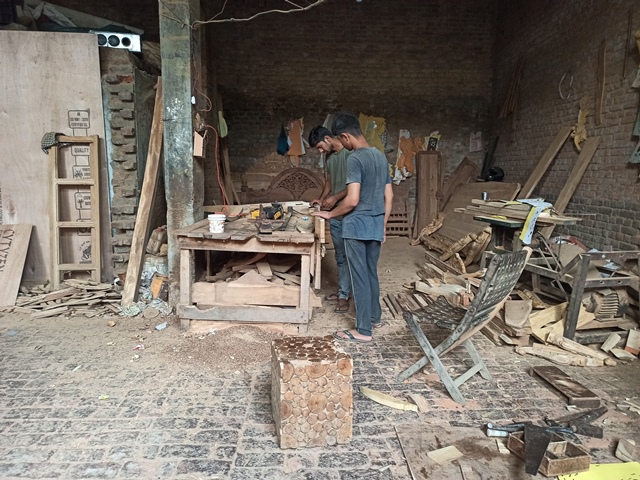 "I had 6-7 workers working under me, but now I have to work myself with my labour," says Bilal. Bilal has started working by himself to meet up the shortage of labour and also because he will not have to pay for workers if he hires them.
"They have to fill their stomach and fulfil their needs. They have their priorities," he said.
The work was shut down for two and a half months and many people have suffered due to the lockdown. "No one was ready to face these harsh times, so the effect has been more intense". The woodcarving industry in Saharanpur has grown rapidly since the country's Independence and is not confined to national borders.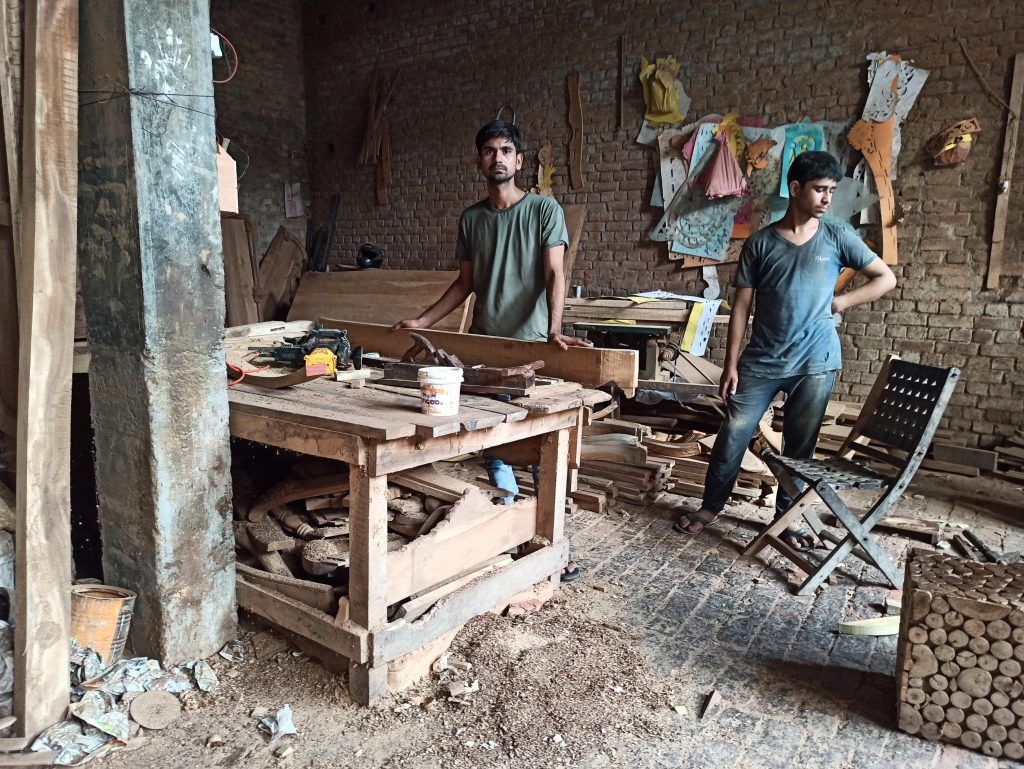 The number of orders the woodcarvers get every month have declined. Bilal gets orders from all over the country including Delhi, Mysore, Karnataka, Nagaland and Hyderabad. Recalling the difference in work before the coronavirus pandemic, he says, "whatever we are earning is minimum of whatever we can get," adding, "This is one of the worst times that small businesses are facing in India."
From daily wage labourers of the industry to those exporting these wooden products, all stakeholders are facing the common issue of decreasing demand and lowering profits. They hardly get any orders.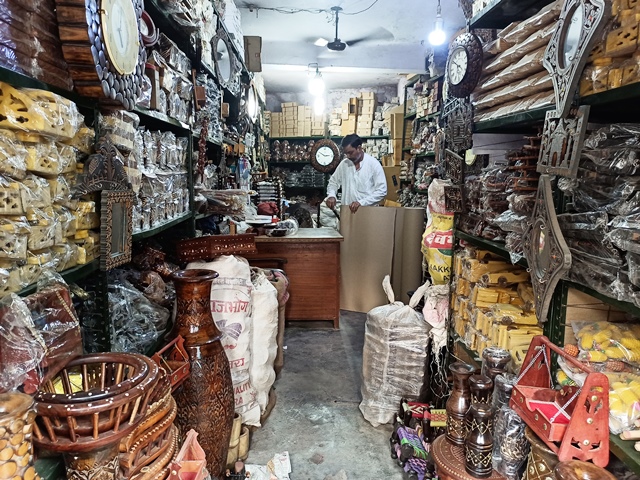 Mohd Shakir, 40, has been working as a trader in wooden handicrafts for 20 years. "My father and grandfather were manufacturers of the unique craft of Saharanpur," he says with pride.
According to Shakir, the wooden handicraft industry has witnessed its worst time under the Modi regime. "First GST, followed by demonetisation and now this coronavirus lockdown have been the worst days for the woodcraft industry," he said.
The work has reduced to just 10% of what it was before. Shakir and many other traders like him used to transport their goods in different parts of India but the situation is not the same now.
"After the lockdown, the financial situation of the people is not stable so they prefer to spend their money on things that are more important to them," said Shakir.
He adds, "people will spend on food and other essentials. This is the least preferred area".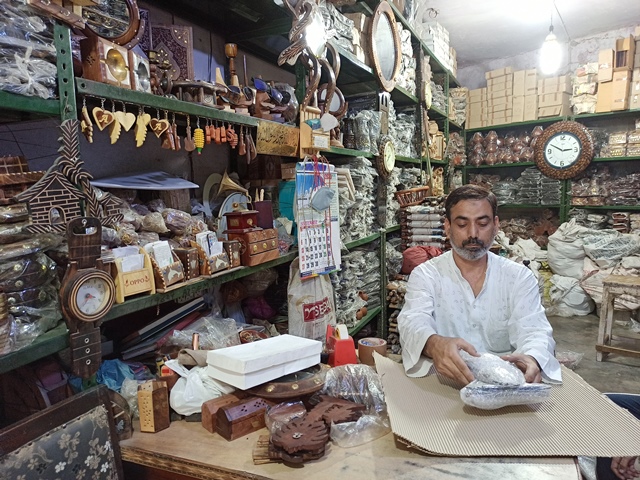 "Now that the unlock phase has started whatever little bit of work we have is through online orders," says Shakir while he packs a wall hanging that he has to get delivered through Amazon.
The lockdown that was imposed to curb the spread of the deadly disease has affected the economy in extreme ways. The wood industry has been one of the worst-hit. Whatever money Shakir earns these days is spent in fulfilling daily needs. He is left with no option for savings.
Handicrafts were said to have big potential. They hold the key for sustaining lakhs of artisans, but also for an increasing number of large entrants in the crafts activity.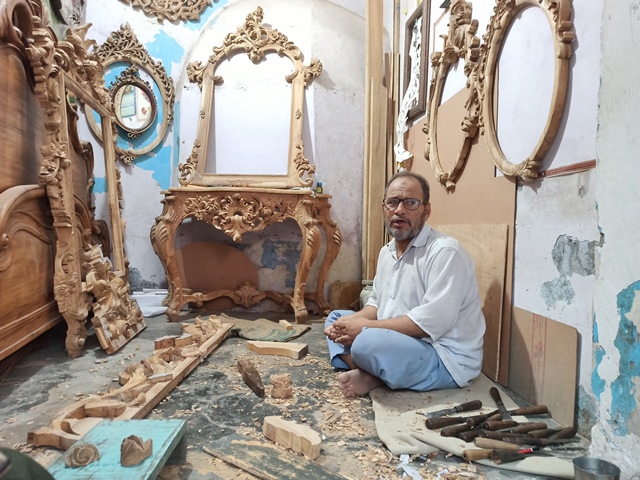 "I don't know till when I will be able to pay the money that I took as a debt under lockdown," says Rizwan, a 60-year-old wood carving artisan who has been in this profession since 40 years.
Whatever little saving he had was finished in the first month of lockdown, he says. Rizwan had to borrow an amount of Rs 50,000 to meet his family needs. Rizwan looks after his wife, two daughters and two sons. He started working as a wood carving artist in a small rented shop where he has a small collection of hand-carved mirror frames and dressing tables.
Rizwan says that while he was at home and the market was closed he took his tools and some wood to home, where he carved out some wooden roses in a hope that when the market opens he will assemble them to make a frame out of them.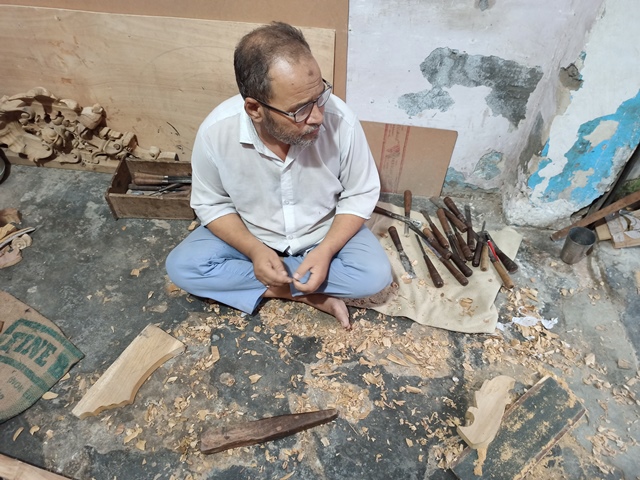 Rizwan's younger son is learning wood carving but Rizwan is fearful about the fate of this industry. He wants his son to learn wood carving but simultaneously he wants him to study and secure a job. "This art will not go in vain. It is the skill of our ancestors that I want my son to learn," he adds.
Rizwan says, "We will survive anyhow but this crisis has affected our children more severely, their studies have stopped". Rizwan has a simple Nokia phone which he says is of no help to his children to continue their studies.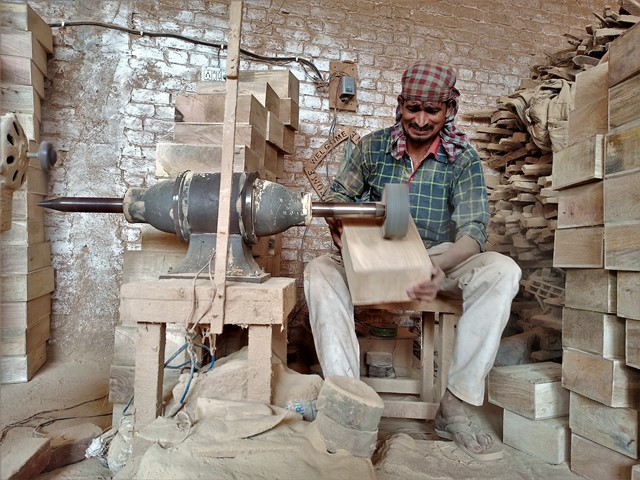 Migrant labourers have witnessed stressful times in the last few months. Altaf, a 38-year-old artisan was stuck in Kerala. He used to work at a local wood handicraft workshop. But soon after the lockdown was announced he was left with no work. "We were left to starve," he says.
He returned to Saharanpur with the help of one of his relatives. It has been a month since he returned. He has been working at a workshop in Habibgarh area of Saharanpur.
The coronavirus pandemic has changed his opinion. He says he will never return to Kerala and will work in Saharanpur. "This work is the legacy of Saharanpur. I will reside here, work here and die here," he adds.
Though he is getting less work because of the decreased demands of the products he is determined to do this work because he finds it close to his heart. "I will never give up on this," he adds.
SUPPORT TWOCIRCLES
HELP SUPPORT INDEPENDENT AND NON-PROFIT MEDIA. DONATE HERE