The Bhil tribal belt of Gujarat celebrates Holi according to their rituals. The celebration of Holi is integral in the Bhil tribe as it symbolizes the end of the winter harvesting season. People devote their harvested crop to their deities as an offering.
Mitesh Vasava, TwoCircles.net
---
Support TwoCircles
---
Gujarat: Holi is widely commemorated in the Adivasis region of the Indian states of Gujarat, Maharashtra and Madhya Pradesh. The Bhil tribal belt of Gujarat celebrates Holi according to their rituals. The celebration of Holi is integral in the Bhil tribe as it symbolizes the end of the winter harvesting season. People devote their harvested crop to their deities as an offering.
Every year during these festive days of Holi, 'Ghariya Mahotsav' (Festival) is organized at each tehsil of Narmada district in the western Indian state of Gujarat for a week after Holi Dahan, the ritual that symbolizes the victory of good over evil. On the eve of Holi, typically at or after sunset, the pyre is lit, signifying Holika Dahan.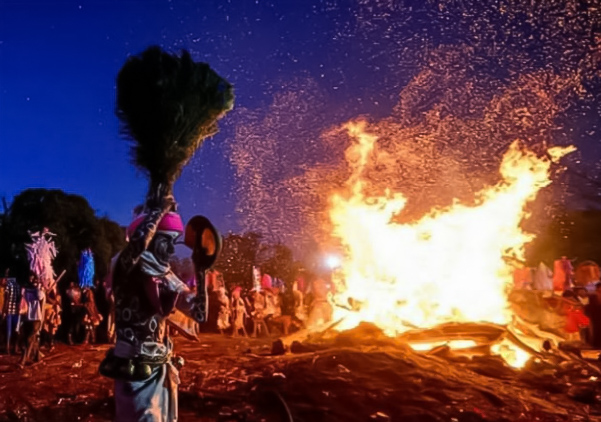 "Ghariya" are the people who dance during the festive days wearing fancy clothes. Adivasi people gather at Haat, which is an open-air market that serves as a trading venue for local people in rural areas, to watch Gariyas dance, play games, enjoy fun rides and do shopping. Young boys and girls also come to the Haat to find a partner. During these five days of festivities, music is played and people dance with their friends and relatives.
However, the ongoing Covid-19 pandemic has impacted this widely celebrated festival. The most affected due to the pandemic are the local businesses, restaurants, and local vendors.
In 2020, the local businesses had earned good profits due to both national and international tourist footfall. This helped the Adivasis to survive in the lockdown. However, due to the rise in the Covid-19 cases this year, local people avoided mass gatherings.
The Haat is deserted and there is no carnival organized by the Gariyas (performers).
"Compared to the previous year, there is so much change this year. Not many Bodiya (fancy-dressed performers) have come. Last year, during this time on the 3rd day of celebration, I saw around 15-17 groups who were performing. The Haats this year are also deserted. I don't think police gave permission to Gariyas in major town areas of Narmada district," Soni Ben Vasava, 77, from Ramgadh village, Rajpipla tehsil of Narmada district told TwoCircles.net.
Soni Ben Vasava has witnessed generations of Holi celebrations of the Narmada district region.
Vasava has also seen changes in rites of Adivasis.
"When we were young, we used to collect Indigo, Butea flowers (Palash flowers) to play Holi. Earlier people used natural things like banana and neem leaves to become Ghariya and people gave them food and grains as a donation. Now Ghariya only wants money. There were also ritual animal sacrifices, which are no longer performed in most of the villages," she says.
Vasava further said that, although "there are still some villages in the deep forest which till date celebrate Holi in the old ways," but "people now buy everything from Haat or the market."
Vasava says that the "colour used in Holi these days is artificial, which is not good."
"People are becoming more market-oriented. They are not enthusiastic as earlier people were," she comments.
Umeed Bhai Vasava, (37) is the Shaman (a person regarded as having access to, and influence in, the world of good and evil spirits) of Khatamla village, Rajpipla, Narmada district.
Talking to TwoCircles.net, he says, "During these festive days, people do not work and celebrate day and night. People whose vow is fulfilled should give up their comfortable life like sleeping on the bed, eating non-veg and drinking liquor. A person whose vows have been fulfilled has to spend a month sleeping on the floor in an empty room."
"Because of Covid-19, this year many people did not perform votive. They are just offering grains and fruits to deities. This year, the enthusiasm amongst people is quite low as compared to previous years," the Shaman added.
Elaborate Holi celebrations
Preparation for the Holi for the Adivasi people starts a week before the festive day and celebrations go on for one week after the Holi.
Dates of organizing Haats (a weekly market funfair) are decided locally by Panchayat members and conveyed to local authorities. On these festive days, people visit their hometown from wherever they may be residing.
While preparing for Holi, parents tie 'Gadi' (Donuts made of cow pats) around the wood used for the pyre. The ritual is performed for welfare of their children. Before the commencement of 'Holi Dahan', the village Shaman performs the rituals and dedicates the harvest to local deities. After completing these rites, the Shaman goes to the Holi site to fire the stack of woods. Women perform rituals like offering water and dhanni (popcorns) to the fire.
After these ritualistic prayers, men, women, and children dance around Holi on the drum beats, flute, shehnai and tarp music till midnight. The Adivasis also pray for their ancestors and loved ones who have passed away and also prepare a separate meal for them.
Adivasi men play a special role by performing rites dances called 'Gariya dance.' The dancers wear a special attire on the occasion, which includes a dhoti, a long scarf to wrap around the neck to the waist, a ghungroo belt (anklet bells) on the waist or a hat of peacock feathers, and small circle-marks on the body. Every Adivasi village has a unique dress code.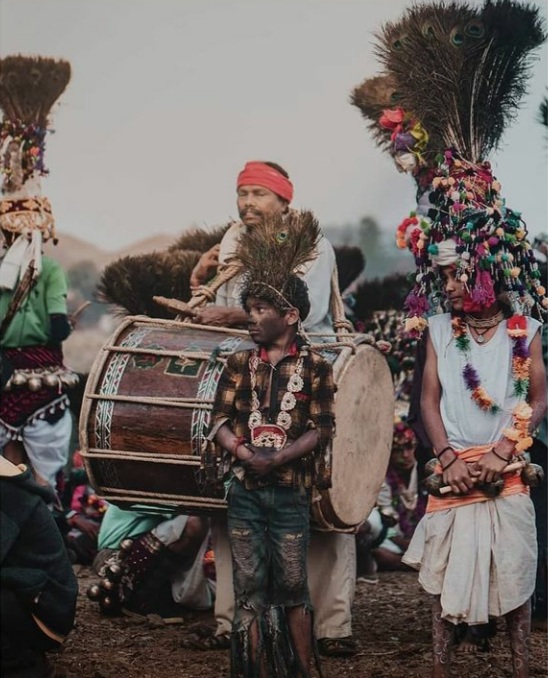 Haat is a place where everyone is gathered.
Rajpipla, Dediapada and Netrang and Sagbara of Narmada district, Gujarat are some of the major places where these funfairs are organized on these festive days. People go to watch Gariya and to dance and eat. Handmade toys, utensils, swords, knives, bows and arrows made by the Adivasis are displayed.
On normal days, girls wear salwar and suit, while married women wear Sarees. The boys and men wear trousers and shirt. However, during the festive days, girls wear traditional plain salwar and choli with heavy silver ornaments, whereas boys usually wear dhoti half-shoulder shirts or trouser-shirts. During the celebration, the tradition is that unmarried boys and girls (potential groom and bride) have the right to select their partners. If a girl and a boy are interested in each other they will exchange things, such as a snack or a paan (betel leaves prepared and used as a stimulant), for consent.
Village kids do roadblock with pairs of ropes and bamboo sticks to collect 'Fagwa' (aid) from every visitor. They were happy with the few coins they get. The kids use this money to buy snacks and other things from the Haat.
SUPPORT TWOCIRCLES
HELP SUPPORT INDEPENDENT AND NON-PROFIT MEDIA. DONATE HERE