Karthick Annan is a 35-year-old Dalit folk artist from Chennai, mastered in different folk art forms produced from an indigenous culture in Tamil Nadu & South Indian states. He won the Kalai Valarmani award from the Tamil Nadu Department of Arts and Culture for his eminence in folk arts for the year 2012 – 2013. He now resides at the Tamil Nadu housing board in Ashok Nagar, Chennai and does sanitation work to earn a living. 
Shalini S | TwoCircles.net
CHENNAI – Karthick Annan's neighbours in the housing board were curious about the parai – a type of frame drum – reverberating under the open sky. They haven't seen him play for the last two months as he took to sanitation work during the lockdown and shelved all his artistry equipment. An old man, poonal clad, from a building little behind the housing board took a quick peek at Karthick Annan playing the parai from his balcony and went inside. "Everyone knows it's me playing on the terrace, they won't mind," he said with an unwary smile.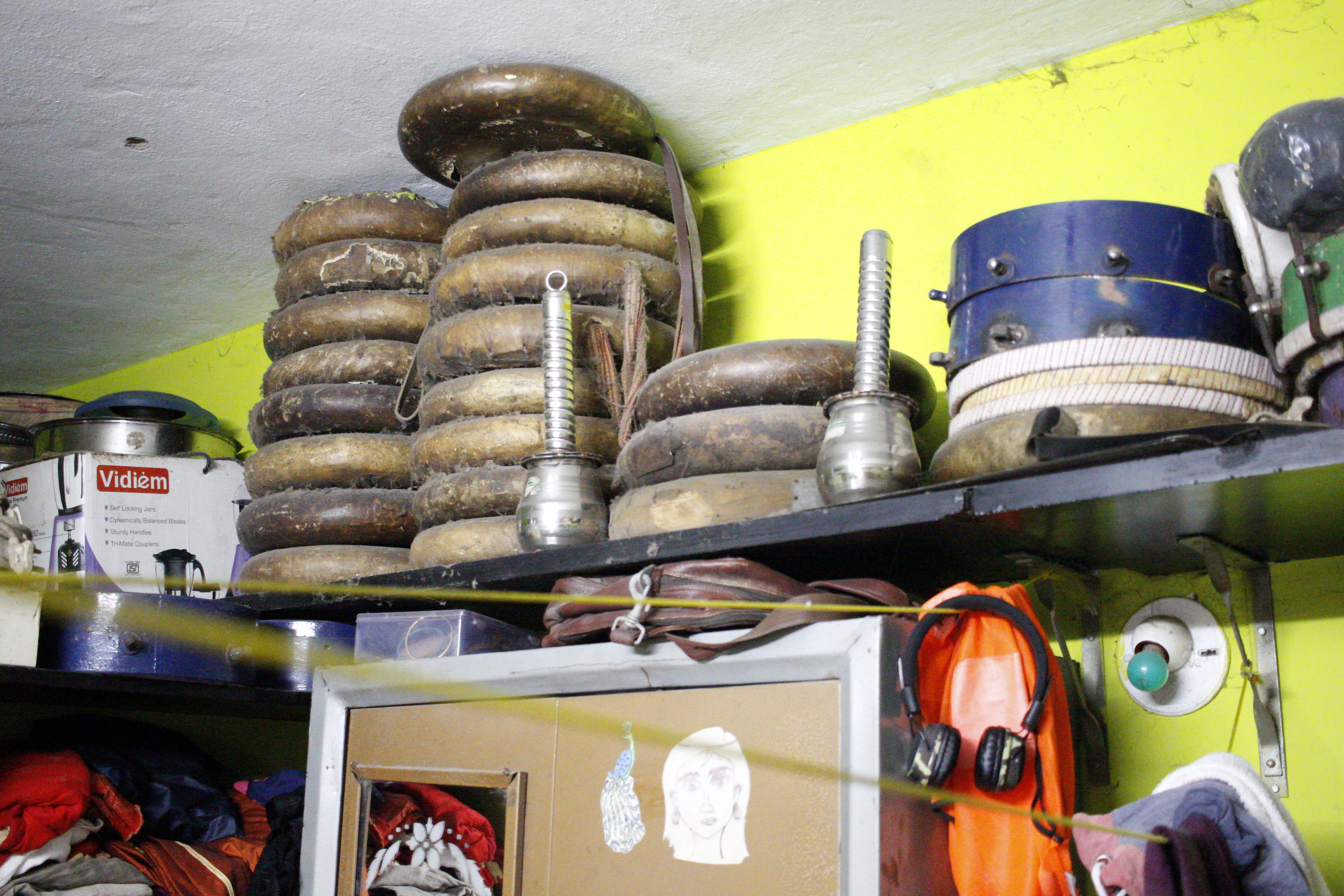 Karthick is a 35-year-old Dalit folk artist from Chennai, mastered in different folk art forms produced from an indigenous culture like paraiattam, karagattam, poikkal kuthirai attam, mayilattan, kavadi attam, chakkai attam – different types of folk dance performed in Tamil Nadu & South Indian states. He won the Kalai Valarmani award from the Tamil Nadu Department of Arts and Culture for his eminence in folk arts for the year 2012 – 2013. He now resides at the Tamil Nadu housing board in Ashok Nagar, Chennai.
Folk arts, especially percussion family of instruments made out of calfskin or cowhide, when played are danced most often by Dalits as their every day's sustenance depends on negotiation with caste and oppression. The caste system in India has long ensured a monopolised hereditary of occupations to sustain the status quo. The interventions made by Dravidian ideologues in Tamil Nadu to the music and cultural atmosphere through the Tamil Isai (music) movement in the 1940s did nothing to the exclusivity of Dalits from the mainstream. For generations together, they have been denied the right to perform their art forms inside temples and have faced hostility from the caste Hindus.
Parai, among the other instruments used by Dalit artists at present, is largely recognised as a symbol of resistance within the anti-caste movement. It asserted its universal solidarity with the Black Lives Matter movement in the United States last year. 
Karthick Annan seemed oblivious to all this. "I have played to foreign audiences in Mahabalipuram, they love our attam (dance) and watch us with curiosity," he said proudly.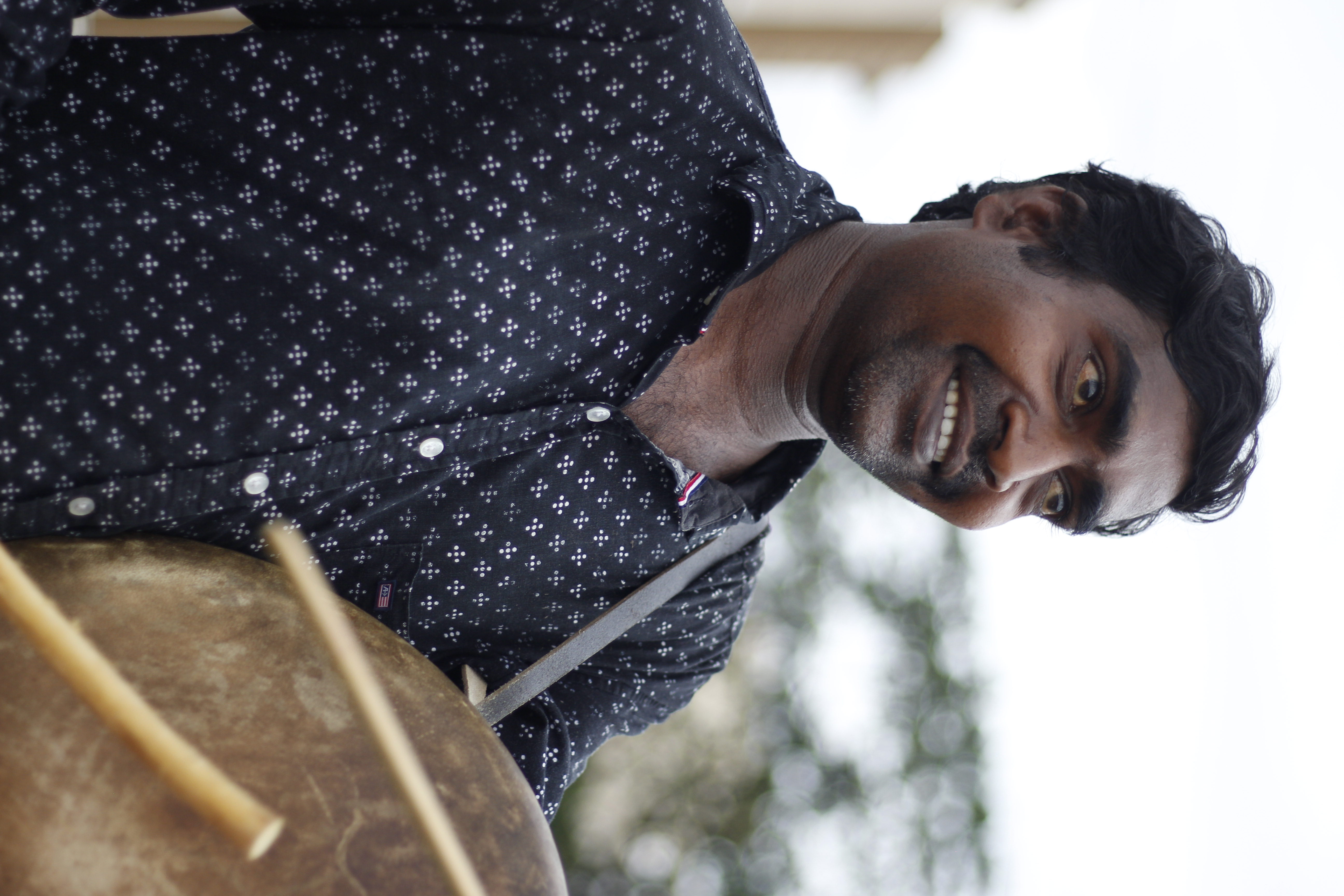 Karthick Annan has been practising different attams (dance forms) ever since he was 7. "My father is T. R. Rajan (late). He was a well-known folk artist in Madras. He learnt the folk arts from artists in Thanjavur and we have been following in his footsteps ever since." Annan is the youngest in his family of seven children, his three elder sisters who have been performing karakattam – water pot dancing – since MGR times have now retired due to illness. "One another sister is in Ayanavaram. She never liked performing to an audience. The other two died young," he said.
When questioned if his children loved performing dances and playing the parai?, he said he didn't want to speak for them and that they should do whatever they liked, but mostly he wished for them to get educated well. 
Kalairajan, his youngest son responded coyly when asked if he plays the parai. He just shook his head for an answer. His two daughters Kalaivani and Karthika are studying in 12th and 10th grade. His wife, Udhayavani is a Karagam – water pot – dancer too and has taken up the sanitation work along with her husband to provide for the family.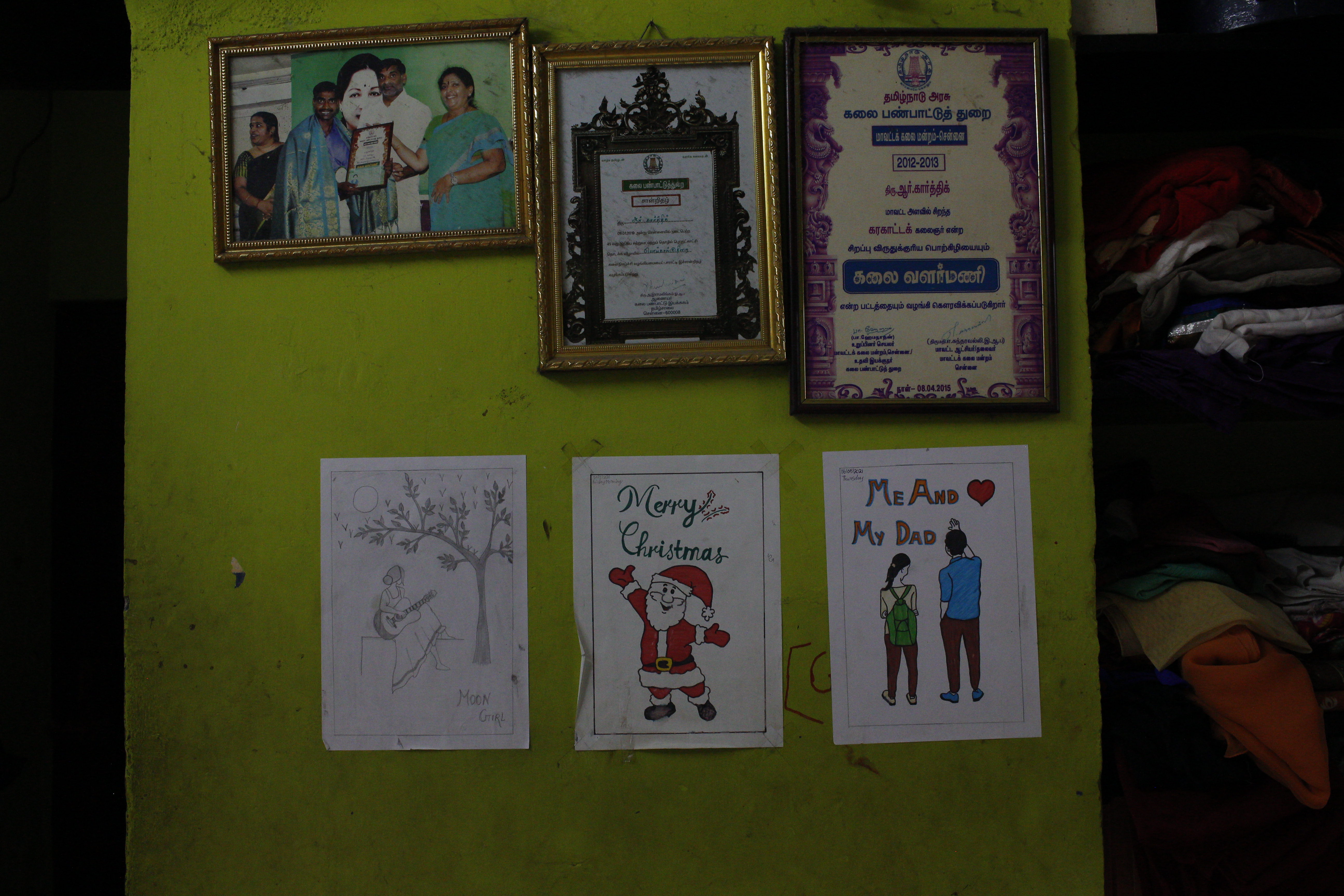 "It is very difficult during the lockdown. Kaleeswaran ayya (Sir) and staff at Loyola College in Chennai) is helping us a lot. These days I stand for 8 hours a day, sweep the road, separate garbage and dispose of them. I only get paid 350 rupees. If I perform for an hour I used to earn a maximum of 2000 rupees." he said.
He joined as a sanitation worker in Chennai corporation 2 months ago to pay off the debt he borrowed to buy art supplies before lockdown. "I pay an interest of 2000 rupees per month now. Transaction of money was easy before lockdown as we had performances to do. I have to pay house rent and the interest. Children learn from Kalvi TV (a channel started by the government of Tamil Nadu to provide digital classes) without mobile phones," he added.
Karthick Annan has to be at the assigned area at Ashok Nagar, 6th avenue by 5 a.m. sharp and has to work till 2 p.m. Before and after his work hours he has to travel to the Chennai corporation zonal office in Power House and mark his attendance. "They took me because I know how to drive the waste collection vehicle. I was reprimanded for giving an interview during work hours. Supervisors told me they will stop me from work if I spoke to the media wearing my uniform," he said apologetically for denying my request to talk to him during work hours.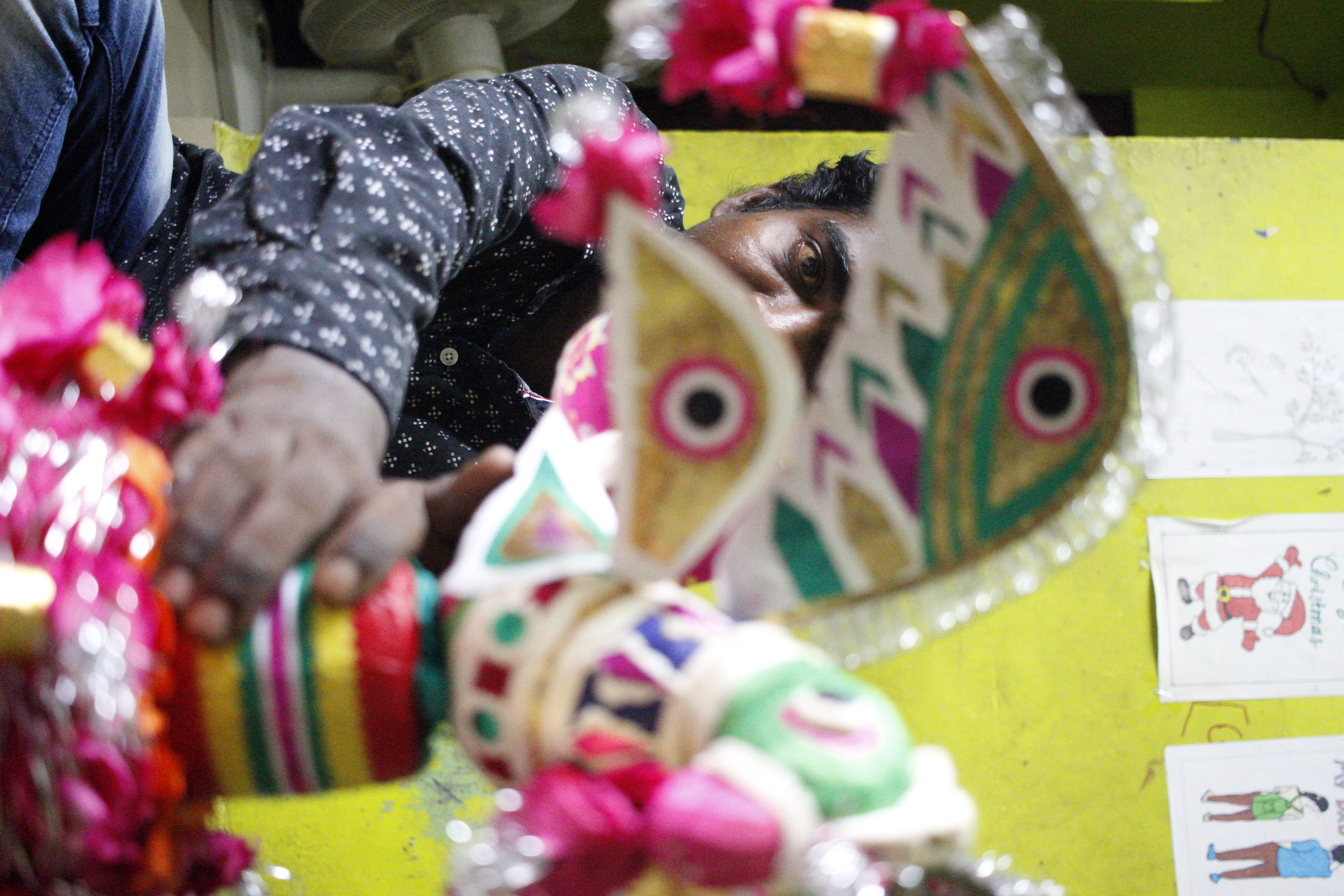 The first time I met him, he was visibly reluctant to say he is a sanitation worker as it is just a euphemism in English for the work a particular caste group is forced to do in India. He said he was not provided with proper safety equipment by the corporation even in lockdown while cleaning or sweeping the streets. His co-worker clicked her tongue and said, "I never knew he was a big person. It must be really hard for him to do this work now."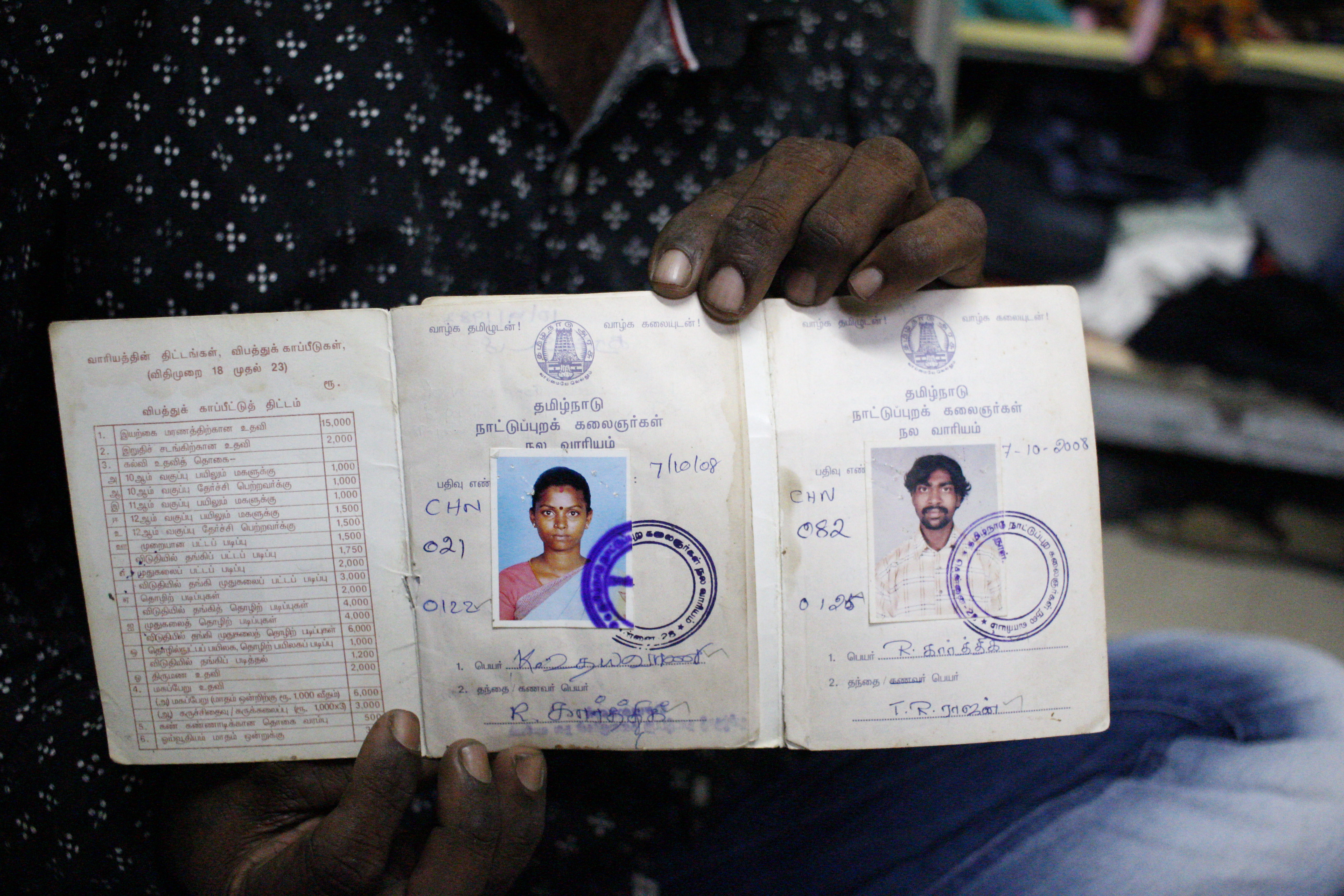 Several petitions to the government through Ashok Nagar Naatupura Kalaignargal Sangam (Folk Artists' Association) have been filed by the artists at the Tamil Nadu Department of Arts and Culture. But, as per him, "the officials gave one or other reasons due to Covid-19 and did not hear our grievances further."
"We were given 3000 rupees by the previous government in lockdown. Many artists couldn't receive it because they didn't have an ID card. That too was distributed as 1000 rupees over 3 months," he said.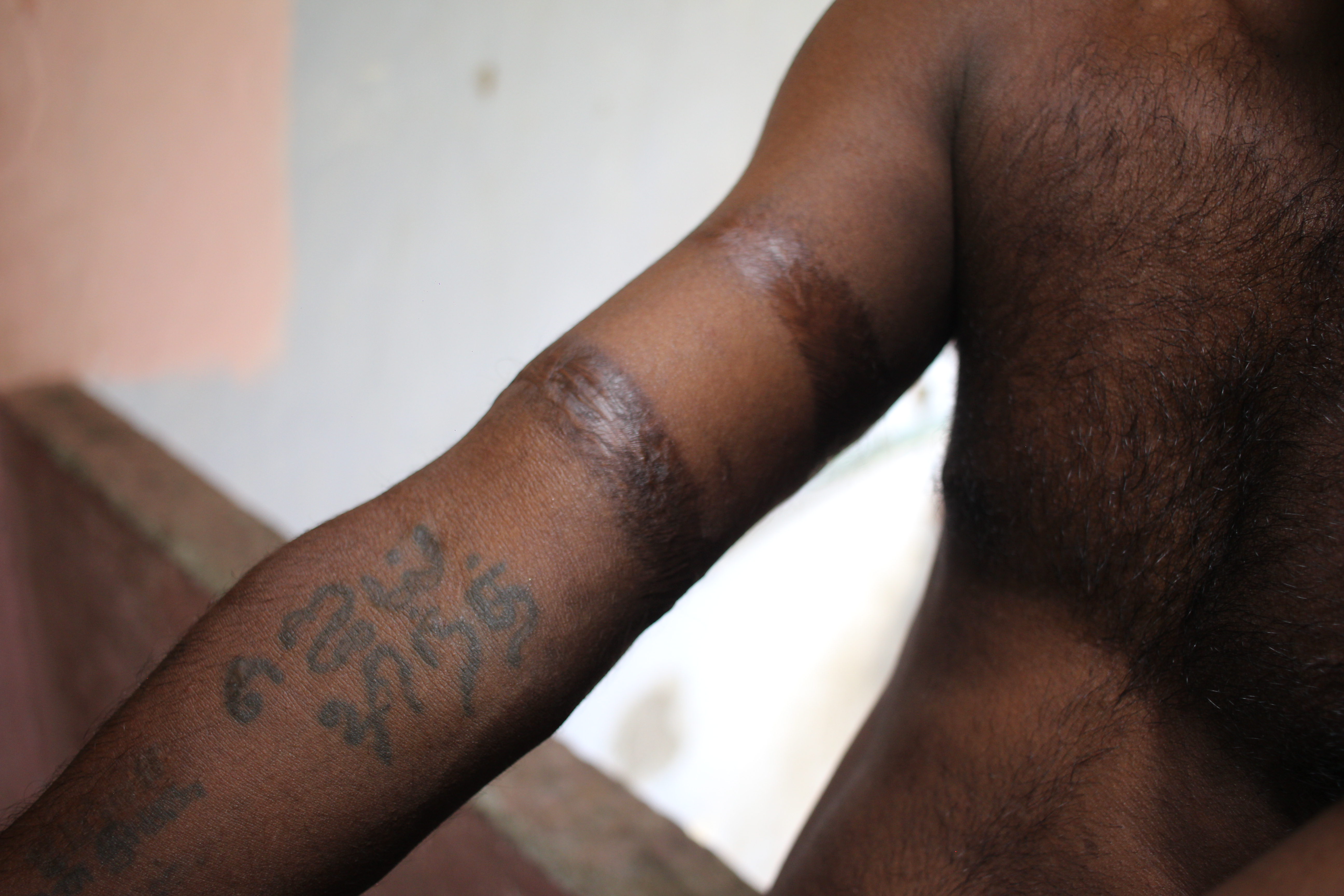 When asked if he had any difficulty learning the folk arts at a very young age, Annan said he was never adept at studies and would ditch school to watch his father perform in village temple festivals.
"At first I try to do it at home, once I am confident, I try performing the techniques in village functions and then take it to stages. As a child, I wanted to do silambam – martial arts performed with bamboo staff – while having karagam in my head like Ramarajan Sir from the Karakattakaran movie. In movies, they tie the karagam to their head but we don't and it eventually comes with practice. People call me and ask for methods if they do a risky performance," he said.
He pointed out how it gets unsafe for women while performing on stage, "Since we do this as a poorvika thozhil – native occupation, we know how to do it properly but these days women are expected to wear short dresses to please the audience. They do it out of poverty. There are only a few artists like me in Chennai whose families have been performing for generations," he said.
Talking about the severity of their affected livelihood, Karthick Annan said that an elderly folk artist from Pazhani (a town in Tamil Nadu) committed suicide after uploading his struggles on Facebook. Dr Kaleeswaran too informed that over 30 folk artists have committed suicide during lockdown because of financial constraints and lack of resources to educate their children. He commented that more lives are dwindling without hope as the situation continues to worsen.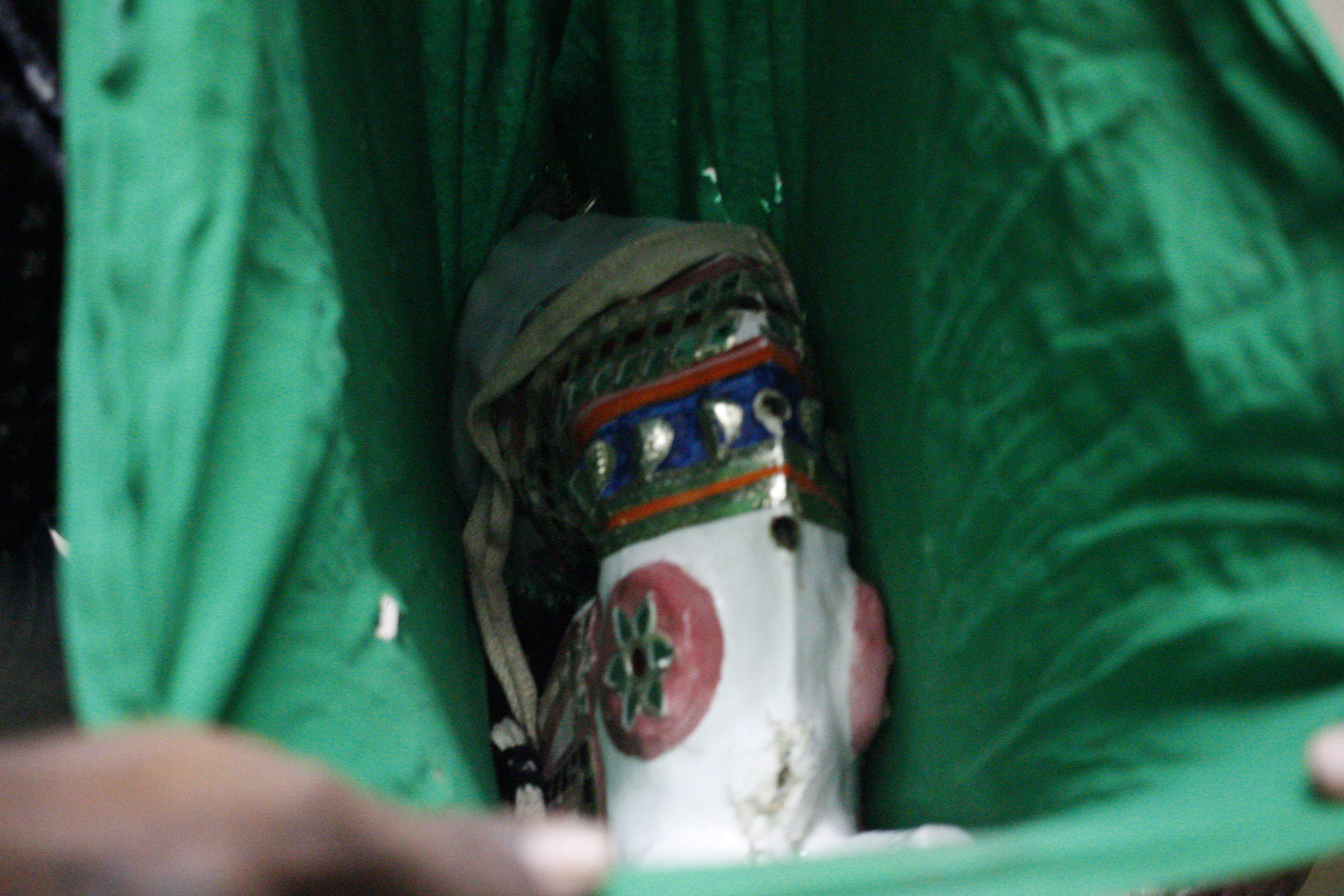 Karthick Annan looked content and relaxed as he spoke passionately about the art forms. He expressed his willingness to teach whoever approached him for free. Usually, he sleeps right after coming home from work to wake up early in the morning again for work. He said he was overwhelmed to spend his evening unshelving the art supplies that were covered with cobwebs. However, they had to be put back in the almirah by him after showing it to me. "We cannot keep many things inside since it is a very small house. My wife went to her mother's house because it is crammed here. She was angry at me for not cleaning the dust," he said with an apologetic smile.
"I wish the government would let us teach in the corporation schools. The folk art forms are already dying and they should be passed down. The best way to do it is in schools," he added.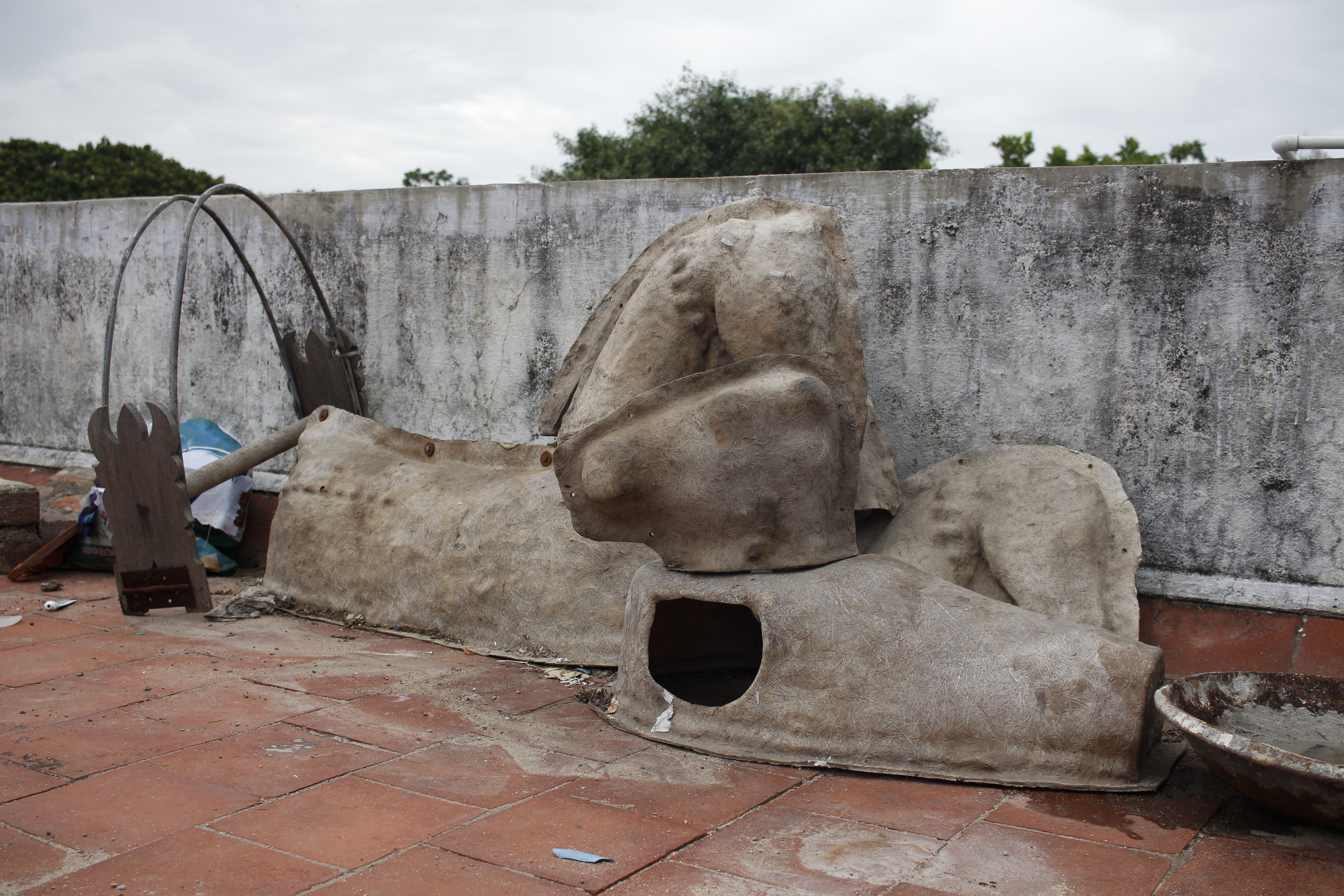 "I have dreamed of starting an academy all my life. The rooms to practice should have mirrors so my students will learn from their mistakes. It still is a distant dream," he said. "Write more about our people and let others know about our struggles and art forms," he laughed.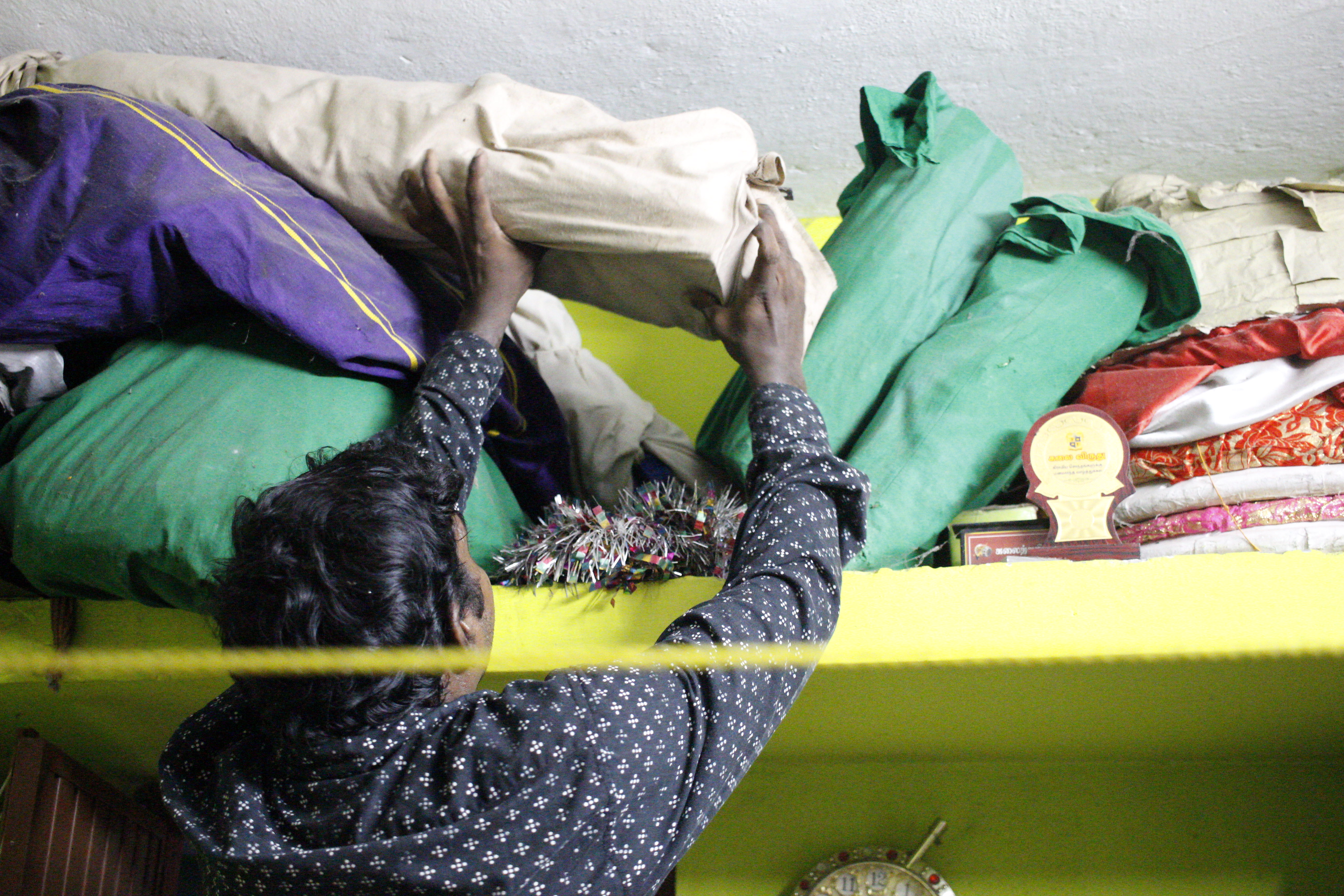 P.S: To support artists like Karthick Annan and their family, contact Dr. Kaleeswaran at 9094799688.