Hundreds of Asha workers (healthcare workers) have been rendering yeoman's service in rural India during the Covid-19 pandemic by working tirelessly to fight the virus. However, their services have not been paid to the proportion of the work they put in and they are struggling to make ends meet. A TCN Ground Report finds out. 
---
Support TwoCircles
---
Bilal Khan | TwoCircles.net
UTTAR PRADESH – Sarita Devi (32), an Asha worker from the village Mehalakpur Nizampur of Moradabad district of Uttar Pradesh tried to commit suicide because neither she nor her husband had money to refill their gas cylinder to cook food. The incident took place on October 12 this year.
"I was frustrated. I have not received my honorarium since August this year. On the other hand, my husband who is a labourer does not find work regularly. We have been frequently running out of money. When we realised that we had no money to even refill the gas cylinder I lost my mind. I consumed poison to kill myself," narrated Sarita.
Sarita has been working as an Asha worker (Accredited Social Health Activist) for nearly 16 years in the village. Initially, she was not paid anything, but at present, the total honorarium she receives is around Rs. 3000 a month. "It depends upon the work. There are various works for which we are paid differently. We don't have a fixed salary. No matter how hard we work we manage to earn around Rs. 3000-3500 per month," Sarita said.
"It is tough to run the house with this little money. Can you imagine how are we surviving with no payment for two months?" asked Sarita.
When approached, Dr Rajiv Singh, in charge of Tajpur Primary Health Care Center of the district, confirmed that the Asha workers have not been paid since August.
"Since the online portal (the portal where Asha workers honorarium is entered for the payment) has not been working since August 27, the honorarium has not been released for the Asha workers since then," said Dr Rajiv.
This is not an isolated case. Asha workers across Uttar Pradesh have been struggling to survive and have protested for fair and regular pay for months. According to reports, there are a total of 1.54 lakh Asha workers across Uttar Pradesh. Almost all of them are either paid much less than the agreed amount or are paid late. As a result, they struggle with meeting their daily needs.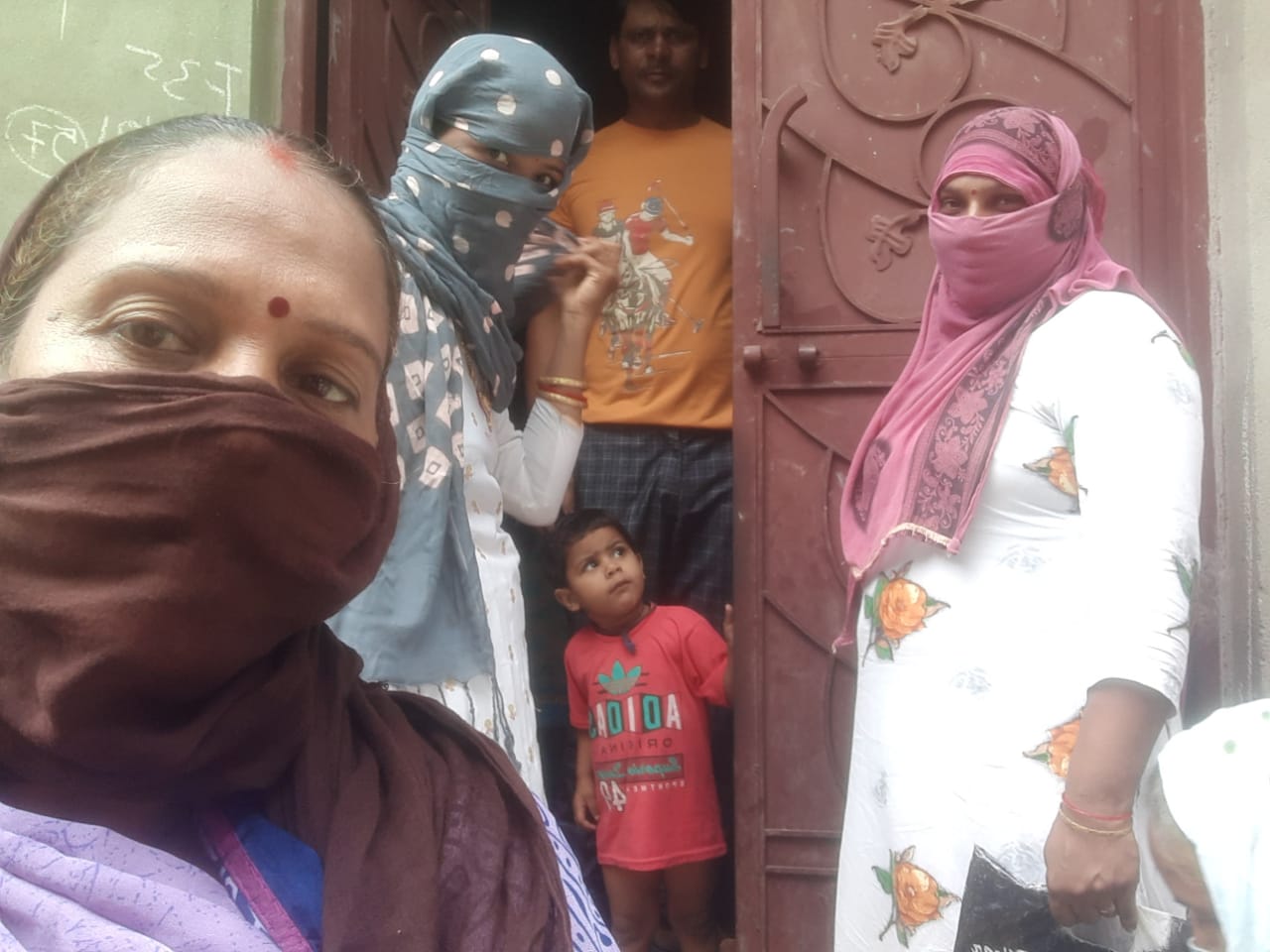 Their struggles got compounded amid the Covid-19 pandemic and frequent lockdowns that were imposed to contain the virus.
As soon as the coronavirus pandemic broke out in March 2020, the Indian prime minister announced an indefinite country-wide lockdown. The whole country was kept indoors. While the working class began working from home, the front line workers, which include health workers began working round the clock to treat coronavirus patients. In rural India, the Asha workers were the first health workers who got in contact with the coronavirus. While the frontline workers working in urban areas were frequently praised by the public and government, the Asha workers working in rural India were ignored. These Asha workers were paid less money even though their work had increased during the pandemic.
More work, less pay
Asha workers in Uttar Pradesh carry out multiple duties – they help pregnant women during safe delivery, help in children's vaccinations, and maintain a diary of birth and death data of their respective villages. However, during the pandemic, the Asha workers were given additional responsibilities such as creating awareness about the pandemic in the villages and making sure Covid-19 positive patients are sent to designated isolation centres. Aside from this, the Asha workers were required to maintain data of the corona patients, including deaths caused by the virus and track people with coronavirus symptoms.
"However, we were paid only a little extra for this additional work although it was quite hectic. We would work round the clock from 9 a.m. to 4 p.m. by visiting people door to door and then we would come home and do some online paperwork for data maintenance," said an Asha worker Saroj Singh from Jarai Kalan village of Sultanpur district, Uttar Pradesh.
Saroj Singh started working as an Asha worker to support her husband in paying for household expenses. She has seven members in her family, which include four children, a husband, and a father-in-law. "My husband works at our farm. He does not earn anything. We eat what we grow on the farm. However, earning Rs. 2000-2200 a month has been getting delayed amid present times and it makes it tough for us to run the household. I have heard that increment is done in our honorarium but I hardly receive it. We don't have any option other than just to go through it," said Saroj.
Asha workers said even though they were exposed to contact with the coronavirus infected patients, but "they were not provided with PPE kits, masks and sanitisers."
"We were not provided with enough masks or sanitiser, let alone PPE kits. We were given a few masks when the virus was at its peak. We either bought our masks and sanitiser or used a dupatta to cover our face. If we would refuse to do our duty who would come forward to help the villagers fight against the coronavirus?" asked Farzana Begam, an Asha worker from one of the villages in Azamgarh. She has been working as an Asha worker since 2005.
In over a year, the state government led by BJP's Adityanath has promised a 25% increment in the Asha workers honorarium and the government also announced Rs. 1000 as Covid incentive for Asha workers from April to September but these have partially been achieved.
"I have not received more than Rs. 3500 a month. My monthly earning would have been increased to more than Rs. 5000 if the incentives and honorarium increment would have been applied," Saroj said.
An activist Aarifa Anjum, who works for the welfare of Asha workers, told TwoCircles.net, "The payment increment was announced, but some are receiving it and some don't. We are sure because we have been protesting for this issue for months." Anjum hails from the Meerut district of Uttar Pradesh.
A non-profit organisation from Meerut called 'Asha & Sanginee Karmachari Sangh' has been protesting for the fair pay of the Asha workers.
Nirmesh Tyagi of the organisation told TwoCircles.net that Asha workers are paid incentives only for three months so far. "Since August the government website is shut and then the incentive will lapse after October. This is how the government is treating the frontline workers who were on the field entire day while entire India was at home, to save the villagers from the virus," Tyagi said.
As Asha workers have been visiting door to door convincing villagers to get vaccinated, they faced harassment at many places. Reportedly, some Asha workers were verbally humiliated for insisting villagers to get vaccinated. "They work hard to convince villagers for vaccination, but they are not paid anything for the services they render. They are facing humiliation for convincing people to get vaccinated," Tyagi added.
Demands of fixed salary, health insurance
Auxiliary nurse midwife (ANM) also believes that the Asha workers should be given financial security. "They are the pillars of the healthcare system in rural areas," said Geeta Singh, ANM from Dubeypur block of Sultanpur district. "They work hard for the villagers to get better healthcare. How can they work better when they struggle with their finances? They should be given financial security so that they can work better," said Geeta.
Thousands of Asha works from different districts of Uttar Pradesh have been protesting for fair pay. They are demanding a fixed salary of at least Rs 10,000 per month, extra money for extra work, health insurance and better facilities at the village level healthcare system.
"There are many protests in the capital Lucknow for the (above) demands. We are also planning the biggest protest in Lucknow at the end of this month or starting of next month if demands are not fulfilled," Tyagi concluded.
Bilal Khan is a Mumbai-based independent journalist. He covers grassroots issues from Uttar Pradesh, the LGBTQ community and loves to write positive and inspiring stories. He tweets at @bilalkhanjourno. 
SUPPORT TWOCIRCLES
HELP SUPPORT INDEPENDENT AND NON-PROFIT MEDIA. DONATE HERE