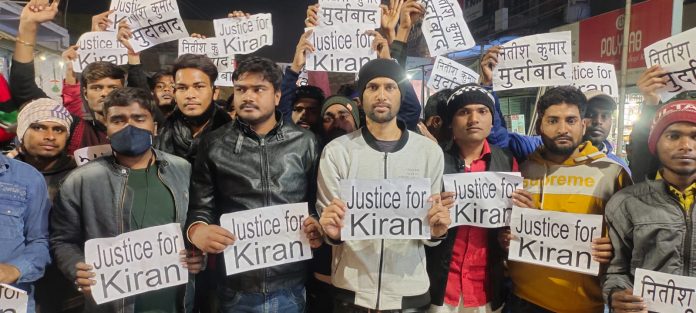 The killing of the twenty-year-old Dalit girl in a village in Bihar after being kidnapped by upper-caste men saw a protest by members of the Bhim Army—who are demanding arrest of the accused and compensation to the family.
Sami Ahmad | TwoCircles.net
---
Support TwoCircles
---
PATNA, BIHAR — Six days after being kidnapped by upper-caste men, the body of a twenty-year-old Dalit girl belonging to the Ravidas community was found dead in a water pool on December 26 at Shahpur chowk under Tisiauta police station of Vaishali district, around 80 kilometres north of Patna, Bihar. 
As per her family, twenty-year-old Kiran Kumari was supposed to be 'returned' by her 'kidnappers' in two days.
They said she was picked up at gunpoint on December 20 by a few upper-caste men of the same area. "But she never returned," they said. 
Kiran's father Jageshar Ram works as a labourer in Punjab. Her mother Akali Devi is also a labourer. They live just half a kilometre away from the place where Kiran's body was recovered. The couple have four children—three daughters and a son. 
On Sunday (December 26) local workers of the Bhim Army staged a protest in the area against the killing. They took to the streets again on Monday. The protestors also blocked the Jandaha-Kushhar road near the house of the deceased girl. They demanded the arrest of the accused, compensation to the family and a government job to one of the family members.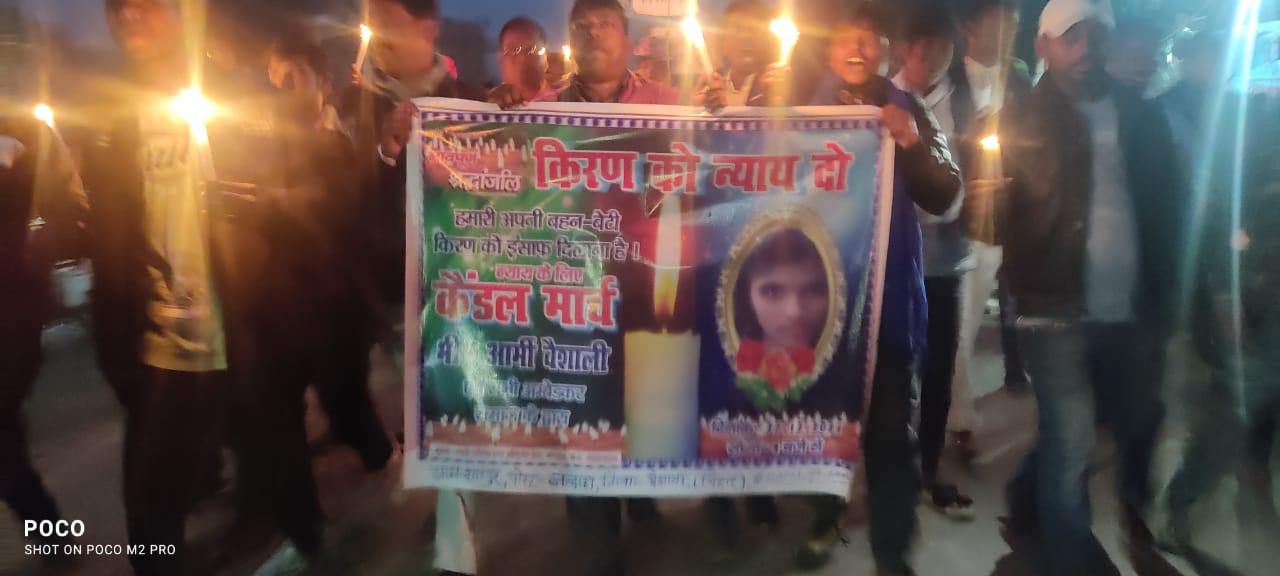 An FIR registered in this regard with the thumb impression of Akali Devi states that Kiran had gone to relieve herself in a nearby field when she was forcibly taken away by four men named Anurag Kumar, Rakesh Kumar, Manoj Chaudhary and Anshu Kumar and 5-6 other unknown persons. "As the girl started crying, we rushed to her rescue but we were driven away. They brandished a pistol and used abusive language," the FIR reads.
When Akali Devi went to the house of Manoj Chaudhary along with some other persons, she was told that her girl would be returned in two days, the FIR states. 
The FIR does not talk about what happened after two days following her kidnapping. It ends with the information that a dead body was found on December 26 by some women. 
Guddu Ravidas of Bhim Army told TwoCircles.net that Kiran was the youngest among her siblings. "She was a matriculate," he said.  
"The girl's mother was asked to keep shut by the kidnappers threatening to kill her if she went to the police. She kept pleading with them but ultimately, she lost her girl," Ravidas said.  
He alleged that the families of the accused men "treated the Dalit girl very poorly leading to her death. "
Apprehensions are high that the girl may have been raped but the Police said "it can be confirmed only after the post mortem report." 
A 20 year old Dalit girl picked up from home by Thakur community while waving guns in Vaishali Bihar. When the family of girl reached the house of Thakur people. They were dragged & driven away saying girl will be back after 2 days. After 6 days her dead body was found in a canal pic.twitter.com/cslWDiAs7l

— Aarif (@aerifshaw) December 26, 2021
TwoCircles.net tried multiple times to seek a response from Superintendent of Police, Vaishali, Shree Maneesh, but his reply was still awaited. The story will be updated as and when he responds. 
However, Prabhunath Yadav, the Station House Officer of Tisiauta told TwoCircles.net that an FIR has been registered under IPC 302, 34 and SC/ST Act etc. He said that a search operation was underway to nab the accused. "A medical board has conducted the autopsy and its report is awaited," he said. He did not rule out the possibility of rape. 
The incident has not been covered in the Patna edition of the vernacular press, however, the district edition has covered it. 
Reports said that there was a settlement between the accused and the aggrieved family and it was agreed that the girl would be returned in two days. 
SHO Prabhunath, however, maintained that the police have no such information till now and they are taking this as a case of kidnapping and murder. "We would be able to tell more only after arresting the accused," he added. 
Sami Ahmad is a journalist based in Patna, Bihar. He tweets at @samipkb.
SUPPORT TWOCIRCLES
HELP SUPPORT INDEPENDENT AND NON-PROFIT MEDIA. DONATE HERE